In this episode of "The Jacki Daily Show," chemical engineer and Forbes contributor, Robert Rapier joined Jacki to address prevaling concerns that the era of oil is over and electric vehicles are taking over the world.
"The smartest people in energy now are convinced of this," said Jacki. "This panic is not well justified. I just don't see that the facts out there ... you're not going to replace petrochemicals and the manufacture of plastic and vinyls and pharmaceuticals and everything else, with solar and wind. It's just not happening."
Here's the deal:
Robert agreed, saying,"If you look at the data oil demand has never been stronger in the history of the world ... oil demand over the past 35 years has grown at about 1.1 million barrels a day over that time-frame. But in the past 5 years, it's grown at an even stronger rate than that. And some of the strongest growth is in some of the areas that have the highest sales of electric vehicles, believe it or not."
Here is what the past five years of oil demand growth have been like around the world, according to Forbes article, "Oil Demand Is Growing Nearly Everywhere."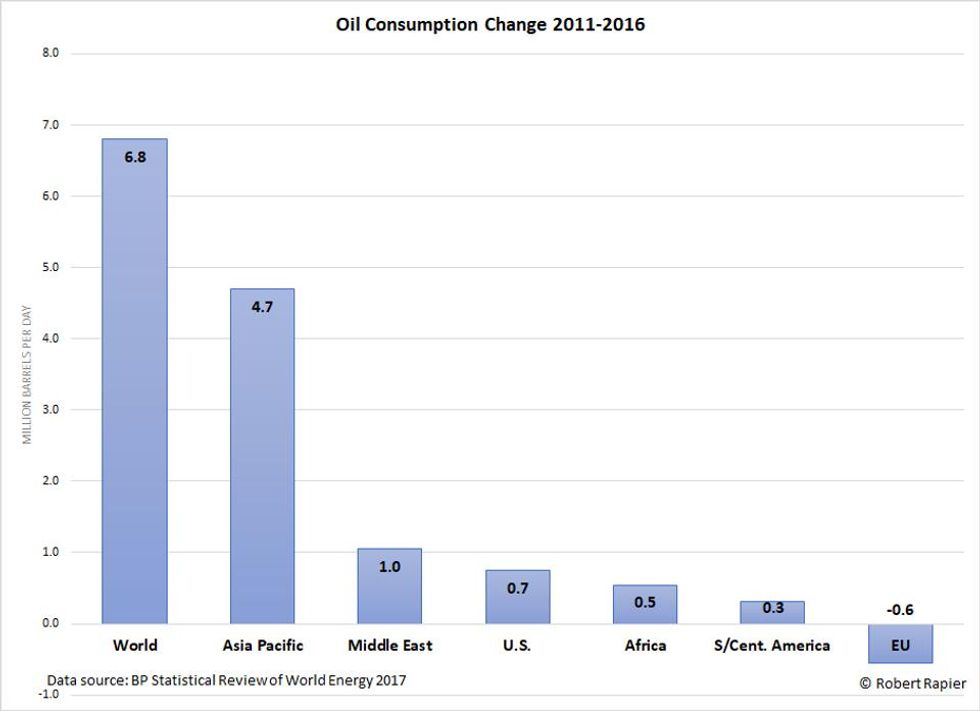 Image credit Robert Rapier/ Forbes.com
You might be wondering:
How do you explain the fact that electric vehicle sales are exploding and yet the demand for oil still continues to grow?
Listen to the podcast clip above to hear Robert explain or read more about it here.
Listen to more episodes of "The Jacki Daily Show" on demand on TheBlaze Contributors and listen live Sundays 2pm-4pm ET on TheBlaze Radio Network.