© 2023 Blaze Media LLC. All rights reserved.
Country star Luke Combs VILLAINIZED as a white supremacist over Tracy Chapman cover
If you're a country music fan, then you already know that Luke Combs' "Fast Car" cover continues to top the charts weeks after its release.
And if you're not a country music fan, then surely you remember Tracy Chapman's 1988 award-winning song "Fast Car." Luke Combs, a major country star, recently released a cover of the song, claiming that it was one of the first songs he learned to play on the guitar and that singing it reminds him of spending time with his dad.
How selfish and terrible of him.
That's how the left is painting the picture anyway.
Emily Yahr, a Washington Post reporter, tweeted: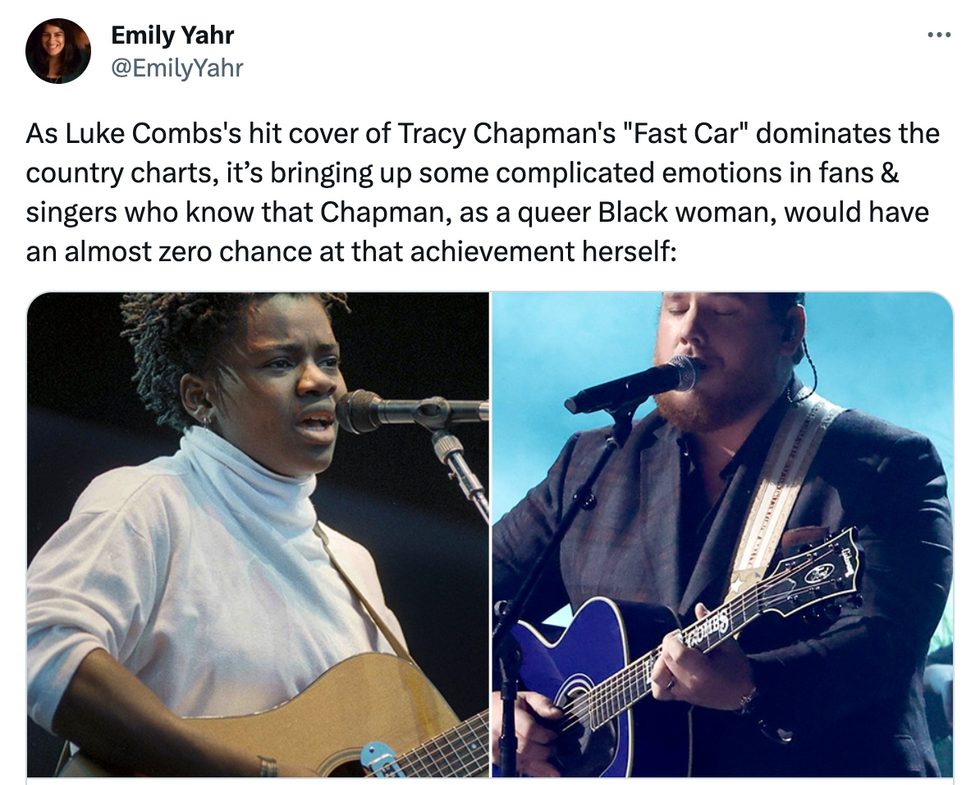 Yahr's claim that Chapman wouldn't have been able to achieve the success Combs' has seen is quite frankly a flagrant lie and an insult to Chapman's actual achievements.
Twitter's fact-checking system revealed that "'Fast Car' by Tracy Chapman was nominated for 3 Grammy awards, including Record of the Year and Song of the Year. She won for Best Female Pop Vocal Performance and Best New Artist."
The truth is this wouldn't be problematic if Tracy wasn't a queer black woman and Luke wasn't a straight white man.
"This white guy," Dave Rubin mocks, who "must somehow also be a white supremacist," is "going to make a whole bunch of money and win a whole bunch of awards on this Tracy Chapman song and she couldn't. Oh, but she did win a whole bunch of awards and she became super rich on it."
Not to mention she will make even more money on residuals because a famous country star loved her song so much that he decided to do a cover of it.
But here's the best part:
Tracy Chapman herself has shown nothing but support for Luke.
"I never expected to find myself on the country charts," she told People, "but I'm honored to be there."
"I'm happy for Luke and his success and grateful that new fans have found and embraced 'Fast Car,"' she said.
"Everybody's making money, everybody gets to hear more of her songs," and "Washington Post – the machine, the corporate press machine – decides to make it about race and racism and opening up conversations about queer blah blah blah," Rubin ridicules.
"And it's all B.S."
Want more from Dave Rubin?
To enjoy more honest conversations, free speech, and big ideas with Dave Rubin, subscribe to BlazeTV — the largest multi-platform network of voices who love America, defend the Constitution, and live the American dream.
Want to leave a tip?
We answer to you. Help keep our content free of advertisers and big tech censorship by leaving a tip today.
News, opinion, and entertainment for people who love the American way of life.
BlazeTV
more stories
Sign up for the Blaze newsletter
By signing up, you agree to our
Privacy Policy
and
Terms of Use
, and agree to receive content that may sometimes include advertisements. You may opt out at any time.