© 2023 Blaze Media LLC. All rights reserved.
'Bidengate' VIDEO: Joe Biden brags to the Council on Foreign Relations about withholding $1 billion in aid from Ukraine
Ukrainian investigator reportedly fired in order to end investigation into Hunter Biden's company
On Monday's episode of "White House Brief," Jon discussed a 2018 video in which former Vice President Joe Biden bragged about threatening to withhold $1 billion in aid from Ukraine unless Ukraine fired the lead prosecutor investigating Burisma, the company tied to Biden's son, Hunter Biden.
"Joe Biden's son, Hunter, was a consultant and a board member for a Ukrainian energy company called Burisma," Jon said. "Burisma is riddled with corruption charges and came under investigation by a prosecutor for corruption ... after they start the investigation for corruption, Joe Biden gets on the phone with the president of Ukraine and says fire that prosecutor or else. Biden admits that he does this on tape."
While speaking on a panel with the Council on Foreign Relations on Jan. 23, 2018, Biden bragged about withholding aid to Ukraine.
"I had gotten a commitment from Poroshenko and Yanukovych that they would take action against the state prosecutor and they didn't. So they were walking out of the press conference, and I said we were not going to give them the $1 billion. They said you have no authority. You are not the president. The president said ... I said call him," Biden said. "I'm telling you, you are not getting $1 billion. I said you're not getting $1 billion and I am going to be leaving here in six hours and if the prosecutor is not fired you are not getting the money. Well, son of a b**** ... he got fired."
"If that is not a quid pro quo, then I do not know what is," Jon said.
According to the Democrats, the Ukraine scandal involved Trump telling Ukraine that he would withhold money if he did not get dirt on Joe Biden. Jon asserted that it turns out that everything the Democrats claimed Trump said is what Biden said to the former president of Ukraine.
"Joe Biden said to this guy, 'Hey, if you don't stop investigating this company my son is on the board of, I'm not going to give you $1 billion in aid," Jon asserted.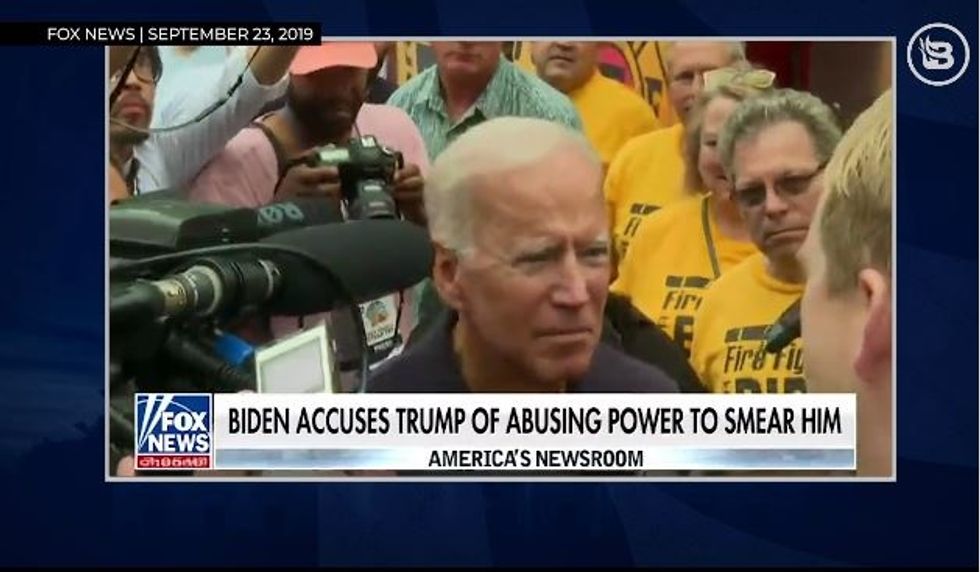 Joe Biden denied having prior knowledge of his son's business that was under investigation in Ukraine.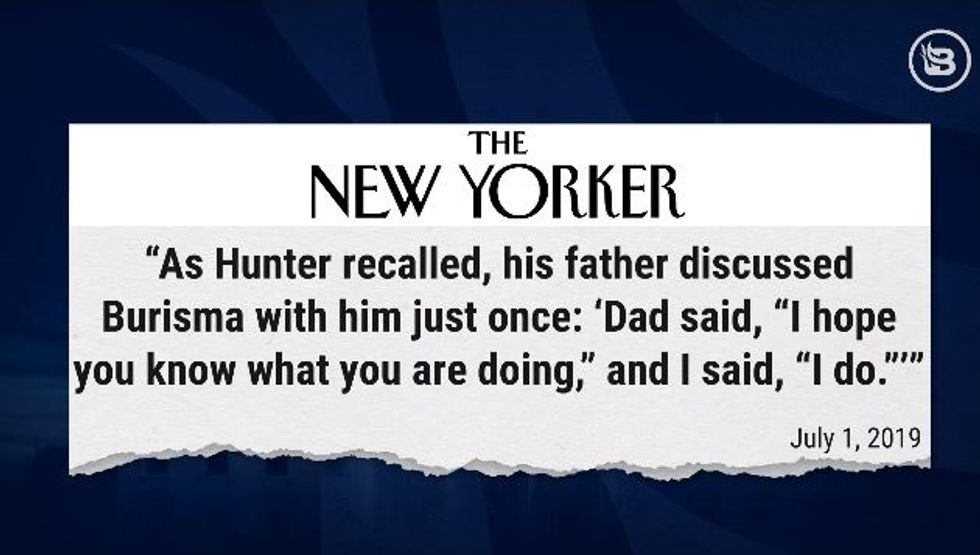 The New Yorker reported Hunter Biden, Joe Biden's son, recalling a conversation he had with his father about his company, Barisma that was under investigation in Ukraine.Image source: BlazeTV screenshot
Later, Jon discussed NYC Mayor Bill de Blasio making it a crime to use the term "illegal alien" with the intent to demean, undermine, or harass a person. If found guilty, the crime may be punishable by a $250,000 fine.
"Mayor Bill de Blasio, I say shame on you," Jon said. "Shame on you. And let me make you this guarantee, I will never stop calling them what they are, and that is the illegal aliens who should not be here. They are illegal aliens, and they should be deported far far away and then we should finish the damn wall so they can never come back. I will never comply with your Orwellian demands, and you will never prevent me from speaking the truth."
Watch the video below for more.

Use code WHB to save $10 on one year of BlazeTV.

Download the podcast here.
Want more from Jon Miller?
To enjoy more of Jon's take on what's happening at the White House that the mainstream media isn't telling you, subscribe to BlazeTV — the largest multi-platform network of voices who love America, defend the Constitution and live the American dream.
Want to leave a tip?
We answer to you. Help keep our content free of advertisers and big tech censorship by leaving a tip today.
News, opinion, and entertainment for people who love the American way of life.
BlazeTV
more stories
Sign up for the Blaze newsletter
By signing up, you agree to our
Privacy Policy
and
Terms of Use
, and agree to receive content that may sometimes include advertisements. You may opt out at any time.