The Democratic attorney general of Virginia, Mark Herring, has admitted that he wore blackface during college, WJLA-TV reported. When the New York Times covered this story, the newspaper initially downplayed it as "dark makeup."
What's the story?
Virginia Democrats have been having quite the week.
First, Democratic Gov. Ralph Northam seemed to casually endorse infanticide. Then the news broke that there was a photo of someone in blackface standing next to someone in Ku Klux Klan garb on his medical school yearbook page. Northam first admitted he was in the photo and apologized for it; then he denied that was him. He later assured reporters that was not him because he had worn blackface another time but definitely not that time.
Then Democratic Lt. Gov. Justin Fairfax was hit by allegations of sexual assault.
Now Herring, a Democrat who's next in Virginia's line of gubernatorial succession, has admitted to having worn blackface himself.
According to a statement from Herring:
In 1980, when I was a 19-year-old undergraduate in college, some friends suggested we attend a party dressed like rappers we listened to at the time, like Kurtis Blow, and perform a song. It sounds ridiculous even now writing it. But because of our ignorance and glib attitudes - and because we did not have an appreciation for the experiences and perspectives of others - we dressed up and put on wigs and brown makeup.
What else?
Herring is second in line to the governorship behind Fairfax. The third is a Republican, Speaker of the House of Delegates Kirk Cox. Cox became speaker after Republicans narrowly won control of the House of Delegates in 2017. The election for the 94th district seat, which would hand control of the house to either party, was too close to call, so officials drew names, ultimately giving the GOP the win and a majority in the House.
Despite calls from his own party for him to resign, Northam seems determined to stay in office for the rest of his term.
The New York Times initially downplayed the news about Herring
When this news first broke, the New York Times headline read benignly "Virginia Attorney General Says He Also Dressed in Dark Makeup."

.@nytimes doing its best to comfort & inform its readers that yet ANOTHER Democrat didn't wear blackface, he just w… https://t.co/IWClc1SlsT

— Jason Howerton (@Jason Howerton) 1549473974.0
Soon afterward, the headline was changed to the more accurate "Virginia Attorney General Says He Also Dressed in Blackface."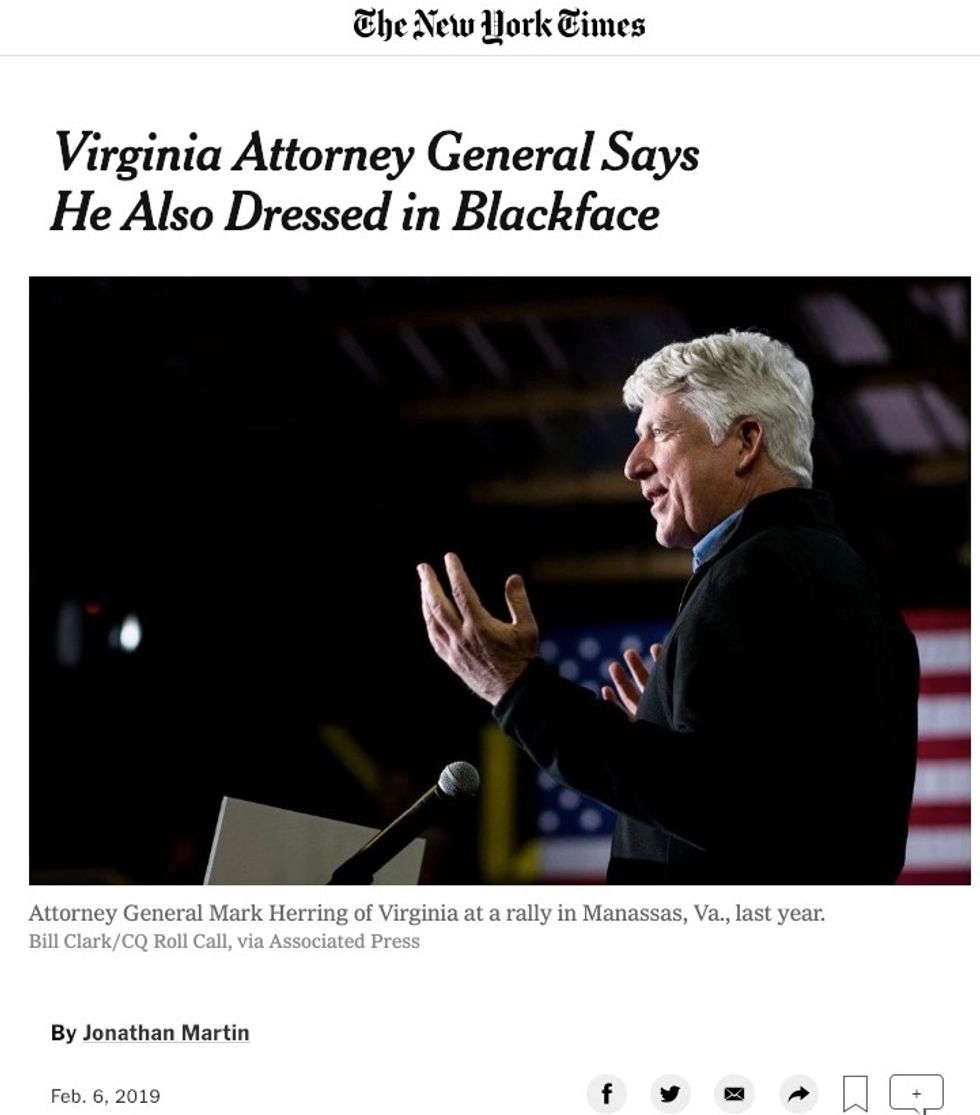 Image source: New York Times screenshot