BlazeTV's Andrew Wilkow was joined by Bienvenido U.S. Vice President Anna Paulina on Monday and discussed the propagandist lies coming from the Democratic Party about the border. The two also discussed Paulina's perspective regarding U.S. policy for immigrant family separation.
Paulina and Wilkow explained the difference between the United States Constitution and the Mexican Constitution, and why the U.S. government ought to follow Mexico's lead on immigration policy and enforcement.
Watch the video below to watch the full interview.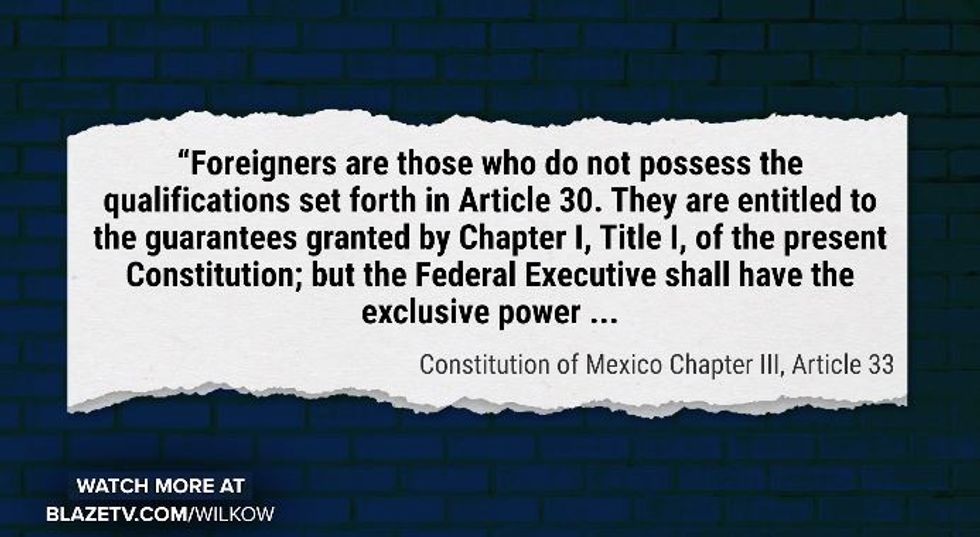 Image source: BlazeTV screenshot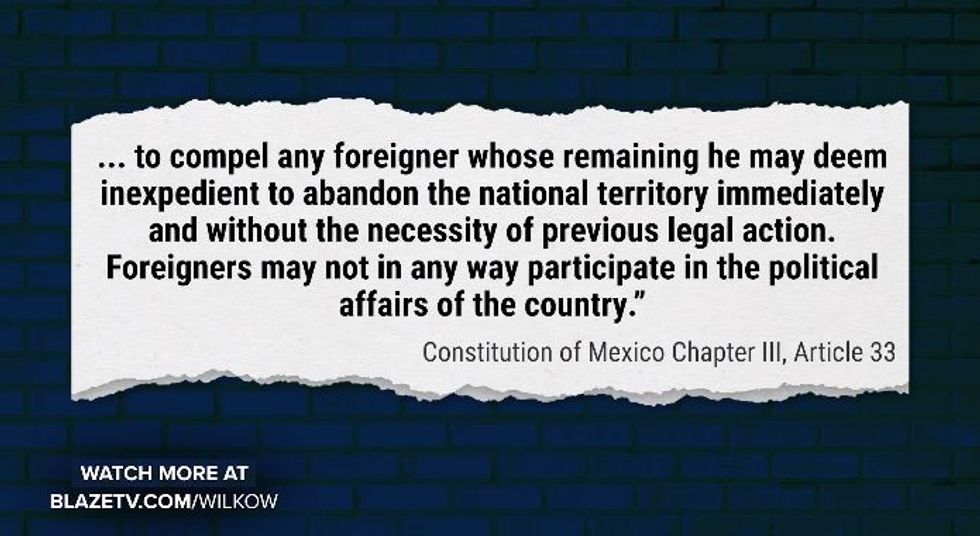 Image source: BlazeTV screenshot
Wilkow moved on to the propaganda in the media, or more specifically, the lies being told by Alexandria Ocasio-Cortez and other elected officials about the conditions inside the border migrant detention centers.
He explained that he could not recall a single Democratic leader making an effort to tour detention centers back in 2014 while President Barack Obama was in office.
"You have this effort now to convince people that women are being forced to drink water out of a toilet, torturing children, you even had some members of Congress saying, "I don't trust Border Patrol agents with little girls," Wilkow said.
"They were saying that this was a manufactured crisis initially by the administration. And then they turned around and said this basically is an issue, but then cherry-picked different topics and went down there with camera crews, and I actually remember when I had my wake-up, and I realized that this was propaganda," Paulina replied.
She continued, "I was working with an organization called Veterans for Child Rescue. This organization worked to combat child sex trafficking at the U.S.-Mexico Border."
"I remember sitting in that room and hearing a commentator on the television talking about how there was a train stopped by the Mexican police authorities in Mexico City. It was stopped because it had people from South America and it was found that they had MS-13 gang members on this train, along with women and children."
Paulina explained, she began to pay attention when she heard "gang members" and "women and children." According to Paulina, trafficking was not only a form of organized crime. Through her organization, Paulina learned that human trafficking was a multi-billion dollar industry.
"By me tuning in to what the commentator was saying, I watched them bring this train to the U.S.-Mexico border — even though officials had stopped it — and put their camera crews on these women and children being separated. I will never back down from the fact that still believe to this day that women and children should be separated because you have this aspect of human trafficking," she said.
According to Paulina, she was not advocating that we separate families as a punishment, but rather because the separation allowed authorities to intercept the one-third of migrant children that are trafficked into the U.S. every year.
Paulina expressed her disapproval of politicians like Sen. Kamala Harris and Rep. Alexandria Ocasio- Cortez, two women, who knowingly deny the facts, actively fighting to enable the trafficking to continue.
Watch the video below for more.
Watch full episodes of Andrew Wilkow here.
Want more from Andrew Wilkow?
To enjoy more of Andrew's dynamic truth-telling, unmistakable opinion and rational political analysis, subscribe to BlazeTV — the largest multi-platform network of voices who love America, defend the Constitution and live the American dream.