This article was updated on Friday, December 6, 2019, to reflect additional information uncovered since the date of original publication.*
On Monday's episode of "The Chad Prather Show," Chad takes a deep dive in the twisted life and death story of financier and convicted sex offender Jeffrey Epstein, who allegedly killed himself in a Manhatten jail cell in August.
Life's a chess game, and Epstein was a grand master! The rise of Epstein was full of warning signs that were ignored. The story of a college dropout who swindled his way into the highest levels of the financial world. How did he acquire his money, and who helped him rise to the top?
In the timeline below, Chad illustrated progression of Epstein's infamous legacy.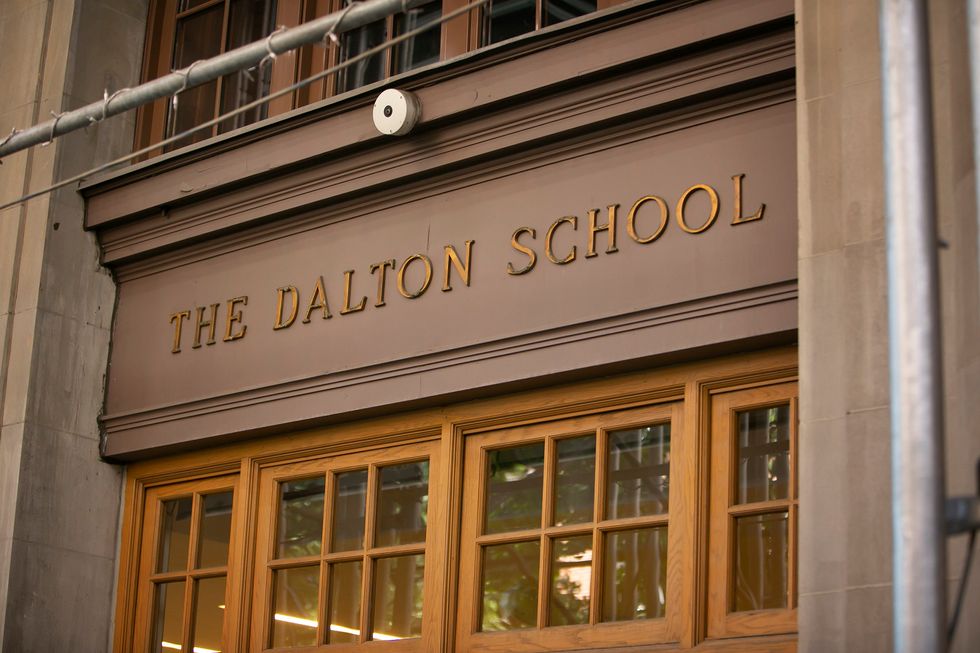 'Poor, smart and desperate to be rich': How Epstein went from teaching to Wall Street
Photo Credit: Miami Herald / Contributor / Getty Images
A 21-year-old Epstein finds himself teaching math and physics to children at the Dalton School in New York City. The elite prep school for New York's most wealthy residents.
He was a college dropout who grew up in Coney Island. His credentials for being able to teach at this school are questionable at best.
There's just one slight issue — Epstein was not skilled as a math and physics teacher. He turned to tutoring as a means of making extra income.
It's there that he meets Lynne Koeppel — this is the real start of our story. Lynne is the conduit with which Epstein will find his "calling": Finance.
Lynne is the daughter of Alan Greenberg, the CEO at Bear Stearns (an infamous brokerage firm that crumbled during the 2008 recession).
Alan observed Epstein during these tutoring sessions and had a hunch that Jeffrey had exactly what it takes to survive in the rough and tumble world of Wall Street (young, scrappy, and hungry). In 1976, Alan offers Epstein a starting position at Bear Stearns. This is where our story begins...
Money, Money, Money
1976 is the beginning of wealth for Epstein. It also marks the first recorded instance of his infatuation with children.
The job offer came at a great time for Epstein. In 1976, the Dalton school had been made aware of Epstein's less than inappropriate behavior with female students in and around campus. He was known for showing up at school parties, flirting in the hallway, and striking up one close "friendship" with a female student that began to raise red flags for both faculty and fellow students.
Many of the 1976 Dalton School graduates have since spoken to the New York Times about the man they referred to as Mr. Epstein. One student recalling, "There was a real clarity of the inappropriateness of the behavior — that this isn't how adult male teachers conduct themselves."
Later in 1976, the Dalton School dismissed Epstein. He then accepted the position at Bear Stearns.
In his new job, Epstein climbed the corporate ladder at an alarming speed, shocking Bear Stearns most senior employees. He was raking in money! But this only lasts one year. In 1977, Epstein is ready to move on to "bigger and better" opportunities. This came as a shock to fellow employees.
The departure from Bear Stearns was shrouded in rumors. Embezzlement was one of them. Epstein would later retract his claim that bigger opportunity drew him away from Bear Stearns and reveal that an illegal loan of Bear Stearns money to a friend was the reason he decided to leave. Many former employees of Bear Stearns still suspect internal embezzlement as a result of the departure.
After leaving Bear Stearns, Jeffrey established J. Epstein & Co., a group of financial counselors in 1982. He would later rename it to Financial Trust & Co., a company based out of the U.S. Virgin Islands. This is a business that would facilitate a lot of political donations on behalf of Epstein.
​The King and His Pawns
This is where we begin to introduce all the power players in the Epstein story. In a classic game of chess, once the king is toppled, the game is over… but not this time. The king's power and influence still remains and powerful pieces are still sitting untouched on the board.
The King - Jeffrey Epstein
Has to be protected at all costs. Everyone will sacrifice themselves to save him.
The Bishop - Les Wexner and Steven Hoffenberg
The Bishop, stands close guard to both the king and queen. The third most powerful piece on a chess board. The bishop represents an influencing power…
Les Wexner - Les is the owner and CEO of companies like Bath & Body Works, The Limited, and Victoria's Secret.
He met Epstein through the aforementioned, J. Epstein & Co. One of Wexner's friends facilitated the meeting.
Wexner was looking for a financial adviser for his multimillion-dollar bank account. Epstein offered his services and soon found himself in control of the entirety of Wexner's wealth. He was given the power to borrow money, make investments, sign tax returns, and hire people, all under Wexner's name.
Epstein viewed Wexner as a mentor, but he would use him to grow his own assets.
Les was the original owner of the sprawling New York mansion that Epstein called home. The seven-story, 41 bedroom, 21,000-square-foot home was somehow transferred over to Epstein by Wexner in 1996 as Wexner and his wife were moving to Ohio. Esptein later claimed that he gave Wexner $21 million dollars for the sale, but no document within the state of New York can prove this exchange.
Epstein would later take advantage of his power and pull with not only Wexner, but the companies that he ran.
During this time, Epstein's personal wealth began to skyrocket — even obtaining a private plane (Boeing 747), a luxurious estate in Ohio, and the infamous Little St. James Island in the U.S. Virgin Islands.
In 1996, Epstein was attempting to become a part of another aspect of Wexner's companies … scouting lingerie models for Victoria's Secret. Epstein posed several times as a recruiter and even lured several girls to hotel rooms with the shot at making it in the coveted catalog.
Wexner was made aware of Epstein's overstep and he promised to cut ties with him. It wasn't until mid- 2008 that Wexner decided to officially renounce his association with Epstein after he was charged with molestation, soliciting prostitution, and sexual activity with a minor.
Steven Hoffenberg
Hoffenberg was introduced to Epstein in the early 1980s and the two became fast friends. Hoffenberg owned a powerful financial firm, Towers Financial. In and around the mid-1980s, Hoffenberg hired Epstein. Together, they tried — and failed — at various business ventures, one of which was the failed purchase of the dying Pan Am Airways.
Later, they would BOTH reportedly conduct the largest ponzi scheme in U.S. history. This included embezzlement, tax evasion, and taking money from widows and retirees — a grand total of more than $460 million dollars. (This is rumored to be the foundation for Epstein's vast fortune.) During this time, Epstein eventually became a senior vice president at Towers Financial.
By 1990, a full-scale investigation was underway regarding Towers Financial and Hoffenberg. During the investigation and the trail that followed, Hoffenberg would list Epstein as "the architect of the scam," but Epstein was never questioned, never brought in to testify, and never charged.
Hoffenberg would later plead guilty, alone, after being swindled by the Federal District Court of Manhattan to take a plea deal, solo. This begs the question: Who served on the Federal District Court of Manhattan in 1995? All judges who had been appointed by then-President Bill Clinton.
Hoffenberg would serve 18 years in jail, Jeffrey Epstein would serve zero.
The Queen
In a chess game, the queen is considered the most powerful piece in the game. She's allowed to move in ANY direction and as many squares as desired. Her job is to protect the king at all costs.

Ghislaine Maxwell
Ghislaine Maxwell — a wealthy British socialite with lots of money to burn. She was the daughter of British media tycoon, Robert Maxwell, and a graduate of Oxford.
Many people questioned how she was able to fall in love with and stand by a man like Epstein — maybe it was because Jeffrey reminded her of her own father.
Robert Maxwell lived the life of a rich man who had an infatuation with young women — sound familiar? He had established a "public family" with a wife and nine children, Ghislaine being the youngest.
Ghislaine was his favorite child. He named his favorite yacht after her, "Lady Ghislaine." In 1990, he would die on that boat. He fell from an overlook spot, stark naked into the waters of the Canary Islands. Heart attack most likely, but some still suspect suicide or murder.
It was only after Robert's death that it was revealed that the man was largely a fraudster. He bankrolled most of his life using the pensions of his employees.
Yet, his large fortune provided a very lush inheritance for all NINE of his children. Each receiving a trust fund of $100,000 a year for the remainder of their lives.
Now, Ghislaine could've taken that money and lived a private, normal life. Instead, she wanted to move to NYC and build upon her wealth through real estate. In 1991, Ghislaine lands in NY and the rumor of a young, beautiful, rich, British socialite in search of a beneficiary for her assets, travels fast to Epstein.
They become friends and then a couple. But after many years, the spark fades and the two remain close friends and allies. Ghislaine becomes an advisory figure to Epstein, which reportedly would later develop into helping keep a rotating list of girls for Epstein.
Ghislaine claims to be a licensed helicopter pilot, certified EMT, and a deepwater submersible pilot.
In 2013, Ghislaine founded the TerraMar Project, an environmental charity dedicated to saving the oceans. According to those on the environmental charity circuit, the TerraMar Project did nothing. It was nothing more than a representative face. It was dissolved on July 12 — six days after Epstein was arrested.
But Ghislaine managed to work her way into many social circles, facilitating meetings with the rich and mega-powerful. Elon Musk, Bill Gates, and Prince Andrew were just a few of the names found in Ghislaine's Rolodex. She was also a guest at Chelsea Clinton's 2010 wedding to investment banker Marc Mezvinsky. She also went on vacations with Chelsea and participated in the Clinton Global Initiative up until 2013.
She has since disappeared. After that infamous In & Out "paparazzi" photo went viral, Ghislaine vanished from the spotlight. Presumably, she could be back in England where she has dual citizenship but rumors are also flying around that she's in Israel for asylum.
The Knights
Clintons and the Family of Bruce King
Those who facilitated Epstein's seclusion from authorities and provided him with privacy.
The Rooks
Prince Andrew & Elon Musk
Those who surrounded Epstein and utilized his power and connections to their benefit.
​The Pawns - Virginia Roberts
Virginia Roberts
Victims that were recruited as children by Ghislaine Maxwell for Epstein.
On Tuesday's episode of "The Chad Prather Show," Chad presented part two of, "The Jeffrey Epstein Exposé: The Devil Has Blue Eyes."
In this episode, Chad began piecing together the twisted life of financier and convicted pedophile, Jeffrey Epstein.
Why would a man obsessed with immortality kill himself? Fresh out of jail, Jeffrey Epstein plots to rebrand himself. The sex predator-turned-philanthropist is looking for a new home, somewhere private … "away from people." His relationship with royalty becomes questionable and a new family of "kings" moves onto the radar.
Clintons and Kings
Epstein knew how to pull the marionette rope to get what and who he wanted. As early as 1993, Epstein began donating to Bill and Hillary Clinton. A donation of $10,000 dollars was recorded that helped refurbish a wing of the White House. The connection between the Clintons and Epstein was rumored to be facilitated by Maxwell. This meeting most likely took place during the then Governor of Arkansas's re-election bid in 1982.
It was at this same time, that Epstein was introduced to Bruce King, Governor of New Mexico. The King Family is one of the most powerful families in the country. They are a large supplier of Corn and there ranches DOMINATE the New Mexico Land subsidies. *Obviously, this is particularly interesting if you realize just how vital and necessary the corn industry is to every aspect of how we produce food for 327+ Million people in America…*
The family is political royalty. They pass down their political positions like family heirlooms. Prized pieces of China and antique paintings going from one generation to the next. Epstein donated to SEVERAL King family Campaigns. Gary King, the son of Bruce, actually gave back campaign donations ($50,000) from Epstein over the past few years. "...their political and defense connections go all the way up to ballistic missiles". Epstein also spread his philanthropic donations to other New Mexico politicians like former Governor Bill Richardson… Were his donations buying privacy?
Epstein "purchased" "Zorro Ranch" under the shell company "Zorro Trust" in and around 1993 the same year Clinton became President. He had big plans immediately, drawing up blueprints for a sprawling 26,700 square foot home.
Zorro Ranch, an interesting name for a property. Zorro, the fictional character that's known for defending "... the poor and victimized against the forces of injustice…"
New Mexico is a very interesting location to choose for Epstein's dirty deeds. Specifically the small town of Stanley. Within a 111 mile radius of Zorro Ranch sits "20,000 acres of backdrops for Hollywood movies". The location of the infamous Manhattan project. Los Alamos, home of the atomic bomb. A private international BOARDING school, Armand Hammer United World College of the America West. CO-FOUNDED BY PRINCE CHARLES. Rehabilitation centers for pedophile priests run by the Catholic church called Servants of the Paraclete. Trementina Base, the battleground for the apocalypse owned by the Church of Scientology… Maybe this is where Michele Miscavige is?
Welcome to the Ranch
Zorro Ranch is in a peculiar location. Epstein didn't by a sliver of King land. He bought the direct center of it. Zorro Ranch is entirely surrounded by both land owned by the King Family and land leased by the King Family from the state of New Mexico. In order to travel to the actual ranch, you have to physically pass through land owned by the King's.
In 1994, Epstein submitted a request to construct a grass runway for a private plane. When state officials needed to come to the property to inspect the land… Epstein declined and instead built the runway on an unincorporated part of the property.
Epstein also had a fascination for Eugenics, transhumanism, and cryogenics. He had voiced his wishes to many people that upon his death, he wanted his head and penis to be cryogenically frozen for later use. If there's any place where all three of these topics combine… it's New Mexico. The Santa Fe Institute isn't far away and developments in mathematics and science have quickly occured since the Manhattan Project. "...After World War II, the United States imported Nazi war criminals to help run the fledgling space program, including in New Mexico, where their prior skills in rocketry and ghastly human experiments could help the United States retain an edge over the communists."
He donated over $250,000 to the Santa Fe Institute, befriended researchers and scientists and invited them to dinner parties at THE RANCH.
Local residents of Stanley thought that Epstein was the owner of Victoria's Secret because of the "caravan of glamorous women" he always had around. Another Stanley resident recalled that they could always tell when "... the Epstein crowd is at the ranch, because the mansion lights drown out the stars…"
An Army of Little Epsteins
Epstein was obsessed with science.
Eugenics: the science of improving a human population by controlled breeding to increase the occurrence of desirable heritable characteristics.
Transhumanism: the belief or theory that the human race can evolve beyond its current physical and mental limitations, especially by means of science and technology.
Cryogenics: cryogenics is the production and behaviour of materials at very low temperatures.
He was fascinated with "improving" life, wealth, and genetics. This all began with his interest in the infamous Repository for Germinal Choice. Between the years of 1979 and 1999 it operated as "...a sperm bank that was designed to collect the sperm of Nobel Prize winners in order to fill the world with their genius offspring".
It was "...founded by the multimillionaire optometrist and inventor Robert Graham, an admirer of eugenics who believed the human race was getting progressively dumber and that the only way to stop it was by filling the world with the genetic descendants of Nobel Prize winners".
This was Epstein's vision for "The Ranch" a plan one could only find within the pages of a Michael Crichton novel. Impregnate up to 20 women at a time with his sperm and keep them at the ranch. The women would sign over all rights to the child and another rotating group of 20 women would move in to take their place. Virginia Roberts, the first Epstein victim to come forward claimed that Maxwell and Epstein were preparing her for such a task. She visited the ranch several times and Maxwell was trying to talk her into becoming a surrogate for her and Epstein. This may have been the trial run.
In lieu of Nobel Prize Sperm, it would be Epstein's. To make an army of little Epstein's was going to take some serious planning. Aside from throwing luxurious dinner parties for scientists and mathematicians, the likes of which included famed theoretical physicist, Stephen Hawking. Epstein wined and dined them, and entertained them with his wild theories about life and futurism.
Many were silently berating the lunacy that Epstein was spewing. But on the outside, they were all ears, polishing Epstein's ego… hanging on his every word. It wasn't because they believed that his deranged ideas were factual… It was because they saw the dollar signs in Epstein's eyes. If they nodded at the right moments and agreed with the right things, thousands of dollars would be flooding their bank account for their personal scientific pet projects.
Jeffrey Epstein
In 2000, Epstein founded the Jeffrey Epstein VI Foundation in order "...to sponsor cutting edge science around the world…"
VI is not the roman numeral it stood for the Virgin Islands.
He sat on the Mind, Brain & Behavioral Advisory Committee at Harvard University, and was actively involved in Theoretical studies at both Princeton and the University of Pennsylvania.
Epstein was so heavily involved in Harvard that he developed an entire department. Over the years close to $40,000,000 had been donated to the Ivy League school from Epstein. Earlier this year Harvard announced that it had no plans to return any of the money. Established in 2003, the Program for Evolutionary Dynamics was founded using a $30,000,000 dollar grant from Epstein. He left it in charge of a close friend and confidant Martin Nowak who currently still serves as the director of the program.
Many in the science community saw Epstein as a contemporary… as a colleague. But why? Why did they trust him so much? Are they just as guilty as he is?New Mexico is a very interesting location to choose for Epstein's dirty deeds. Specifically the small town of Stanley.
Gary King, the son of Bruce, actually gave back campaign donations ($50,000) from Epstein over the past few years. "...their political and defense connections go all the way up to ballistic missiles". This connection is primarily seen through their connection with Bill Richardson who deals with National Security issues when it comes to Iran and North Korea.



On Wednesday's episode of "The Chad Prather Show," Chad detailed the end of Jeffrey Epstein.
Checkmate! The game may be over … but there are still pieces remaining on the board! Jeffrey Epstein is dead, but the battle is far from finished. The victims will never see their days in court, Epstein's organizations are still operating in the wake of his death, and human trafficking is at an all-time high.
The End of Epstein 
Epstein died on August 10th, 2019. Found hanging in his jail cell. Taking all his secrets with him. Shortly before he was arrested in July, 2019 he met with an old acquaintance… a columnist for the New York Times, James Stewart.
James had done several stories about Epstein before but this was different. He was summoned to the NY mansion on August 16th, 2018. Over the course of 90-minutes. Epstein shared with Stewart his rolodex of friends, showed his pictures with high-profile people. He claimed to know "...a great deal about these people, some of it potentially damaging or embarrassing, including details about their supposed sexual proclivities and recreational drug use…."
During this meeting, Epstein also expressed his hope that Stewart would write his biography. He was ready to tell all. Stewart declined, considering just how much time he would actually have to spend with Epstein. He goes on to say, "that was the last I heard from him. After his arrest and suicide, I'm left to wonder: What might he have told me?"
The Failure on Our Hands
This isn't a far off story. Epstein's connection to the rich and powerful didn't stop in the early 2000's.
Just last year, Elon Musk sent a tweet on August 7th, 2018 that changed the course of his life and his future with the very company he created in 2003...Tesla.
Watch the videos below for more details.
The Jeffrey Epstein Exposé: Follow the Money | Ep 162 youtu.be

The Jeffrey Epstein Exposé: The Devil Has Blue Eyes | Ep 163 youtu.be

The Jeffrey Epstein Exposé: Dead Men Tell No Tales | Ep 164 youtu.be



Use code CHAD to save $10 on one year of BlazeTV.

Download the podcast here.
Want more from Chad Prather?
To enjoy more of Chad's comedy, craziness and common sense, subscribe to BlazeTV — the largest multi-platform network of voices who love America, defend the Constitution and live the American dream.