Somber, but unhysterical, evidence-based assessment, reveals that Florida's uptick in COVID-19 mortality, beginning June 30-July 1, peaked over the next three weeks through July 20. Mercifully, the state's COVID-19 death rate has been in slow decline since then.
Grisly milestones were reached on July 16 and 17. The maximum number of deaths recorded by date of death determination — i.e., specifically, 12 a.m. to 11:59 p.m.  on each of those days — equaled 151, and 152, respectively.
Breathlessly distorted — and invalid — "death by date of report" recording (">250" on July 30) dominates the news cycles. Such coverage greatly exaggerates the morbid enough daily Florida COVID-19 death tolls by actual date of death, and their now reassuring downward trajectory.
Recording COVID-19 death by "date of report," not true date of death — as The Atlantic magazine's agenda-driven Covid Tracking Project (CTP) records for states like Florida (and other "hot spots") — has no biological, or epidemiological meaning. Deaths for specific individuals occur on specific days, not some arbitrary range of days, which can date back weeks to months, depending on the data harvest.
Moreover, those deaths must not be "pooled" and then reported on some whimsical date, which differs from the actual dates of death. Doing so renders both the y-axis — for number of deaths — and the x-axis — for specific date, meaningless, when plotting a death curve, so one can gauge whether the mortality rate from an infectious disease outbreak is increasing, decreasing, or staying the same.
The warped "COVID-19 death reports" of The Atlantic's CTP are regurgitated uncritically by major national media (see an example from Forbes, July 29, "according to data from The COVID Tracking Project."). This gins up COVID-19 hysteria, even as the outbreak's mortality is past its apex in a "hot spot" like Florida.
Reporter Jennifer Cabrera of The Alachua (Florida) Chronicle has been methodical and transparent in recording daily Florida COVID-19 deaths, by date of death, exclusively. Cabrera described her honest, valid procedure to me in writing:
"Florida publishes a list of deaths by date. I started with the data on July 13, 2020 and put it in my own spreadsheet, then every day I track changes by date to get the next day's totals."
Comparison graphics demonstrate vividly how The Atlantic magazine's CTP "date of report" recording, as opposed to recording by the valid metric, date of death, creates both a factitious peak, and ongoing rise in the rate of Florida COVID-19 deaths.
Florida COVID-19 deaths by date of death (DOD, https://tinyurl.com/y24586ad; blue bars), and date of report (DOR, https://tinyurl.com/y5av7u3q; orange bars), June 30, 2020 to August 5, 2020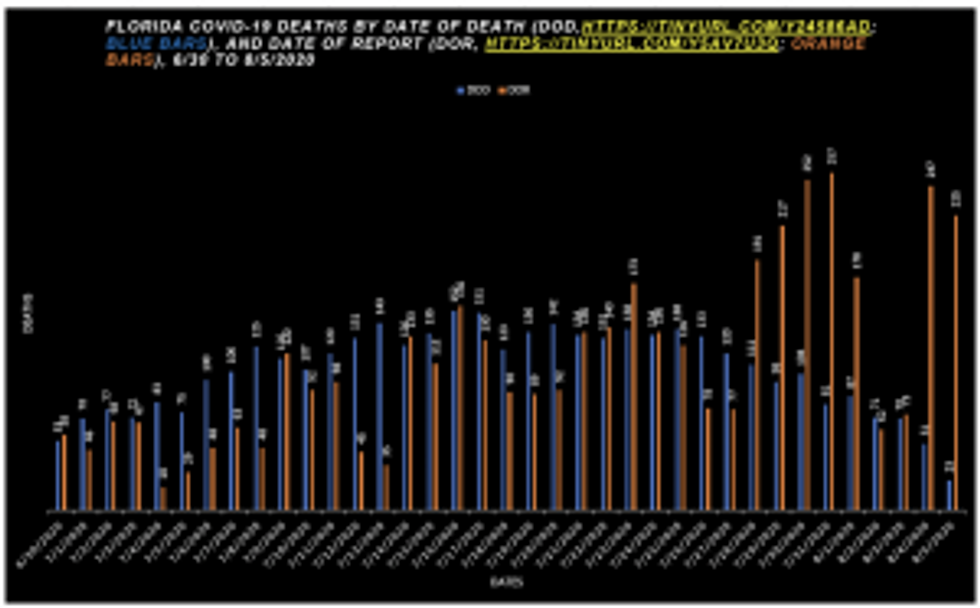 All news media must not characterize "date of report," pooled COVID-19 deaths from days to many weeks past, as "new deaths per day." Otherwise, these padded numbers will continue to lard the similarly exaggerated national COVID-19 death total by repetition of this deception across multiple states.
Only actual date of death recording should be accepted in discussions of what is happening vis-à-vis COVID-19 death rates by state, and nationally.
Centers For Disease Control and Prevention (CDC) national COVID-19 mortality data, by date of death (per week), which are updated Monday through Friday at this website, should be the gold-standard of reference for the United States.