When Rodney King rioters destroyed parts of Los Angeles, it spurred the greatest anti-crime bill in a generation. Now, when federal protection against anarchy is needed even more than in 1992, Republicans are agreeing with the premise of the rioters by pushing their vapid policing bill. How about an anti-crime and anti-insurrection bill?
Lost in the rose-colored reporting on the modern-day pilgrims and pioneers taking to the streets, Minneapolis officials posted a map of 700 buildings that have been partially or fully destroyed throughout the city, many of them housing multiple businesses. Overall, across the broader Twin Cities area, more than 1,500 buildings have been vandalized or looted or had doors and windows smashed.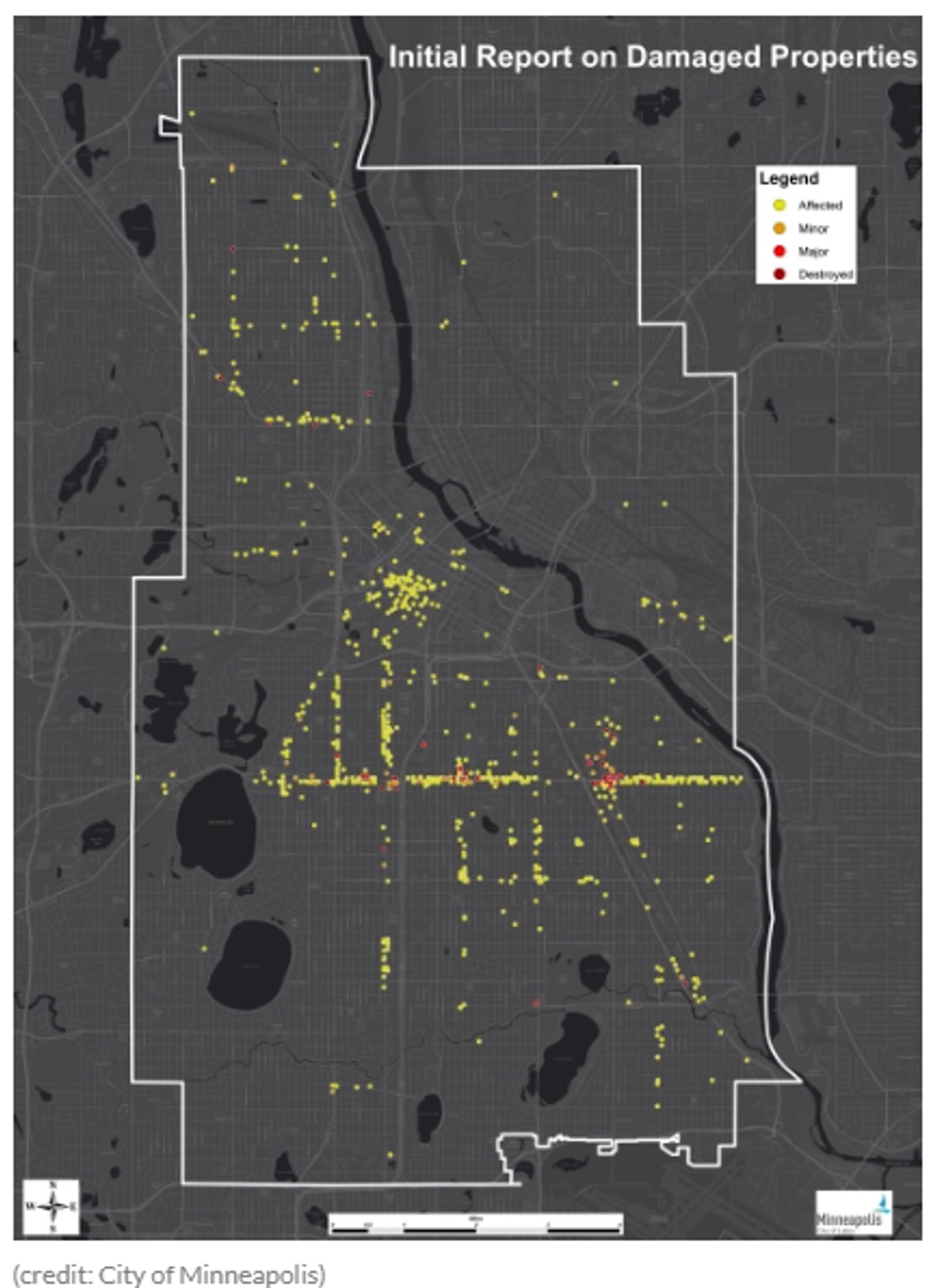 Black lives matter? Really? Well, as the city officials noted, the damage was almost all in "minority communities." This disproportionately affects black business owners and consumers alike. It will permanently run down property values and, in the long run, ensure that there is no investment in these neighborhoods.
This is a reflection of what is happening in the rampant anarchy and the war on cops. The same way more black people become victims of crime when the police are forced to cower in their stations, more black businesses are destroyed and the quality of minority neighborhoods plummets thanks to the hands-off approach of cops.
But unlike Ferguson, Baltimore, and Los Angeles during past riots, what happened in Minneapolis didn't stay there. It occurred to some degree in every major city and even many smaller cities. And it will likely continue in the long run as cops stand down or walk out and are treated like criminals even while rioters are not arrested or are released from jail.
Crime is now surging in Minneapolis with police all but neutralized. Carjackings and assaults are rampant. Cops are being attacked with rocks even as they administer NARCAN to drug overdose victims.
Rather than giving in to the mob and pushing legislation that implicitly criminalizes policing, why not focus on the victims?
To begin with, it was black-owned businesses that took it on the chin more than anyone else due to the coronavirus response. According to the National Bureau of Economic Research, the number of black-owned businesses plummeted 41% from 1.1 million in February 2020 to 640,000 in April thanks to the lockdowns. White-owend businesses decreased 17% and Hispanic-owned slid 32%.
Now, consider what percentage of those businesses destroyed by the riots were black-owned. The south side of Minneapolis, which sustained most of the damage, is a haven for minority-owned businesses. That is the inequality our government should focus on.
Think of people like Korboi Balla, a black firefighter who saved up his entire life to open a restaurant but couldn't open thanks to the lockdown. By the time the stay-at-home order was over, his restaurant was a pile of rubble, thanks to the "peaceful" protesters.
"I don't know what we're going to do," Korboi Balla told CBS News in May. "It hurts, man. It's not fair, it's not right. We've been working so hard for this place. It's not just for me, it's for my family."
Rather than pandering to the looters, as Jared Kushner and Brooke Rollins are advising, Trump should focus on appealing to black business owners. Republicans should immediately push a bill to compensate business owners whose stores were destroyed because government failed to do its basic job. Of course, they should leave out businesses that donated to BLM and brought about their own demise.
And speaking of the core job of government to protect life and property, how is it that three weeks into this insurrection, there are still so many roads being blocked, streets being looted, and rioters occupying streets without a federal response? Art. 4 Sec. 4 of the Constitution, which guarantees states protection against domestic violence, was written for this very purpose, when states are unwilling or incapable of protecting basic order and liberty.
Watch these few minutes of noted right-wing extremist President George H.W. Bush resolutely discuss how his administration would put down the insurrection with the military:
The fact that this is happening in every major city, not just in one as in 1992, only makes the case for federal intervention stronger. Where are Republicans in Congress? Where is the president?
The best way to win over winnable black voters — and everyone else — is to be prudent and principled, not to pander.