The entire current border crisis was spawned last July when a series of California judicial decisions upended the statutory requirement (8 U.S.C. § 1225(b)(1)(A)(i)) to detain all illegal aliens and ordered Customs and Border Protection (CBP) and Immigration and Customs Enforcement (ICE) to release children and their parents after 20 days. This, along with a number of other decisions made exclusively by judges either in the southern, central, or northern districts of California, led to the global phenomenon of coming to our border with a single child, real or rented, to obtain judicial catch-and-release.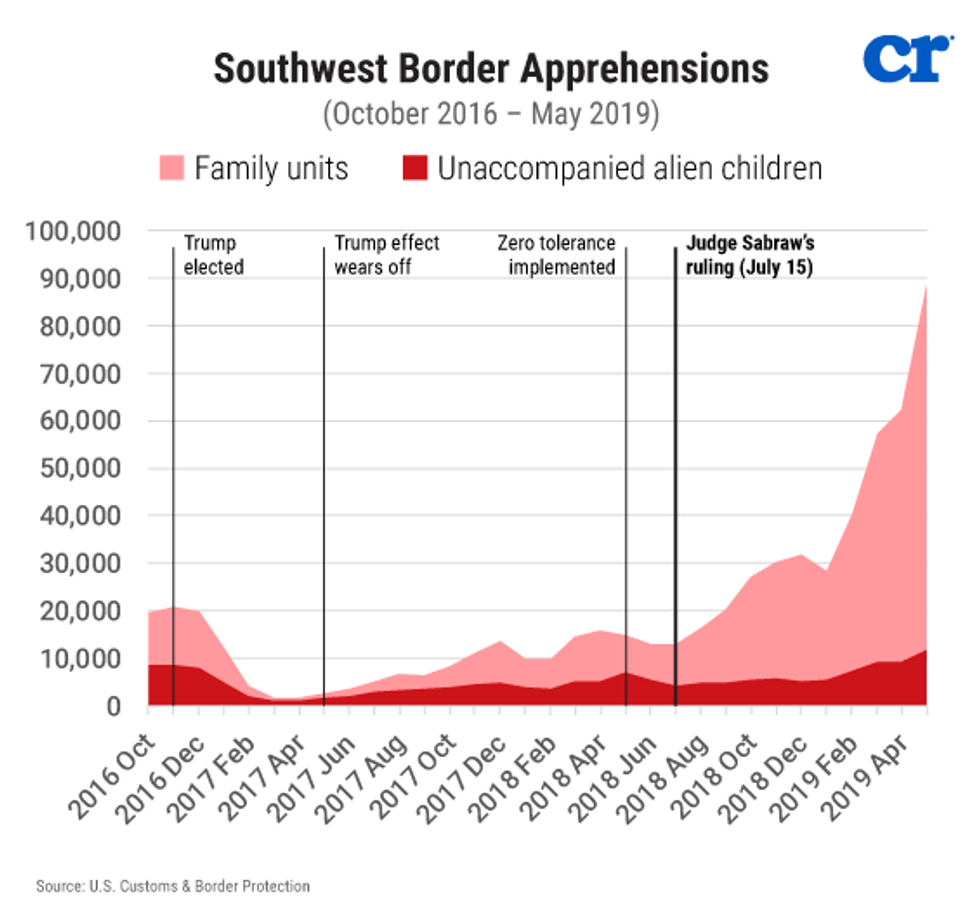 Why should our entire border suffer from an egregious series of court rulings out of California, especially when very few illegal aliens are now caught in California?
A quick glance at the May border apprehension numbers from CBP reveals that just 7 percent of overall border apprehensions took place in California. California's border consists of two sectors – San Diego and El Centro. Between the two sectors, just 9,371 illegal aliens were caught, a mere 7.05 percent of the 132,887 illegal aliens caught between ports of entry throughout the entire border in May.
But here's the kicker: The driving force behind the border surge is the family units, because of Judge Sabraw's and Judge Dolly Gee's rulings about releasing parents together with children. If you isolate family unit apprehensions, just 1,942 of the 84,542 individuals apprehended in family units came in through California. That is only 2.3 percent!
If the law mandates that illegal aliens, including those requesting asylum, "shall be detained," then how can a judge's order to violate that law for family units be binding on the 98 percent of families caught outside that jurisdiction?
Even if we include Arizona's numbers because Arizona is in the Ninth Circuit, the appellate court which oversees both states and has upheld many of these district court opinions, that still only accounts for 17.3 percent of the total apprehensions. Thus, 83 percent of those apprehended by Border Patrol are either under the umbrella of the Tenth Circuit (New Mexico) or the Fifth Circuit (Texas).
In recent months, the lion's share of family unit apprehensions has been in Texas, which is under the jurisdiction of many district and appellate judges who would rule the exact opposite of California judges.
For example, whereas a California judge ruled that Trump must continue Obama's illegal amnesty, Judge Andrew Hanen ruled in 2015 that a similar amnesty must be halted and indicated he will likely say the same thing about DACA. Whereas California judges say the law mandates release of children to illegal alien sponsors and the release of family units, Judge Andrew Hanen accused those pushing this idea in 2013 of "successfully complet[ing]" the "goal of the conspiracy" of drug smugglers to smuggle people over the border on behalf of parents "at significant expense" to taxpayers.
Hanen resides in the Southern District of Texas, the most trafficked border area, with the most illegal family units coming in his geographical jurisdiction than any other federal court.
Keep reading...
Show less