There are endless lawsuits in Ohio against pharmaceutical companies over the drug crisis, but to get the real culprit, it's time to sue the government for not enforcing immigration laws. The drug crisis is all about the Mexican drug cartels and their criminal alien distribution networks in our country, not prescription opioids.
In 2017, 4,854 died in the Buckeye State from unintentional drug overdoses, more than any other year on record. Of those deaths, just 10.8 percent were from prescription drugs, according to the Ohio Department of Health. And there's good reason to believe that some of those deaths are really the result of heroin too. According to the Centers for Disease Control (CDC), many of the deaths due to morphine are likely really heroin deaths but recorded as morphine in toxicology "because morphine is a metabolite of heroin."
In fact, the number of prescription deaths actually decreased before the crisis even began. The entirety of the epidemic increase beginning around 2014 was due to fentanyl and, to a lesser extent, meth and cocaine. Here are two charts from the Ohio Department of Health's 2017 overdose data that are worth more than 1,000 words.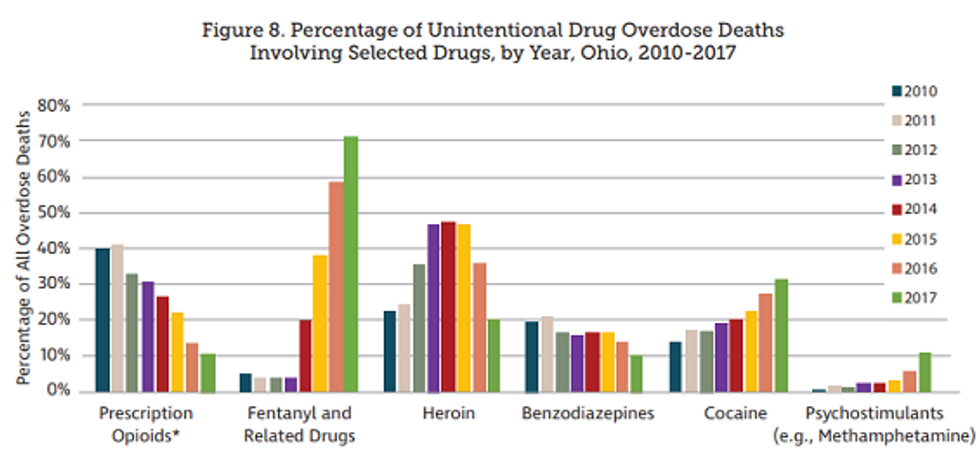 So, what is causing the deaths? It's all the Mexican drug cartels and their illicit drug distribution networks, often powered by illegal aliens. Recently, there have been several busts in the Toledo area. In the third major bust in northwest Ohio, federal drug cops arrested Robert Escobar for intent to traffic 21 pounds of fentanyl. That might not sound like a lot, but given that a lethal dose of fentanyl is about two milligrams, this stash was enough to kill well over four million people, or more than a third of the state's population.
U.S. Attorney Justin Herdman, as quoted in the Toledo Blade, perfectly captures the trail of the drug crisis.
"Mexican cartel activity in Ohio is very high — it's a significant threat to us across the whole state. It's not just Toledo, it's every midsized city, small town, and big city — every city has connections back to Mexican cartels," Mr. Herdman said, adding Toledo has historically been a market because of its network of highways, along with its consumer demand.

"That's where our drugs are coming from. They're not being manufactured here in the United States, the way that they get here is through the networks that the cartels run."
Reading this comment, I was reminded of what Robert Murphy, special agent in charge of the DEA's Atlanta office, told me earlier this year. "The product doesn't sell itself or produce itself. It's the people who make the cartel run, collect the cash, do the distribution, engage in violence, and run operations for the cartel. Those are what's essential. The product is an after-fact. Without the people, the cartels have no success."
Who are these people? "Predominantly, what we arrest here is illegal aliens. Sure, you might find some Americans who would be willing to go to Mexico and work for the cartels, but it won't be the level that they need to have the control of the U.S. market like they do now with the illegals and Mexican nationals."