This article has been updated to include the latest information.
If the polls are right — and, as we all learned in indelible fashion in 2016, that's a Trump Tower-sized if — the president should be extremely grateful for one thing above all others right now: he's still got four months. Because if the polls are right and the election were held today, it'd be a blood bath that would see Trump losing almost every battleground state that gave him his seismic upset win against Hillary, including Arizona, Florida, Michigan, North Carolina, Pennsylvania, and Wisconsin.
With COVID-19 making a depressing comeback — prompting some governors to reinstate draconian measures — and with the ongoing racial unrest that's left the country feeling more divided than ever, Trump has seen a once bridgeable gap between him and "Sleepy Joe" widen dramatically.
National Polls
On May 18, Real Clear Politics' average of the major national polls showed Trump facing a 4.7% deficit (48.6-43.9). A month later, the gap had doubled to 9.5, with Biden edging above the 50% mark. Now, another month later, the gap has slightly diminished, but it's still sizeable. Trump currently trails Biden by an average of 8.6% (48.7–40.1).
Of the key polls that figure into RCP's average, two give Trump a manageable deficit. The Hill says he's looking at a 4-point gap (43–39), while Rasmussen says Trump only trails by 3 (47–44). Among the respondents to Rasmussen's latest daily tracking poll, 5% say they prefer another candidate and 4% are still undecided.
But other pollsters give Trump a far more grim scenario. Quinnipiac says Biden leads by a stunning 15 points (52–37); NBC and The Wall Street Journal say he has an 11-point advantage (51–40); CNBC says the lead's more like 10 points (51–41); and YouGov gives Biden +9 (49–40).
YouGov — Biden +9 (49–40)
CNBC — Biden +10 (51–41)
Rasmussen — Biden +3 (47–44)
Quinnipiac — Biden +15 (52–37)
NBC/WSJ — Biden +11 (51–40)
The Hill — Biden +4 (43–39)
If Quinnipiac has it right, a Trump victory in November would constitute one of the biggest comebacks ever. If Rasmussen is right, we could be setting up for a repeat of 2016, where heading into election day Clinton held a 3.3% edge. Clinton went on to win the popular vote by 2.1% but, as has occurred only rarely in the past, lost the electoral vote — and by a wide margin.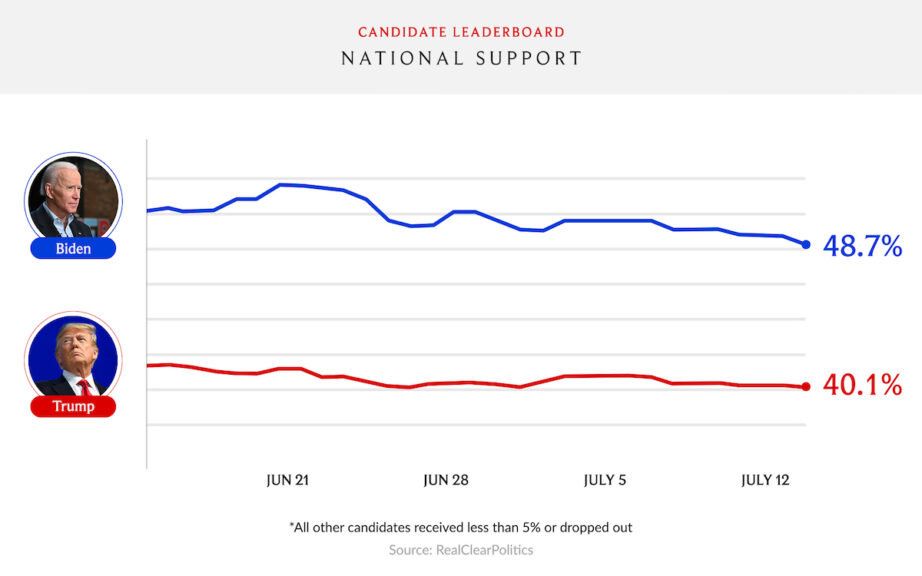 The Daily Wire
Battleground States
What lost Clinton the election, of course, was her terrible performance in several battleground states. And here is where things really aren't looking good for Trump four months out. Trump currently trails in at least six of the battleground states he won in 2016, and over the last month, Biden's lead in those states has widened significantly. Here's the breakdown according to RCP's averages:
Arizona — Biden +2.8 (same as last month) — 2016: Trump won by 3.6
Florida — Biden +6.4 (up from +3.4) — 2016: Trump won by 1.2
Iowa — Trump +1.5 (down from +4.6) — 2016: Trump won by 9.4
Michigan — Biden +7.7 (up from +4.2) — 2016: Trump won by 0.2
North Carolina — Biden +2 (up from +0.8) — 2016: Trump won by 3.6
Pennsylvania — Biden +7.8 (up from +4) — 2016: Trump won by 1.7
Texas — Trump +0.2 (down from +2.2) — 2016: Trump won by 9
Wisconsin — Biden +6 (up from +3.4) — 2016: Trump won by 0.7
Trump won in 2016 by 77 electoral votes, 304–227. If Biden were to win the states Clinton won in 2016 and win the states above in which he currently leads by 3% or more (FL, MI, PA and WI), he'd secure an additional 71 votes more than Clinton (25, 16, 20, and 10, respectively). Those 71 votes would give Biden 298 electoral votes — 29 more than the 270 needed to win the presidency.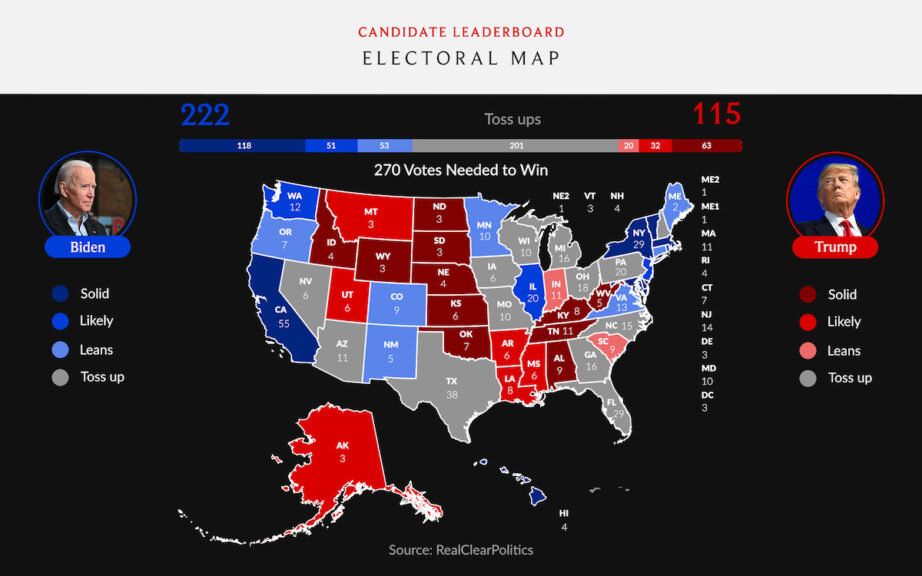 The Daily Wire
The Odds
The betting odds have been trending in the same direction as the polls in recent weeks, Biden trending up at Trump's expense. Marketwatch gives Biden a 52.6% chance of winning and Trump a 40.5% chance. How the odds are currently looking according to the bookies, including some of the extremely longshot candidates, like Mike Pence and Hillary Clinton:
Joe Biden-137, implied probability 52.6%
Donald Trump+125, implied probability 40.5%
Mike Pence+5000, implied probability 1.8%
Hillary Clinton+5000, implied probability 1.8%
Nikki Haley+10000, implied probability 0.9%
Bernie Sanders+10000, implied probability 0.9%
Andrew Cuomo+10000, implied probability 0.9%
Michelle Obama+15000, implied probability 0.6%
Bookies.com, which gives similar odds (Biden -148; Trump +135), frames the last few weeks as a Trump "freefall." "Trump's odds are in freefall once again, and it's very hard to find any positive signs for the current administration 16 weeks out from the general election," writes Bookies' Dan Kilbridge. "Biden shot up to a -148 favorite on Thursday, while Trump is now a +135 underdog."
Key Developments
As Kilbridge notes, the most significant campaign development for either party this week was the Trump campaign's decision to move former campaign manager Brad Parscale out of his position. The big move follows the big debacle of the campaign touting that it had received over a million ticket requests for Trump's first post-lockdown rally on June 20 that ended up drawing under 7,000 participants, while left-wing activists pounded their chests over an apparent ticket request trolling scheme.
One crucial campaign question that is coming to a head is Biden's choice of running mate. Among those believed to be on his shortlist are Sen. Kamala Harris (D-CA), Sen. Tammy Duckworth (D-IL), Rep. Val Demings (D-FL), Atlanta Mayor Keisha Lance Bottoms (D), and former Obama adviser Susan Rice.
The Daily Wire is one of America's fastest-growing conservative media companies and counter-cultural outlets for news, opinion, and entertainment. Get inside access to The Daily Wire by becoming a member.