First, a side observation: I once saw a protest sign that read "Queers for Palestine." I wonder if these activists could name the one place in the Middle East where they could actually live openly gay without fear of persecution or even death.
Here's a hint: it sure isn't Palestine. Nor Iran. It's Israel, of course.
But, I digress.
Anyway, speaking of Israel…
While Washington shifts its attention to other matters, the Israelis look with a wary eye towards the Iran nuclear accord. Do you remember this? The deal that in effect funds their nuclear ambitions to the tune of more than $100 billion in return for flimsy "verification" protocols to make sure their aims are peaceful energy development and not weapons manufacture?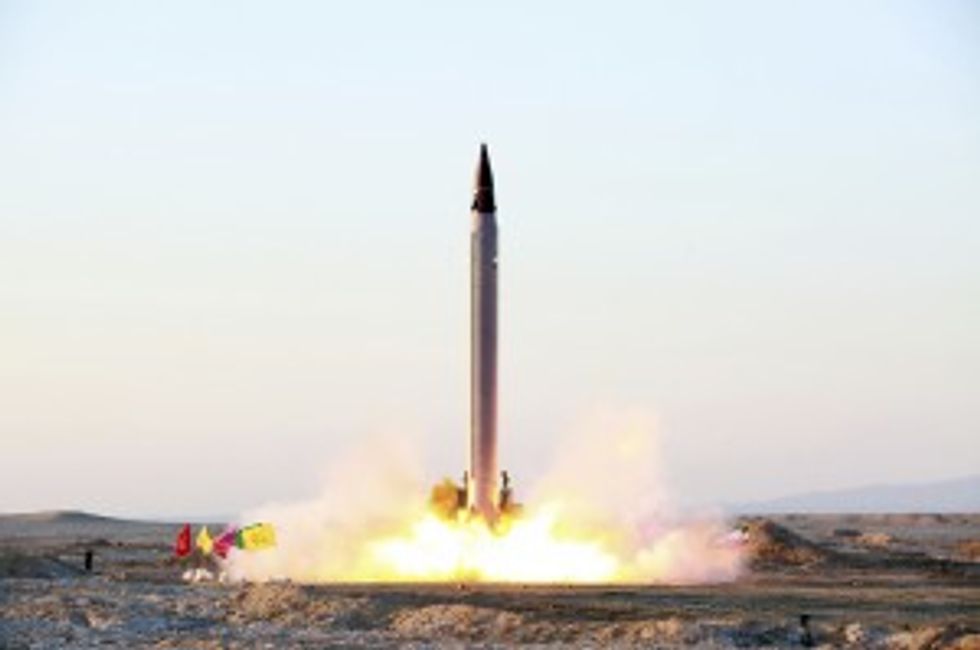 This picture released by the official website of the Iranian Defense Ministry on Sunday, Oct. 11, 2015, claims to show the launching of an Emad long-range ballistic surface-to-surface missile in an undisclosed location. Iran successfully test fired a new guided long-range ballistic surface-to-surface missile, state TV reported on Sunday. It was the first such a test since Iran and world powers reach a historical nuclear deal. Iran's Defense Minister Gen. Hossein Dehghan, told the channel that the liquid-fuel missile "will obviously boost the strategic deterrence capability of our armed forces." (Iranian Defense Ministry via AP) 
There are two very good standards by which to measure a government: what it says and what it does. When it comes to Iran, the Obama administration opts to ignore these two criteria. Israel, a nation surrounded by teeming masses of primitive psychotics hell-bent on its annihilation, cannot afford to be so glib.
First, what do the Iranian leaders say? It seems not to matter to the West that when he was Iran's president, Mahmoud Ahmadinejad predicted the "elimination" of the Jewish state. Nor does it matter that current president Hassan Rouhani refers to Israel as the "festering Zionist tumor." It seems but a mere detail that Iranian supreme leader Ayatollah Ali Kahmeini has declared that Israel will not exist in a quarter century. Even their so-called "moderate" former president Hashemi Rafsanjani recently declared Israel a "fake temporary state" and "a foreign object in the body of a nation and it will wiped off the map."
Yes, but how do you really feel?
Perhaps all of these bellicose declarations are just red-meat posturing for their citizens. So let us instead ask, what does Tehran do? They are the leading sponsor of terrorism in the Levant. They continue to support Hamas in Gaza by providing the missiles they routinely launch into Israel. They are the funding agent for Hezbollah in Lebanon. They are the regional de-stabilizer funneling arms and other support to our enemies in Iraq and the more militant rebels in Syria.
This is the enemy with whom the Obama administration in yet another unconstitutional side step, made a one-sided deal that on the surface defies common sense.
Perhaps there is more to this de facto treaty than meets the eye. One would certainly hope so. But Israeli prime minister Benjamin Netanyahu, no dreamer when it comes to dealing with terror states, denounced it as an "historic mistake" that will allow Iran to develop "an entire arsenal and the means to deliver it." If the prime minister is right, then the world is a more dangerous place as the accord will no doubt trigger a Mideast nuclear arms race.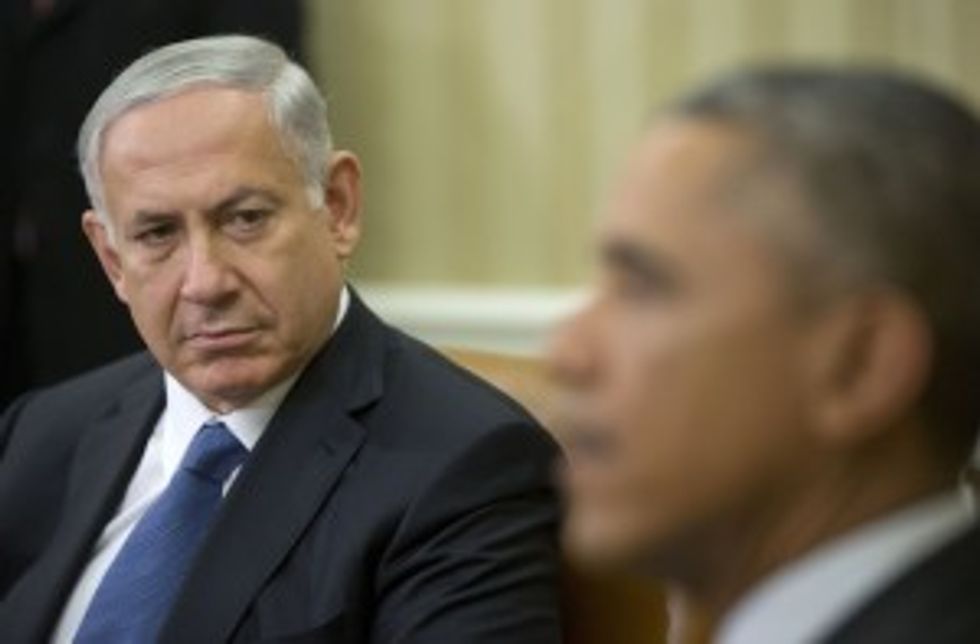 In this Oct. 1, 2014 file photo, Israeli Prime Minister Benjamin Netanyahu listens as President Barack Obama speaks during their meeting in the Oval Office of the White House in Washington. (AP Photo/Pablo Martinez Monsivais, File) 
During the Cold War, the logic behind sleeping soundly while thousands of warheads sat at the ready on either side of the Iron Curtain was the logical deterrent of mutually assured destruction ("MAD") should the intercontinental ballistic missiles fly. But what if MAD seems like a great idea to a certain group of apocalyptic jihadists willing to sell their lives to do Allah's holy work? What then do you do if you are Israel confronted with the very real notion of a regime that denies the last Holocaust while calling for the next soon having an atomic weapon?
In 1973, just six years after the Arabs massed to launch an all out war of eradication against them, the Israelis, monitoring another impending attack, wanted to strike first. But they were warned that U.S. support would stop with such a flagrant act of aggression.
So they waited.
The attack came on Yom Kippur, resulting in their bloodiest and most desperate conflict to date.
When considering the Obama State Department's nuclear deal with Iran, anyone can see its dangerous implications for Israel. Make no mistake: When the Jewish state senses the second hand of extinction approaching midnight they will do whatever they can to prevent Iran's nuclear ambitions from becoming a reality. They will have no choice. And when the smoke clears, they will be universally condemned from all sides, even while in private all will be saying thank God for Israel…many Arab states among the silent assenters.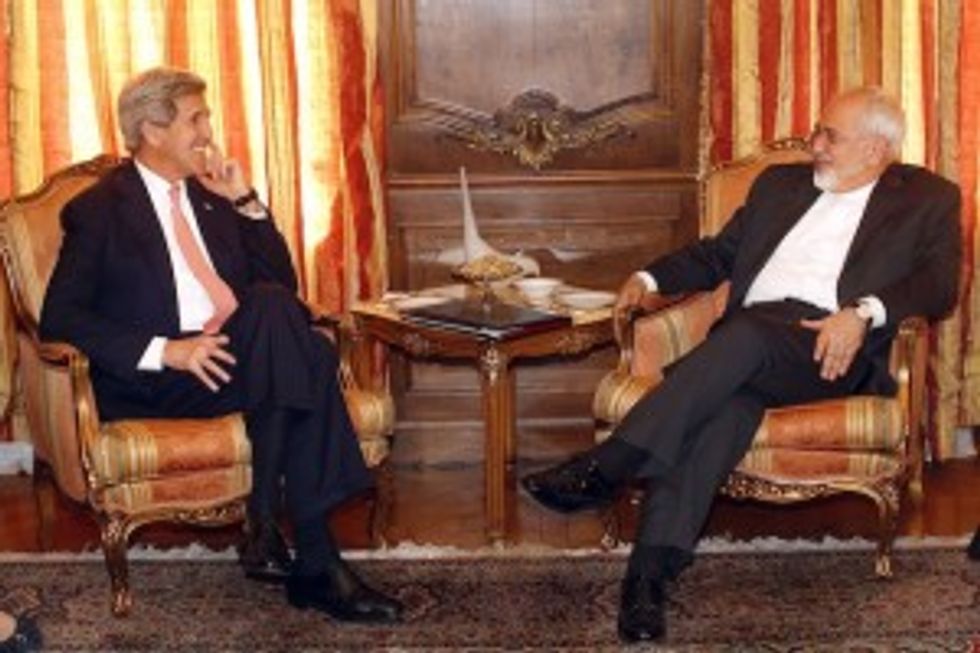 U.S. Secretary of State John Kerry (L) meets with Iranian Foreign Minister Mohammad Javad Zarif at the United Nations April 27, 2015, in New York City. The two were meeting at the opening of a UN conference on a global anti-nuclear weapons treaty, attempting to make progress in talks on a long-term nuclear deal. (Jason DeCrow-Pool/Getty Images) 
It is time to reaffirm U.S. support for this buoy of democracy floating in a heaving sea of despots, theocrats, depraved masses who live by the feud, and religious madmen.
It is time to reject several fundamentally false narratives proffered especially on the college campus such as:
1) But for Israel's presence, the Mideast—a region seething with violence since the dawn of time—would be at peace.
2) If Israel just gave up yet another sliver of its two-tenths of one percent of the land mass of the Arab League, the rocket-lobbing Palestinians, whose school maps do not even recognize Israel's existence, will finally be content.
3) That the U.S. support of Israel is what drives the pan-Islamic world's hatred of the West and not just a convenient foil for a far deeper cultural rift.
4) That Israel is an oppressor state, despite the fact that Israeli Arabs enjoy far more rights and freedoms than in any other country in the region.
5) That what happens to Israel has no impact on the West in general and the U.S. in particular, and that Jews have not been the historical canary in the coal mine as a measure of rising crises of hatred in the world.
6) Finally, "anti-Zionism" is really not a fashionable euphemism for old-fashioned anti-Semitism.
Like all nations, Israel certainly has done things to warrant scorn. Still, there is an old but true expression: "If the Arabs laid down their arms, there would be no war in the Middle East; if the Israelis laid down their arms, there would be no Israel."
There is another expression that sums up the latest flair-up of hostilities in Gaza: "Israel uses rockets to shield civilians; Hamas uses civilians to shield rockets."
2016 should the year the supposedly freedom-loving West acknowledges who holds the moral high ground in the Arab-Israeli conflict and act accordingly.
The Iranians, of course, are not Arabs, but they are fundamentalist Muslims who see the destruction of Israel as a legitimate goal, if their actions and words are any guide. The 2015 nuclear accord with Tehran, now having receded from the headlines and into history, moves the Iranians one step closer to their dream of wiping Israel from the history books.
President Obama offers that the friendship and love the US has for Israel "isn't going anywhere." But, based on his Iran deal, with friends like the Obama administration, Israel needs no more enemies. And enemies are all around them. So they will do what they must to protect themselves from aggression, as is the right of any democratic, sovereign state.
There is one lesson from the Holocaust that the Israelis simply cannot afford to ignore. When people say they want to annihilate you, believe them. Because they mean it.

–
TheBlaze contributor channel supports an open discourse on a range of views. The opinions expressed in this channel are solely those of each individual author.