Many stories have been written by people who have experienced a miracle following the occurrence of a tragic event.
The miracles, while wholly unexpected, are accepted by Christians as being true acts of divinity.
I believe miracles have been taking place within the city of Charleston, South Carolina, nicknamed the Holy City because of its abundant houses of worship, following the devastating act that occurred last week, in which nine innocent people senselessly lost their lives as they attended bible study at their church.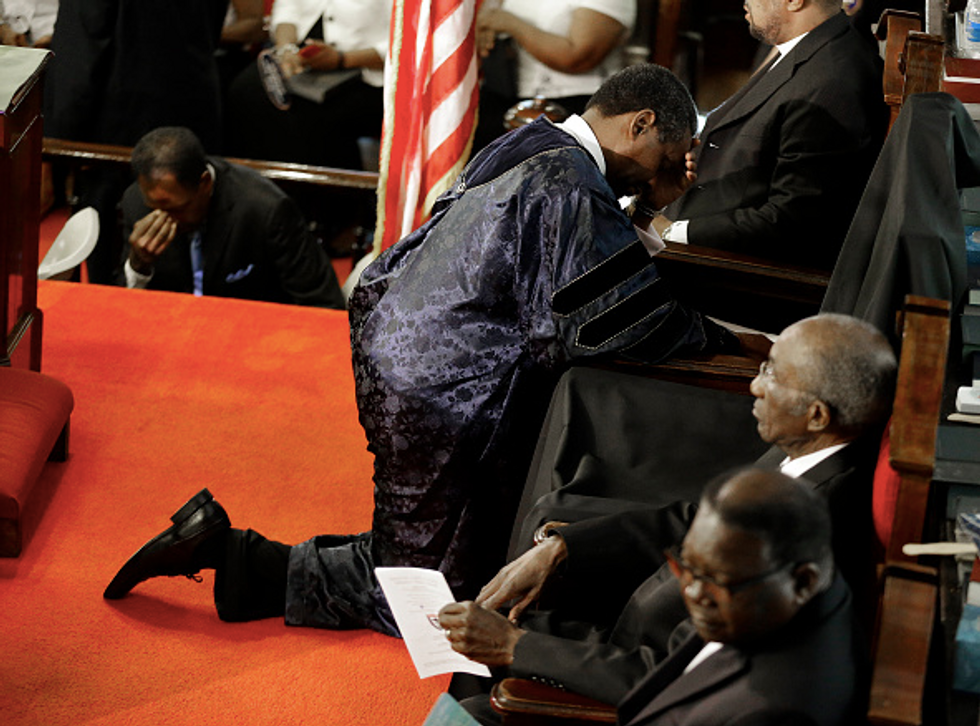 The Rev. Norvel Goff, right, prays at the empty seat of the Rev. Clementa Pinckney at the Emanuel A.M.E. Church four days after a mass shooting that claimed the lives of Pinckney and eight others at the historic Emanuel African Methodist Church June 21, 2015 in Charleston, South Carolina. Chruch elders decided to hold the regularly scheduled Sunday school and worship service as they continue to grieve the shooting death of nine of its members including its pastor earlier this week. (Getty Images/David Goldman-Pool)
Yet, the miracle is not that the people of Charleston chose not to riot or loot as millions witnessed in Baltimore earlier this year following the death of Freddie Gray.
While some may see the people of Charleston's reaction as a miracle because they decided not to riot given the particular set of circumstances, those people do not understand the culture of the South.
The Southern Christian culture is made up of biblically-based, God-fearing people who understand the power of forgiveness and God's grace. I know this because I was born and raised in the South.
Charleston is showing the nation and the world what it means to truly serve a loving God.
[sharequote align="center"]Charleston is showing the nation and the world what it means to truly serve a loving God.[/sharequote]
As miraculous as it may seem to many people living outside of the area, the response of Charleston's citizens is commonplace to those living within Charleston's Holy City.
The family members of the nine who were killed last week have already forgiven the man that is under arrest for allegedly committing the crime.
People in the media were also surprised by the family's ability to put hate aside and forgive.
"I'm reminded of some news media persons that wondered why the nine families all spoke of forgiveness and didn't have malice in their heart." Rev. Norvel Goff said during the Sunday service.
"It's that the nine families got it," he said, reminding worshippers and others alike that faith in God and a commitment to follow His teachings, charges Christians to "love our neighbors as we love ourselves."
While being able to turn anger into love is astonishing to some, it is not a miracle but what the people in Charleston willingly do as faith-based people.
The miracle wasn't even that the Emanuel African Methodist Episcopal Church reopened its doors so soon after the June 17 killings.
"The Doors of the church are open ... No evildoer, no demon in hell or on Earth can close the doors of God's church," Goff said during prayers.
"We have shown the world how we as a group of people can come together and pray and work out things that need to be worked out," said Goff.
Indeed, the people of Charleston and the members of AME have given us hope that there is still reason in a world that at times, appears to have forgotten that reason exists.
However, how the church responded Sunday by choosing love over hate, while awe-inspiring, was not the miracle.
In my opinion, the real miracle occurred on national television this past Sunday morning during AME's service.
It is something that I have not seen since my days as a young girl growing up in the South.
I saw two mainstream media television networks broadcasting AME's church services live on television.
If you can, tell me the last time you saw a Christian church service being broadcast around the world and carried by CNN and FoxNews or any other mainstream media broadcasting service for that matter?
In addition, they were actually allowing the words of Goff to be spoken uninterrupted and without commentary. I was shocked and pleasantly surprised all at the same time.
It was a refreshing sight that reminded me of the days when many mainstream media stations took time out on Sunday to broadcast church services so that a world could be fed the Word instead of being filled with negativity that the "news" often brings.
Watching the service allowed me to feel a connection to those people who weren't afraid to return to the same church where members so recently lost their lives.
I'm sure many others watching felt that same connection with those in Charleston freely worshipping.
One man, who was holding his daughter in his arms outside AME while parishioners attended service inside, explained to his three-year-old daughter why they were at the church.
"This is a special church service because four days ago a lot of people died here ... So we're here today in church with God and everybody. Because we all have the same God," Alan Barardo told his daughter.
Today, a special church brought a nation, and even for a brief moment, the mainstream media together in the name of something greater than evil.
It was truly a miracle, in our politically correct world, to have watched a church service being broadcast by mainstream media around the world while the Word of God was being heard by millions.
And while it may have been short-lived, as mainstream media quickly returned to reporting on divisive issues following the service, a miracle, that may have gone unnoticed by many, allowed good to triumph over evil in a Holy City called Charleston.
–
TheBlaze contributor channel supports an open discourse on a range of views. The opinions expressed in this channel are solely those of each individual author.