If you are anything like me, you have a longing to return to a time where you could be certain that up was up and down was really down. When most people knew right from wrong and there really was a right and wrong answer.
It was a period of stability and comfort in which common sense was the baseline and reason was the fruit.
Today, we seem to be living in a world that often feels like we are spiraling out of control because common sense and reason have been replaced by agendas and progressivism.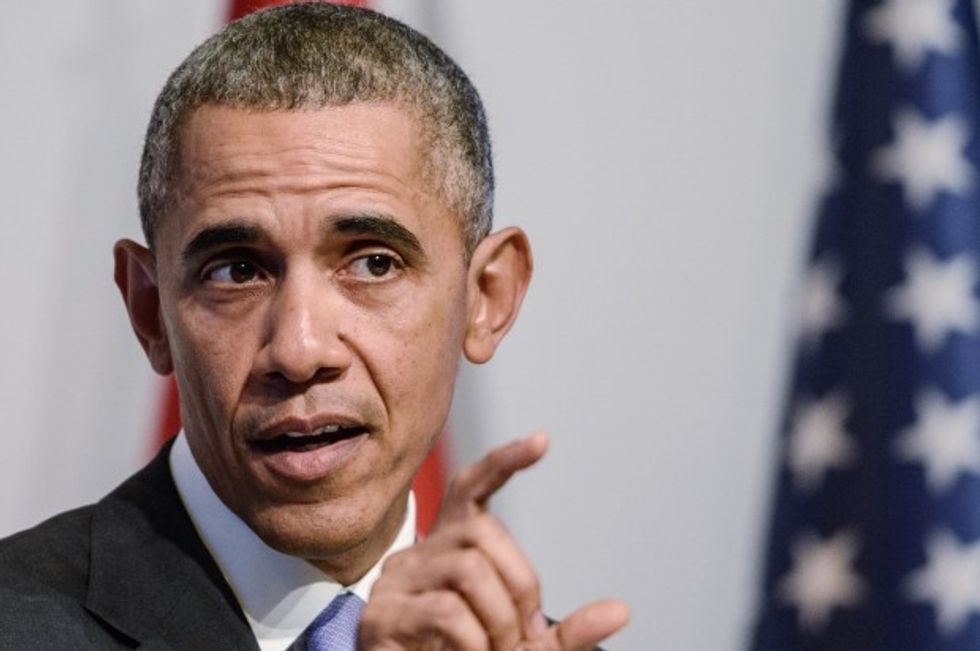 US President Barack Obama gestures during a press conference following the G20 summit in Antalya on November 16, 2015. Obama said on November 16 the United States had no precise intelligence warning of the Paris bombing and shooting attacks that have been claimed by Islamic State group jihadists. The United States has agreed to speed up its sharing of military intelligence with France to try to avert such assaults, the US leader added in a news conference after a summit in Turkey. AFP PHOTO /OZAN KOSE
The main focus of President Barack Obama, following the recent Paris attacks, is how fast we can get Syrian refugees through our borders instead of questioning whether the decision to do so is rational. And, if you object as an American citizen to allowing them in to fulfill a progressive agenda, then you are critically judged as not being a "Christian" by those claiming to be of the same faith.
Obama has even threatened to veto a GOP bill that would require increased screenings of Syrian refugees and those from Iraq before entering the U.S. Obama claims that the requirements in the bill are "untenable." It seems that FBI background checks and individual sign-offs by top federal officials are unreasonable in Obama's mind.
Instead of being rational and waiting until these predominantly 18- to 34-year-old males can be vetted properly in the United States and not quickly pushed through the United Nations' system, we are chastised by our president for being "scared of widows and 3-year-old orphans."
The progressive lie would have you believe that the Syrian refugees "must" come to the U.S. or risk certain death. The truth is that there are Muslim countries that could take them in however, they are not willing to risk their own citizens' lives.
We are getting to the point where we are so used to not hearing reason that many have stopped questioning what they hear altogether.
Take for example the shooting earlier this year in Chattanooga in which a 24-year-old man killed four U.S. Marines and a sailor in an attack on the city's U.S. Naval and Marine Reserve Center.
While investigators have said that the alleged killer was a "homegrown violent extremist," FBI Director James Comey actually said, "We're still trying to make sure we understand Abdulazeez, his motivations and associations, in a really good way." What does "in a really good way" even mean in this context?
And instead of being open with the public about their findings, Comey said, "Sometimes the way we investigate requires us to keep information secret. That's a good thing. We don't want to smear people."
Right! We certainly wouldn't want a "homegrown violent extremist" in this case to look bad, now would we?
It's enough to make you think that rationality is virtually gone because we have gotten so far off-track.
That all changed for me recently when I had one of the most "realistic" conversations that I've had with anyone in a long time.
I interviewed Rev. Jesse Lee Peterson, founder of BOND, a nationally recognized non-profit organization dedicated to "Rebuilding the Family by Rebuilding the Man," on my show, Stand For Truth Radio.
I spoke to him about his upcoming book, "the Antidote: Healing America from the poison of hate, blame and victimhood," due out on Nov. 24, 2015.
Peterson is "the most courageous, outspoken critic of the 'civil rights' establishment in America today," according to his bio and after speaking with him, I would have to agree.
Peterson spoke to me during his interview about his life growing up as a black man in Tuskegee, Alabama during the Jim Crow era and his disdain for those he refers to as "alchemists," who have negatively impacted the black community.
In essence the "alchemists" in the black community in today's "civil rights" movement, according to Peterson's book, are those who are "hustlers, media hacks, politicians, community organizers and the like, who scheme to create wealth without sweat."
He goes on to write, "Like President Obama, these modern-day alchemists promise to "fundamentally transform" America."
"The transformation they promise, however, produces only fool's gold—unearned benefits, such as welfare, food stamps, payouts from lawsuits, and maybe one day even 'reparations.'"
He concludes by adding, "Worse, to secure these counterfeit goods, recipients have to sacrifice something of infinite value: the sanctity of the two-parent family. It is a devil's bargain."
Peterson also didn't hold back when he spoke about where he believes the "anger" in the black community comes from and how he himself at one point in his life had to let go of his anger in order to move forward.
Peterson believes that many in the black community project their anger onto white people and that "white guilt" makes white people accept full responsibility for what they didn't even do.
He also spoke about the "student protesters" at the University of Missouri and the recent ousting of their university president.
"It is about taking the power away from the white man and giving it to the black man," Peterson said when asked to give his opinion about the reasons for the ouster.
"Those black people taking the place of the white man are friends of Obama or black people who definitely agree with him," Peterson concluded.
In a world of political correctness and racial unrest exacerbated by this administration, it was refreshing to have an open and frank discussion with another human being from a different race. It was a conversation with shared mutual respect for one another. It's the way it used to be and should be again when being reasonable in America was the norm.
Peterson's book is a continuation of our open and honest discussion. I highly recommend it. His book, "the Antidote" is filled with colorful events from his past and people whose names you will certainly recognize.
To hear Rev. Jesse Lee Peterson's complete interview:
–
TheBlaze contributor channel supports an open discourse on a range of views. The opinions expressed in this channel are solely those of each individual author.