The Paris attacks, along with those in Beirut and Cairo, demonstrate the reach of Islamic State's ideology. U.S. Secretary of State John Kerry, in an interview with the BBC on November 17, claimed that President Barack Obama has a strategy and that the strategy is working.
What is that strategy? And, how can we measure its success, or lack thereof?
First of all, a strategy is a plan to identify approaches to a goal or problem needing to be solved.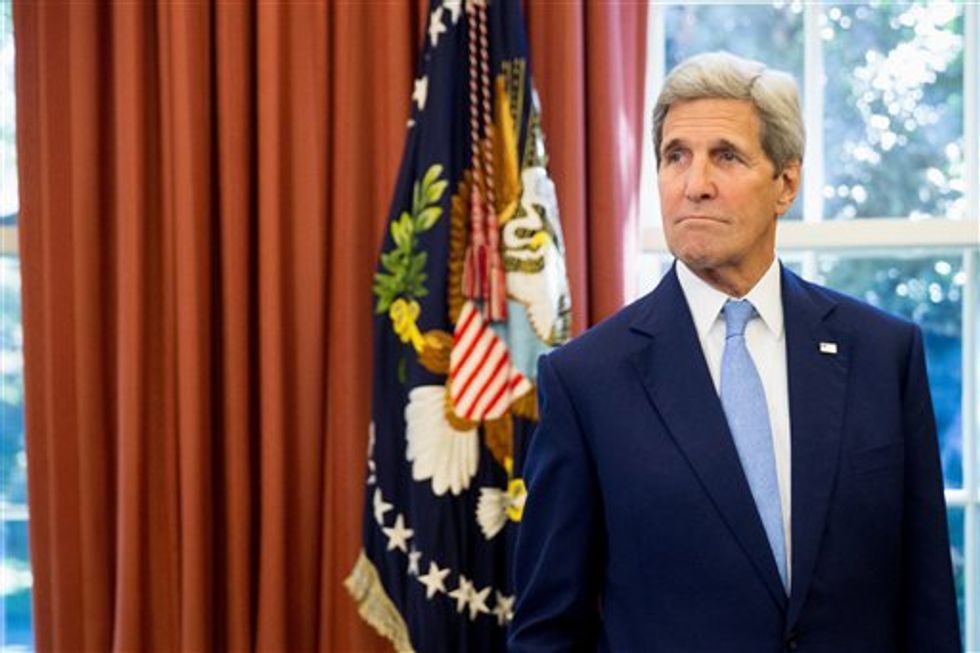 In thbis Sept. 15, 2015 file photo, Secretary of State John Kerry is seen in the Oval Office of the White House in Washington. (AP/Andrew Harnik)
Secretary Kerry told the BBC's Barbara Plett: "the president has put in place what I think we all believe is a strategy that can guarantee that there's something there behind the liberation..."
Kerry meant that it is inevitable that Islamic State will be defeated and that there needs to be police and military resources in place to "hold the community." Without any apparent irony over the fact that his boss was the loudest voice for U.S. disengagement from Iraq, Kerry observed, "We've already seen what happens when the United States of America goes in and occupies a country and spends a bunch of years… there's got to be a developed capacity behind you. That obviously didn't happen sufficiently before because the Iraqi Army just folded and walked away.... And so we want to make certain that as we go along here that doesn't happen again."
Kerry does outline several elements of the Obama strategy in his remarks. The elements mentioned seem to include the following: "cutting their finances, going after their propaganda, cutting off the foreign fighters where we can. I mean, there are a whole series of things we've been doing for a year."
He mentions capacity building of police and military forces. And, when asked about a political solution, he says little about Iran, Iraq, and the Kurds but does blame Assad for Islamic State: "Assad is the magnet attracting these jihadis who come from all over the world to fight with the – with Daesh and others to get rid of Assad."
So, how is this strategy working? When it comes to "cutting" down Islamic State's revenue stream, it is hard to take Secretary Kerry's remarks seriously. As the U.S. government has long reported, Islamic State has made up to $50 million a month through petroleum services, and neither the infrastructure nor the transport of this material has been disrupted until now. According to The New York Times, Nov. 16, 2015 marked the first time that U.S. warplanes attacked an Islamic State oil convoy.
How about the propaganda war?
There are two elements herein, one is message and the other is the operational power to knock of Islamic State's propaganda campaign. When it comes to the former, the Obama administration has consistently found it difficult to conduct a targeted, powerful counter-narrative campaign to Islamic State. This is primarily because the administration is so busy arguing that Islamic State is not "Islamic," that the administration finds it difficult to sound coherent. The only way to effectively define what Islamic State is and stands for is to look at what it says and does. Islamic State claims to be Islamist and to have its practices and beliefs rooted in the Quran, hadiths, and the experiences of the Muslim community in the earliest decades of Islam. Until the West grapples with this fact, rather than dodging it, we will find it difficult to counter the siren song luring foreign fighters to the region from London and Paris and Minneapolis.
The way to counter this message is to amplify what Americans value (freedom, human rights, political order) and to amplify a cross-section of pro-American, pro-Western voices from across religious traditions. This includes Christians, Jews, and Muslims, especially the latter. The U.S. government should amplify strong voices that will resonate in the region and that counter the violent Islamism of Islamic State and other similar groups.
Moreover, the U.S. certainly has the power and resources to severely limit Islamic State's propaganda reach, but has chosen to be self-limiting. The Christian Science Monitor reported on the irony of the situation: U.S. officials reluctant to fight Islamic State due to privacy and other legal concerns, relegating the cyber-counterpropaganda battlefield to Western hackers and activists. Again, this does not seem to be a successful Obama strategy.
With regards to "cutting off the foreign fighters," again this does not seem to be an area of significant victory for Washington and its allies. A Congressional report released just over a month ago indicated that at least 30,000 foreign fighters have joined Islamic State and that the West has not been able to restrain this supply. The Paris, Cairo, and Beirut attacks suggest that not only are foreign fighters emigrating to Syria-Iraq, but also self-mobilizing new Islamic State recruits are activating across the globe. This is a very worrying situation.
Finally, how is the Obama strategy of building security capacity in Syria and Iraq working? In the case of Syria, it has been widely reported that hundreds of millions of dollars have been squandered to train just a handful of fighters in Syria. On the other side of the border, there are more systematic efforts to train Iraqi police and military personnel, but Kurdish peshmerga and Shiite militia units continue to be the most effective ground forces fighting against Islamic State. Unfortunately, they are also fighting one another so it is difficult to calculate the future. Their gains in recent weeks have been immeasurably aided by increased Western airpower. Without it, it is hard to imagine the traditional Iraqi military making any gains whatsoever.
Secretary Kerry told the world that the Obama administration has a strategy, but it is hard to see—after at least two full years—whether or not it is going to be successful in the long run. It is remarkable that a band of a few tens of thousands of villains have embroiled the entire Middle East in a regional war and struck population centers on at least three continents. The real question is whether or not the strike on Paris is a mark of confidence or desperation by Islamic State. Is Islamic State flexing its muscle to show that it can and warn the West to back off, or is Paris a signal of desperation? Could it be that Islamic State is really feeling the pressure at home and so lashed out in Paris? Unfortunately, the level of coordination in the Paris attacks, as well a the recent attacks in Beirut and Cairo, suggest that Islamic State will continue to be a serious threat to international security for some time to come.
Eric Patterson, Ph.D. is Dean of the Robertson School of Government at Regent University and author of numerous books including Ending Wars Well and co-editor of Debating the War of Ideas.
–
TheBlaze contributor channel supports an open discourse on a range of views. The opinions expressed in this channel are solely those of each individual author.