You could say President Richard Nixon played a role in my very existence.
You could also say the same of Al Capone (no, really!), but that's another story for another day.
Forty-one years ago this month a group of teens gathered around a TV set at a youth event, watching our 37th president resign from office after the infamous Watergate scandal.
At one point, a seat opened up next to the cute redhead all the girls had been eyeing—and my mom took the chance.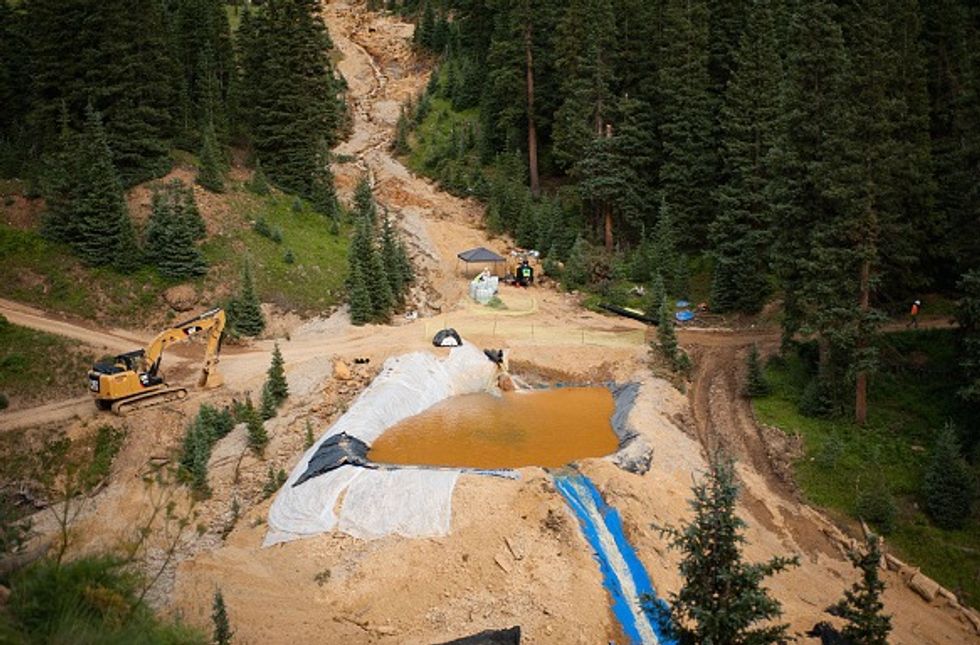 A settling pond is used at Cement Creek, which was flooded with millions of gallons of mining wastewater, on August 11, 2015 in Silverton, Colorado. The Environmental Protection Agency uses settling ponds to reduce the acidity of mining wastewater so that it carries fewer heavy metals. (Theo Stroomer/Getty Images)
After 35 years of marriage, four kids and two grandkids later, the rest is history.
So yes, you could say President Nixon played a role in my existence … sort of.
But back to Watergate for just a moment, and bear with me while I connect a few historical dots.
Now a presidential candidate herself, Hillary Clinton once launched her legal career as part of the Watergate investigation, and played a role in Nixon's ultimate demise.
Fast forward nearly half a century, and Clinton's reckless State Department email trickery make Nixon's sins look like child's play. And for anyone else, it would be cause for a swift ticket to federal prison. Yet a combination of Clinton's political clout and a broad acceptance of double standards will probably guarantee that Clinton gets away with it. With all of it.
Ok, so what do Richard Nixon, Watergate, and Hillary Clinton have to do with the Environmental Protection Agency?
(Other than the fact, incidentally, that Nixon created the EPA.)
Not unlike how Hillary Clinton will probably get away with lying and Nixon didn't, the double standard that is so pervasive in our political culture will all but guarantee that the EPA gets away with a toxic spill that would probably ruin a private entity.
[sharequote align="center"]The EPA gets away with a toxic spill that would probably ruin a private entity.[/sharequote]
This isn't just about the "gotcha" moment. It's not just about preaching to the choir.
It's about illuminating the double standard; the "get out of jail free" card that only a chosen few possess.
In what is now a disaster three times as large as originally reported, the EPA is responsible for spilling several million gallons of toxic waste (rife with things like arsenic and mercury at incredibly high levels) into a tributary of the Animas River in Colorado—ultimately exposing residents in three states to "an array of health problems from cancer to kidney disease to developmental problems in children."
(And this, by the way, is the same agency tasked with enforcing the sweeping climate regulations I wrote about last week. Go figure.)
Sure, there's been some outcry. However (save for those really paying attention or directly affected) it sure seems like it's barely news. While the effects of this accident have the potential of being far more detrimental in the long run than say, the BP oil spill, it's receiving a fraction of the coverage (and a fraction of the outrage).
You see, they're on the safe side of the double standard.
And, once the river's yellow hue has fully faded, so will the story. And the EPA will continue on with business as usual—wasting no time in coming down hard on individuals and companies purportedly guilty of environmental sins infinitely smaller by comparison.
It's a glaring double standard.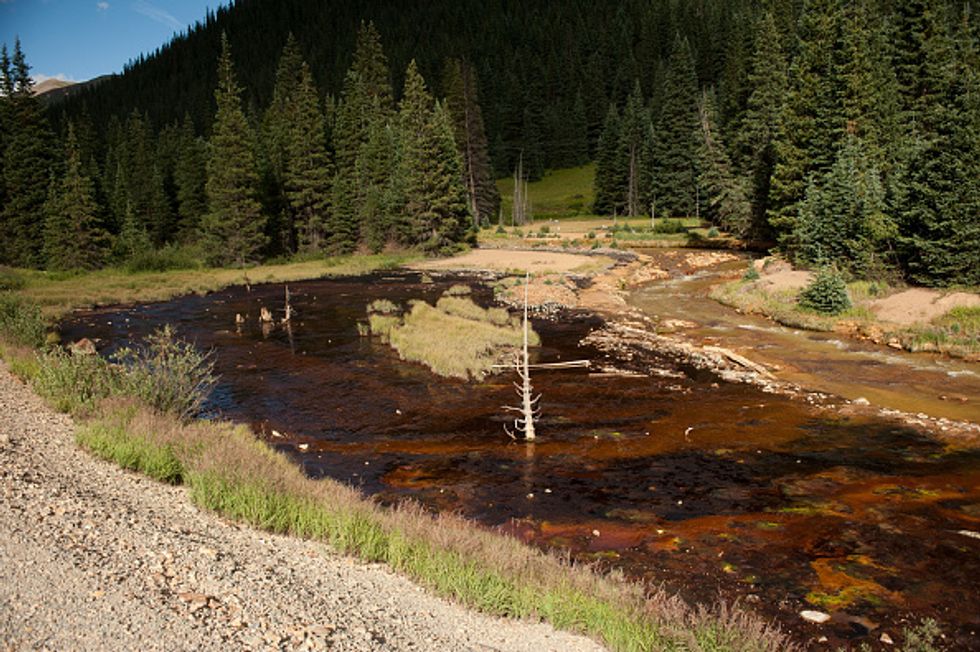 Cement Creek, which was flooded with millions of gallons of mining wastewater, is viewed on August 11, 2015 in Silverton, Colorado. (Photo by Theo Stroomer/Getty Images)
Remember when the EPA sued Navistar International Corporation for violating the Clean Air Act in 2010, after Navistar "sold, offered for sale, introduced or delivered engines that did not satisfy emissions standards applicable to model-year 2010 engines"? It could potentially cost the company $37,000 a day, per violation.
Remember when the EPA sued Edge Products for "manufacturing and selling electronic devices that allowed owners of model year 2007 and later diesel pickup trucks to remove emission controls from their vehicles"? That suit sought $500,000 in civil penalties.
Remember when the EPA accused Wyoming welder Andy Johnson of violating the Clean Water Act by building a pond in his back yard? The EPA's threats in that case included a $75,000 a day fine.
Remember when the EPA tried to subject the Sackett family of Idaho to a similar $75,000 a day fine over claims that the construction of their new home was interfering with wetlands?
I'm not saying that the EPA will face zero blowback over this river spill. At least for now, certain groups plan to file lawsuits (and it certainly wouldn't be the first time the EPA's been sued).
The difference, however, is that the EPA has the full force of the federal government behind it.
And unlike the companies and families the EPA has targeted, the EPA doesn't have to worry about much—regardless of one or a million lawsuits levied against it. (If anything, the unelected agency will grow increasingly stronger as they enforce the president's sweeping Clean Power regulations.)
Not only is it unlikely that the EPA will experience a taste of its own medicine, but the agency is actually taking an active role in trying to prevent that from happening. Specifically, the agency has tried to coax members of the Navajo Nation to "waive rights to future compensation for damages incurred by the toxic spill."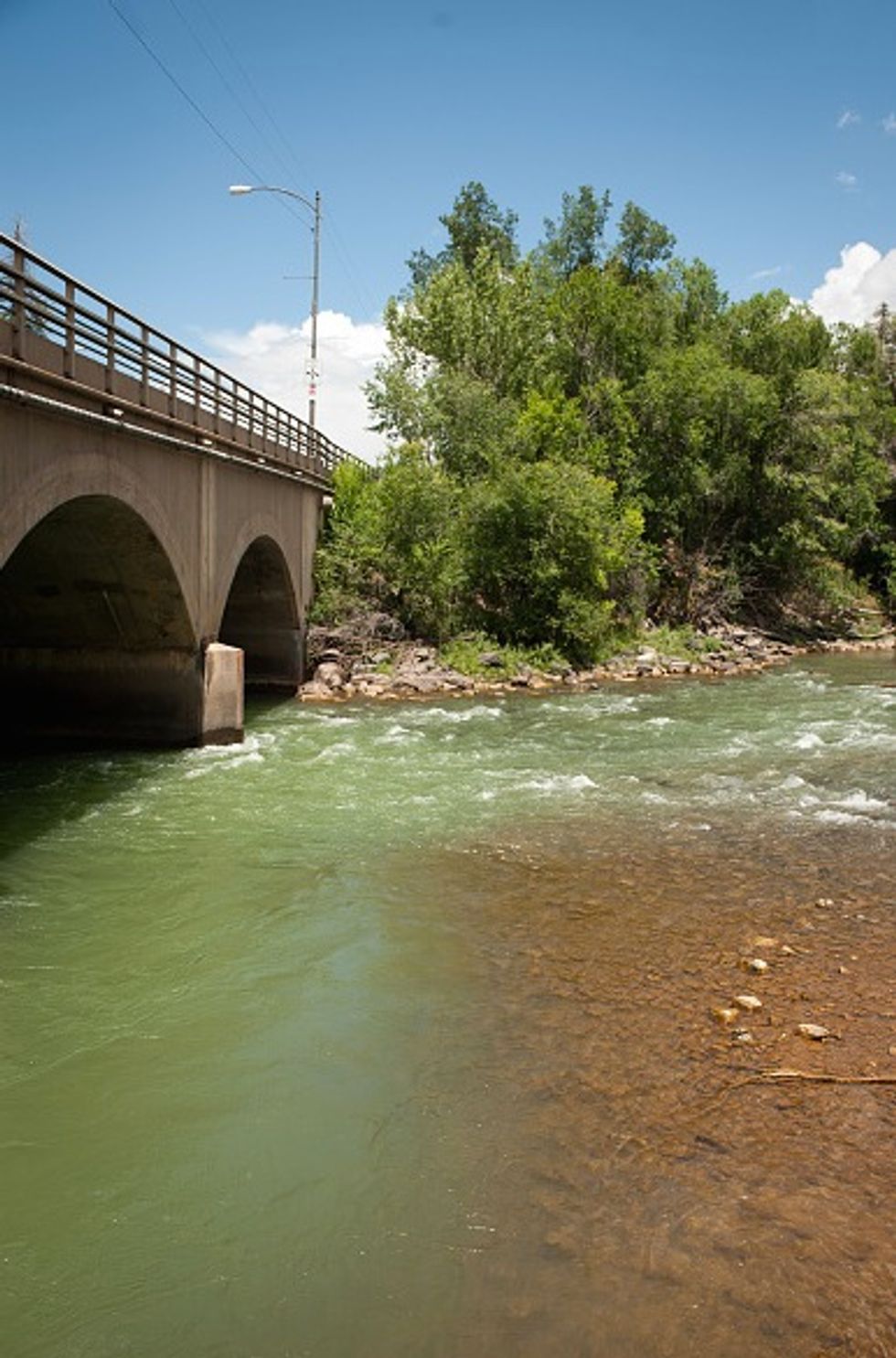 The Animas River is pictured on August 11, 2015 in Durango, Colorado. The Environmental Protection Agency accidentally released approximately three million gallons of wastewater into the river from the Gold King mine last week. (Theo Stroomer/Getty Images)
In other words, the EPA knows darn well that the spill's consequences are far from over, despite claims that the river is "back to pre-spill quality." Waiving rights to future compensation just saves the agency future headaches.
You see, it can do whatever it wants—no consequences—because by virtue of its position as part of the federal government bureaucracy, it's on the favorable side of the double standard.
After all, what else explains the fact that this agency—whose sole existence is ostensibly to protect the environment—is responsible for an accident that left the riverbeds in three states laced with poisonous toxins like arsenic and lead to be stirred up for years to come, yet it's hardly a blip on the news cycle?
Imagine for a moment if a private company had caused the spill.
There would be an all-hands-on-deck, full-fledged investigation. Every shred of evidence would be combed through, particularly claims that such a spill would be convenient for "superfund site" designation, and that a leak of precisely this nature would achieve exactly that.
I'm not holding my breath, because on this side of the double standard, you don't have to answer for your actions outside of a few public appearances and apologies.
Believe it or not, it really does matter. A pervasive, persistent indifference to double standards lets bad behavior keep right on rolling.
I realize I'm not telling most of you something that don't already know. Yup, there's double standards in government. (Insert collective snore here.)
So seriously—when are we going to start caring?
Mary Ramirez is a full-time writer, creator of www.afuturefree.com (a political commentary blog), and contributor to The Chris Salcedo Show (TheBlaze Radio Network, Saturday, from noon to 3 p.m. ET). She can be reached at: afuturefree@aol.com; or on Twitter: @AFutureFree
–
TheBlaze contributor channel supports an open discourse on a range of views. The opinions expressed in this channel are solely those of each individual author.