**The following is an in-depth review of "Ant-Man" and does contain spoilers.**
The Marvel Cinematic Universe has been around for seven years, and has produced 12 feature films, and three successful television series.
"Ant-Man" is the 12th feature film in the MCU continuity, and it closes out Phase 2, which began with "Iron Man 3." Combined, it is easily the most successful film franchise to date, accumulating a whopping $3.5 billion - adjusted for inflation - and does not include television or home video.
Marvel didn't invent the superhero movie genre by any stretch of the imagination, but they did redefine it with the introduction of the shared universe. In the last several years, superhero movies have grown so big that it is now has sub-genres beneath it. While the superhero movie traditionally plays in the action movie realm, we've seen superhero comedies, superhero space opera, and even a superhero horror movie.
And now, "Ant-Man," is the first ever superhero heist movie.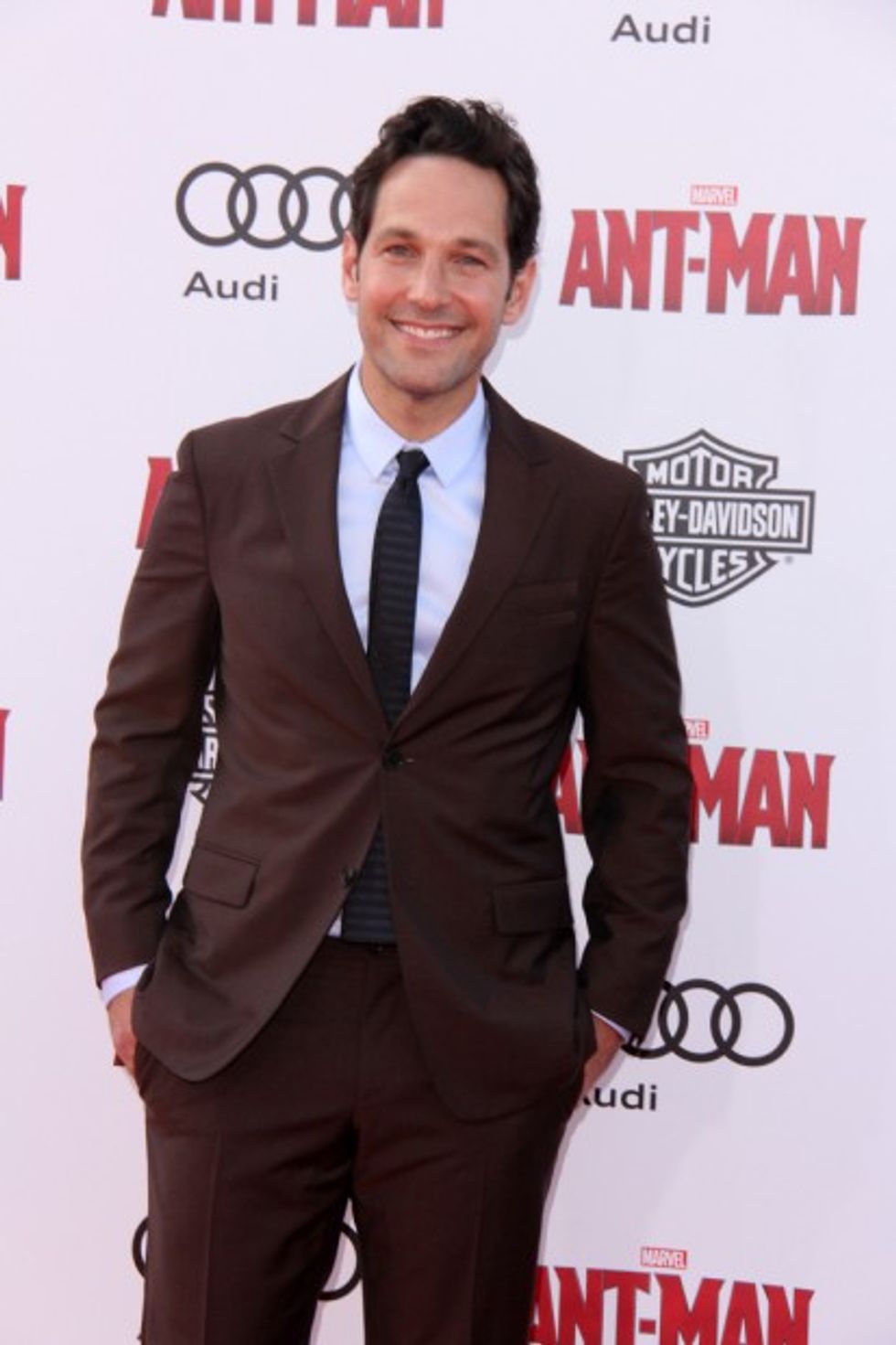 Actor Paul Rudd arrives for the Premiere Of Marvel's 'Ant-Man' held at Dolby Theatre on June 29, 2015 in Hollywood, California. Photo Credit: Shutterstock
While it most certainly has quite a bit of action - and a whole lot of jokes - "Ant-Man" is primarily the story of Scott Lang, who has been hired by former Ant-Man, Henry Pym, to done the costume and to use his skills as a burglar to break into Pym's own corporation and steal the Yellowjacket project. Yellowjacket is the code name for a miniaturization suit - which was based on Pym's own Ant-Man experiments - and which he has desperately been trying to keep to himself since the 1980s.
Scott - desperately wanting to turn over a new leaf and go completely straight so that he can gain visitation rights to his daughter Cassie - gets a job at Baskin Robbins. Unfortunately he is soon fired once his employer learns of his past. Desperate for the money to pay his child support, which is a condition of his visitation, he agrees to one quick score. That score turns out to be bogus, and it was just a set-up for Pym to see how good his burglary skills really are.
Not willing to leave empty-handed, Scott takes the only thing in the safe - a leather "motorcycle" suit. When he gets home, and tries the suit on and hilarity ensues as he unwittingly discovers that it isn't a motorcycle suit at all. In actuality, it's a suit capable of shrinking the wearer to the size of an insect. Pym, who has been monitoring Scott the entire time, tells Scott to keep the suit and that he would be in touch. Scott isn't too keen on that idea, so he breaks back in to Pym's house to return the suit and is busted thanks to a call to the police by Pym's daughter, Hope Van Dyne.
Pym soon breaks Scott out of the holding cell, courtesy of the Ant-Man suit and his ant minions, and brings Scott back to his home where he explains that he needs Scott's help. In an exchange that is in every trailer for the movie and still manages to get a laugh in the cinema, Scott tells Pym that his life of crime is behind him. He's done breaking into places and stealing stuff.
To which Pym replies, "I need you to break into a place and steal some stuff."
[sharequote align="center"]"I need you to break into a place and steal some stuff."[/sharequote]
Pym and Hope begin training Scott for the heist, teaching him the skills he'll need to best control the suit, to mind control the ant helpers, and to fight his way out of any danger he might encounter. At the height of his training, Scott even goes toe-to-toe with an actual Avenger, "Captain America: The Winter Soldier" and "Avengers: Age of Ultron" star Anthony Mackie, Falcon.
The villain of the film is Darren Cross, Pym's former protege. While Cross was able to crack the secret to the Pym particle - which is what makes size manipulation possible - he was not able to duplicate the helmet technology, which allowed Ant-Man to use the Pym Particles without suffering the psychosis that comes with size manipulation. Without these neuro-blockers, Cross is slowly going mad.
Much as has become the norm with Marvel films, the villain is the movie's weakest link. Marvel Studios has had a problem with uninteresting and poorly developed villains since the beginning, and that tradition is in full force here. Yellowjacket is a perfectly passable villain, but there isn't anything about him that really sets him apart or makes him unique. Much like Iron Monger, Whiplash and Red Skull before him, he was cookie cutter.
"Ant-Man" has probably drifted the furthest from the source material than any other Marvel Studios film to date. While no Marvel/Disney film has been 100 percent true to the comics, they have mostly stayed to one iteration or another. "Ant-Man," however, has gone more in the direction of the Fox's "X-Men" films in that it took various things from the comics and crafted its own unique storyline.
An avid Marvel reader would have easily been able to see the film's patchwork. The character of Hope Van Dyne - Hope Pym in the comics, but here taking her mother's last name - is a character from the MC2, an alternate future of the Marvel universe. Yellowjacket, while the villain of the film, was actually one of many code names used by Hank Pym during his time with the Avengers. Other Pym code names have been Giant-Man and Goliath, so it will be interesting to see if these are used for future villains in later sequels.
On the whole, "Ant-Man" was very good at being everything it was supposed to be. It was a fun movie that used levity to help you forget how cheesy the concept is, and it told a very intriguing superhero heist story. The few failings it did have - most notably in poor villain development - were in keeping with previous Marvel films and are flaws many fans have learned to accept as par for the course.
While it has gotten off to a slow opening weekend, "Ant-Man" has a very good chance at redeeming itself through word of mouth, either later in its theatrical run or through home video. If you're a fan of Marvel and superhero movies, "Ant-Man" can't be recommended enough.
Be sure to stay in your seat all the way through the credits, as "Ant-Man" has not one, but two end credits sequences and the second ties directly into the next MCU film, "Captain America: Civil War."
Add to the bottom of every piece:
–
TheBlaze contributor channel supports an open discourse on a range of views. The opinions expressed in this channel are solely those of each individual author.