Omaha Public schools (in corn-country Nebraska) is in full melt-down mode after local radio host, Chris Baker, exposed a curriculum seminar for school teachers promoting the insertion of Black Lives Matter agenda into the curriculum.
Baker was made aware of the meeting by several teachers who were very uncomfortable with the content of the meeting and disagreed with the entire premise but feared losing their jobs if they said anything. The seminar, put on by Omaha Public Schools featured a local "media consultant" and Black Lives Matter propagandist named Morgann Freeman (no, not the actor). According to Baker's source, Ms. Freeman was there to show teachers how to inject BLM indoctrination and other social justice propaganda into the curriculum in Omaha Public Schools.
Barry Thomas, Supervisor of Secondary Social Studies for the district, was the one who invited Ms. Freeman to speak.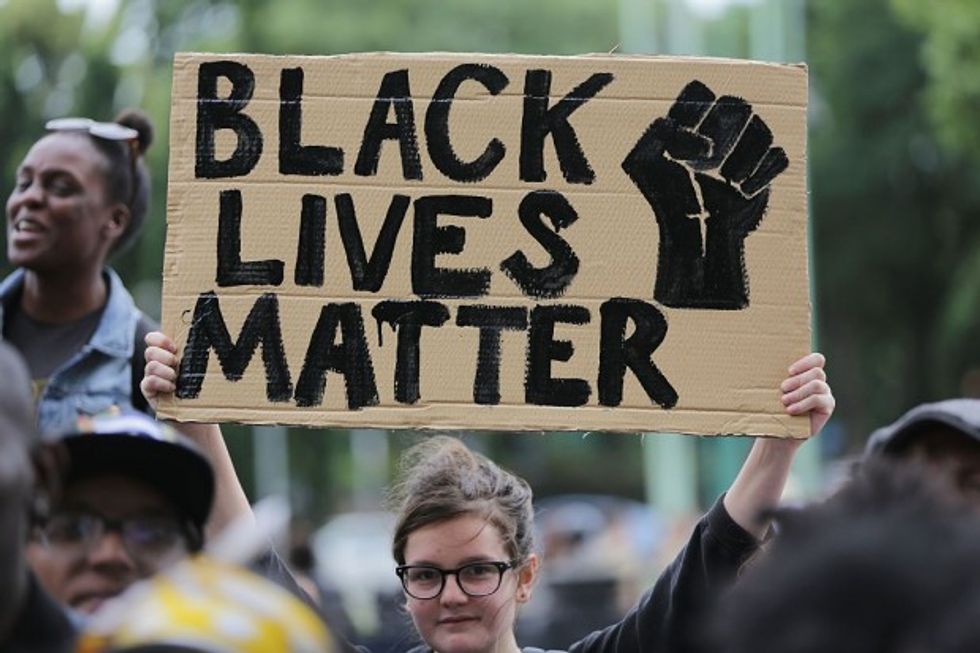 A women holds up a placard with the slogan "Black Lives Matter" as people gather in Brixton, south London to protest against police brutality in the US, on July 9, 2016, after two recent incidents where black men have been shot and killed by police officers. (DANIEL LEAL-OLIVAS/AFP/Getty Images)
During the meeting Ms. Freeman expressed her views on the Black Lives Matter agenda stating, "Meritocracy is a myth. The idea that people can 'pull themselves by their bootstraps' is a lie. It only works for those with privileges."
Attendees of the curriculum meeting told Baker Ms. Freeman portrayed black Americans as victims of white oppression claiming that blacks are systematically targeted for destruction. She also claimed America was never great and was founded by flawed racists who set up a system that would perpetuate their power.
After reading the Nebraska State Standards for Social Studies it is perplexing to see how any of this supports, let alone promotes, the standards. The stated purpose of which is to "teach our children to become young patriots who have an intellectual understanding of the genius of our country's founding principles and who feel an emotional connection to our nation."
The information presented and views espoused by Ms. Freeman promote the exact opposite. From her own Facebook page Ms. Freeman admits she was there to "incorporate Black Lives Matter and other social justice movements into [Omaha Public Schools] curriculum to address trends their students are exposed to on a day to day basis."
"Why would [Omaha Public Schools] want to insert this hatred into their curriculum?" asked Baker. "Why would they want to teach children to hate; to teach children of color to hate white people and teach white students to hate themselves?"
All very good questions we'll probably never get answers for since the district is in full lock-down mode on the subject.
Baker tried repeatedly to speak with someone. He finally received a call from Monique Farmer, director of communications who provided a statement and declined Baker's invitation for the superintendent to come on his show due to his busy schedule—even though Baker offered open dates for the next three months. The statement from the district was full of flowery speech making the whole thing sound like a non-issue. But they know it is a big issue and this is a big story.
The most recent riots in Milwaukee are just another example of the end result of the kind of "teaching."
If you are told your entire life you will never amount to anything because you're black and that white people oppress you, then you're going to start to believe white people are the cause of all your problems. It worked very well for Adolf Hitler when pitting the working class against the Jews—propagating the largest and most heinous redistribution of wealth in modern history.
Is this really what parents want their children learning in school? Do we want the future of our nation to learn that rioting and violence is okay if you're angry; stealing is okay if someone has more than you; that your color determines whether you will succeed; and if you're white you are always the "bad guy?" This is not how you promote unity in a united nation under God. But for the architects of BLM, that is the objective. After all, the best way to conquer a people is to first divide them.
According to teachers and staff they are being bombarded with Black Lives Matter propaganda points; bringing in speakers that proudly proclaim "we're going to challenge your beliefs." That seems to fit with Ms. Freeman's cover photo on her Facebook page that states, "My goal is for us all to get uncomfortable." Many teachers are very uncomfortable.
The school district sent an email to Baker stating, "You continue to reference updates to the curriculum to incorporate 'Black Lives Matter propaganda'… OPS social studies curriculum has not been adjusted to include the information you have referenced."
The agenda doesn't have to be physically added to the curriculum to be propelled in the classroom. According to the class description provided by Omaha Public Schools, that is exactly what the intent of the presentation was and many teachers are feeling pressured to do it.
"These teachers are terrified," said Baker. "They're terrified they will lose their jobs if they don't comply."
Considered fly -over country, Nebraska is a red state filled with cattle farms and corn fields. The Nebraska state social studies standards reflect the very essence of the hard-working families who call Nebraska home. It is a place where American values are cherished and family means everything. Those are the things we should be teaching our children. Milwaukee Sheriff David Clarke expressed this with incredible incite, truth and boldness when he was asked about the riots in his town.
Nebraska isn't the only state facing this propaganda push. Teachers from other states have contacted Baker expressing the same concerns. Barry Thomas, the man who invited Ms. Freeman to promote the BLM agenda in the curriculum meeting, was recently appointed to serve on the board of directors for the National Social Studies Supervisors Association. It makes one wonder what will be showing up in our children's textbooks in the next printing cycle.
Kimberly Fletcher is the author of WOMEN: America's Last Best Hope and the president and founder of HomeMakers for America Inc. The views in this article are solely of the author and not representative of HomeMakers for America Inc. Follow Kimberly on Facebook, Twitter @proudhomemaker and on her Blog
–
TheBlaze contributor channel supports an open discourse on a range of views. The opinions expressed in this channel are solely those of each individual author.