Who needs bread and circuses when you have the assortment of clowns and contortionists that are running for the White House?
Truly, politics in America has been reduced to a three-ring circus complete with carnival barkers, acrobats, contortionists, jugglers, lion tamers, animal trainers, tight rope walkers, freaks, strong men, magicians, snake charmers, fire eaters, sword swallowers, knife throwers, ringmasters and clowns.
No matter who wins the presidential election come November, it's a sure bet that the losers will be the American people.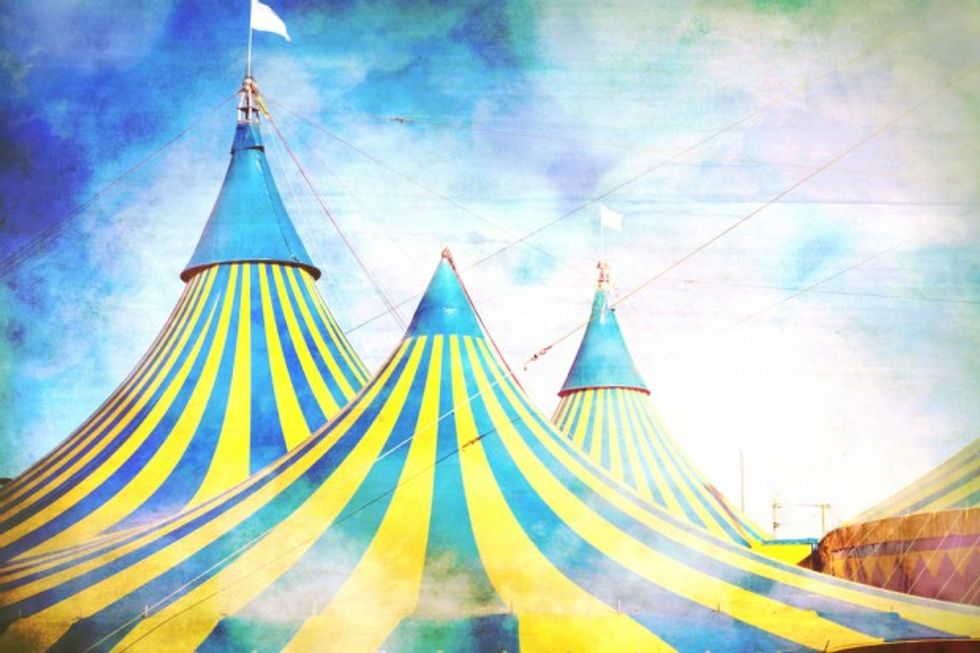 Shutterstock
Despite the propaganda peddled by the media, the 2016 presidential election is not a populist election for a representative. Rather, it's a gathering of shareholders to select the next CEO, a fact reinforced by the nation's archaic electoral college system.
When a country spends close to $5 billion to select what is, for all intents and purposes, a glorified homecoming king or queen to occupy the White House, while 46 million of its people live in poverty, nearly 300,000 Americans are out of work, and more than 500,000 Americans are homeless, that's a country whose priorities are out of step with the needs of its people.
So what is the solution to this blatant display of imperial elitism disguising itself as a populist exercise in representative government?
Stop playing the game. Stop supporting the system. Stop defending the insanity. Just stop.
Washington thrives on money, so stop giving them your money. There are countless worthy grassroots organizations and nonprofits working in your community to address real needs like injustice, poverty, homelessness, etc. Support them and you'll see change you really can believe in in your own backyard.
Politicians depend on votes, so stop giving them your vote unless they have a proven track record of listening to their constituents, abiding by their wishes and working hard to earn and keep their trust.
Stop buying into the lie that your vote matters. Your vote doesn't elect a president. Despite the fact that there are 218 million eligible voters in this country (only half of whom actually vote), it is the electoral college, made up of 538 individuals handpicked by the candidates' respective parties, that actually selects the next president.
The only thing you're accomplishing by taking part in the "reassurance ritual" of voting is sustaining the illusion that we have a democratic republic when in fact we are suffering from an "economic élite domination."
Unfortunately, the American people have a history of choosing bread-and-circus distractions over the tedious work involved in self-government.
As a result, we have created an environment in which the economic elite (lobbyists, corporations, monied special interest groups) could dominate, rather than insisting that the views and opinions of the masses—"we the people"—dictate national policy. As such, the citizenry has little if any impact on the policies of government.
We allowed our so-called representatives to distance themselves from us, so much so that we are prohibited from approaching them in public, all the while they enjoy intimate relationships with those who can pay for access—primarily the Wall Street financiers.
We said nothing while our elections were turned into popularity contests populated by individuals better suited to be talk-show hosts rather than intelligent, reasoned debates on issues of domestic and foreign policy by individuals with solid experience, proven track records and tested integrity.
We indulged our craving for entertainment news at the expense of our need for balanced reporting by a news media committed to asking the hard questions of government officials.
We bought into the fairytale that politicians are saviors, capable of fixing what's wrong with our communities and our lives, when in fact, most politicians lead such sheltered lives that they have no clue about what their constituents must do to make ends meet.
We let ourselves be saddled with a two-party system and fooled into believing that there's a difference between the Republicans and Democrats, when in fact, the two parties are exactly the same: they support endless war, engage in out-of-control spending, ignore the citizenry's basic rights, have no respect for the rule of law, are bought and paid for by Big Business, care most about their own power, and have a long record of expanding government and shrinking liberty.
Then, when faced with the prospect of voting for the lesser of two evils, many compromise their principles and overlook the fact that the lesser of two evils is still evil.
Perhaps worst of all, we allowed the cynicism of our age and the cronyism and corruption of Beltway politics to discourage us from believing that there was any hope for the American experiment in liberty.
Granted, it's easy to become discouraged about the state of our nation. We're drowning under the weight of too much debt, too many wars, too much power in the hands of a centralized government, too many militarized police, too many laws, too many lobbyists, and generally too much bad news.
It's harder to believe that change is possible, that the system can be reformed, that politicians can be principled, that courts can be just, that good can overcome evil, and that freedom will prevail.
So where does that leave us?
Benjamin Franklin provided the answer. As the delegates to the Constitutional Convention trudged out of Independence Hall on Sept. 17, 1787, an anxious woman in the crowd waiting at the entrance inquired of Franklin, "Well, Doctor, what have we got, a republic or a monarchy?" "A republic," Franklin replied, "if you can keep it."
What Franklin meant, of course, is that when all is said and done, we get the government we deserve.
A healthy, representative government is hard work. It takes a citizenry that is informed about the issues, educated about how the government operates, and willing to make the sacrifices necessary to stay involved, whether that means forgoing Monday night football in order to attend a city council meeting or risking arrest by picketing in front of a politician's office.
Most of all, it takes a citizenry willing to do more than grouse and complain.
We must act—and act responsibly—keeping in mind that the duties of citizenship extend beyond the act of voting.
The powers-that-be want us to believe that our job as citizens begins and ends on Election Day. They want us to believe that we have no right to complain about the state of the nation unless we've cast our vote one way or the other. They want us to remain divided over politics, hostile to those with whom we disagree politically, and intolerant of anyone or anything whose solutions to what ails this country differ from our own.
What they don't want us talking about is the fact that the government is corrupt, the system is rigged, the politicians don't represent us, the electoral college is a joke, most of the candidates are frauds, and, as I point out in my book "Battlefield America: The War on the American People," we as a nation are repeating the mistakes of history—namely, allowing a totalitarian state to reign over us.
Former concentration camp inmate Hannah Arendt warned against this when she wrote, "No matter what the specifically national tradition or the particular spiritual source of its ideology, totalitarian government always transformed classes into masses, supplanted the party system, not by one-party dictatorships, but by mass movement, shifted the center of power from the army to the police, and established a foreign policy openly directed toward world domination."
Clearly, "we the people" have a decision to make.
Do we simply participate in the collapse of the American republic as it degenerates toward a totalitarian regime, or do we take a stand at this moment in history and reject the pathetic excuse for government that is being fobbed off on us?
–
TheBlaze contributor channel supports an open discourse on a range of views. The opinions expressed in this channel are solely those of each individual author.