There are many reasons to oppose Hillary Clinton in her culminating life's endeavor to become our 45th president.
Not the least of these is the prospect of potentially four new reliably partisan Supreme Court justices and a political economy derivative of European socialism – but with all the malaise and none of the enlightenment.
What's worse, and what should preoccupy all voting age Americans, is the certitude if Clinton is elected of a continued and ultimately successful fatal attack on the fundamental foundation of our competitive ethos, our pull-yourself-up-by-the-bootstraps national soul. An attack founded in the progressive dogma of political correctness and free-ride socialism.
President Barack Obama gave voice to this corrosive narrative earlier this year while addressing graduates of Howard University, telling them that success is based not on hard work, risk taking, courage, or moral fortitude, but mostly on luck.
"It wasn't nothing you did," he said, "so don't have an attitude."
Attitude, indeed.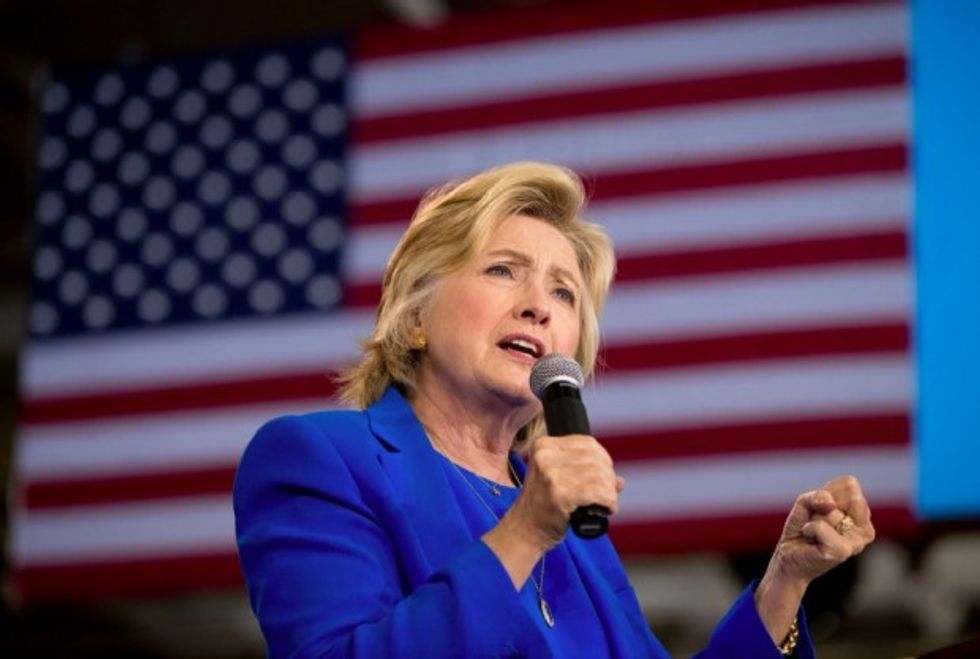 Democratic presidential candidate Hillary Clinton speaks at a rally at Johnson C. Smith University in Charlotte, N.C., Thursday, Sept. 8, 2016. (AP Photo/Andrew Harnik)
It was attitude that built this nation, that led to advancements like the steam turbine, the gasoline-powered automobile, the airplane, wireless telegraphy. The phonograph. The lightbulb. And it is attitude that will lead entrepreneurs like Elon Musk, Larry Page, Sergey Brin, Bill Gates, Jeff Bezos, and unnamed others to yet further horizons. Affordable energy. Greater national security. A higher standard of living. Mars.
And the engine that drives these individuals is the risk-reward bargain of our national meritocracy. Those who work harder, study longer, rise earlier, dare greater are destined for more. While the Obama era zeitgeist frowns on unequal economic outcomes, the absence of participation trophies in the entrepreneurial decision space is a reality hard to ignore.
An internet survey of popular literature illustrates how pervasive this narrative has become. The language used to perpetuate the myth of lucky causation spans the class warfare spectrum from relatively innocuous indictments of entrepreneurs and capitalists to full-throated screeds against that favored target of the twenty-first century liberal: "the rich."
That Hillary Clinton has seized upon this narrative should surprise no one. Forget for the moment, as her campaign would have us do, that she is a wealthy, entitled progressive who only achieved her version of success by monetizing her and her husband's public service.
Indeed, the Clinton campaign rhetoric on this score is clear. Because luck and chance play a predominant role in individual economic success, it is the government's sworn duty to redistribute income and level the playing field for all the unfortunate (read: unlucky) among us.
"Equality of outcome," said Milton Friedman, "is entirely antithetical to liberty." It is in this vein that those of us who live in a world influenced by micro- and macro-economic forces anticipate a potential Clinton presidency with trepidation not only at the prospect of a further dumbing-down of our national ambition but also because of the attendant deleterious effect it will have on our constitutional Republic.
Gregg E. Bauer is a business executive, retired United States Naval Intelligence Officer, and former Chief of Staff to the Inspector General of the Department of Defense.
–
TheBlaze contributor channel supports an open discourse on a range of views. The opinions expressed in this channel are solely those of each individual author.