Establishment Republicans, especially those of you who futilely continue to support establishment candidates: what the heck is wrong with you?
The Donald Trump movement is a powder keg waiting to explode and you are playing with matches.
You know the Donald Trump movement is going to be bad for our party and our country, but your constant scheming and anybody-but-Trump mantra has only strengthened the resolve of his supporters. You have done absolutely nothing to help unite the remainder of the party around an alternative candidate.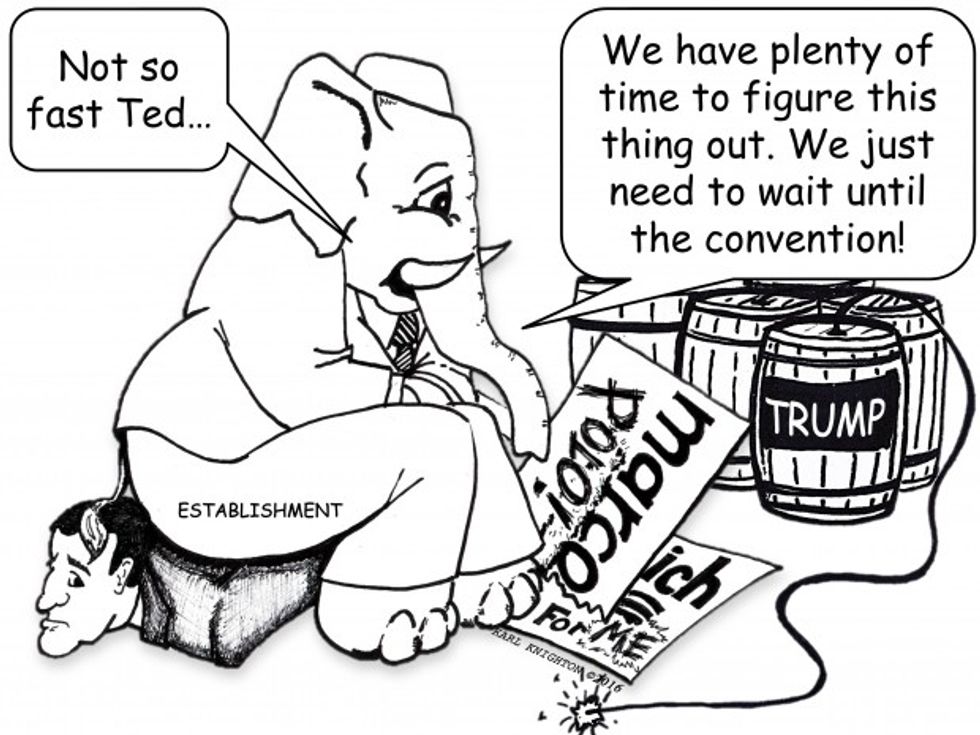 Powder Keg (Karl Knighton)
Sure, you grudgingly admit Ted Cruz is the only contender who could defeat Donald Trump in the primary, but at the same time you fail to do anything that would enable him to do so. Instead of attempting to unite the party, you conspire to divide our remaining forces and take on worthless missions with no real goal other than to withhold delegates.
Withholding delegates from Donald Trump is not a strategy for winning. And the subsequent brokered convention to deny the nomination to a clear front-runner is not a rational plan.
If you are angling for a brokered convention to select your less than popular candidates then you might as well vote for Hillary Clinton. If you expect Trump or his followers to simply accept that type of resolution and not blow up in your face, then you are likely delusional.
If picking through the debris of a devastated Republican Party is your goal then keep doing what you are doing. Otherwise you really only have one option: support Ted Cruz.
Even though there is still a possibility at this point for a brokered convention, a close race between Donald Trump and Ted Cruz would at least make a contest like this somewhat tolerable.
On the other hand, if you are somehow okay with Donald Trump and his riotous mob starting fires right alongside Black Lives Matter and other violent progressive protesters, then maybe you should just get behind him now.
Otherwise, the longer you continue to divide delegates between failed candidates, the further ahead Trump will be when we get to the convention. The further ahead Trump is in delegates, the less justified you will be contesting his eventual nomination, and the more likely the GOP is going to explode as a result of such a contest.
This really shouldn't be a hard decision. I can't say I am surprised by your inability to make it, you are establishment after all; it's what we expect from you and the reason nobody likes you.
But if you haven't noticed, the era of the establishment is over. It's time for you to help the rest of us shape the new Republican Party before Donald Trump and his disciples burn it to the ground.
–
TheBlaze contributor channel supports an open discourse on a range of views. The opinions expressed in this channel are solely those of each individual author.