On August 8 dozens of GOP foreign policy and national security officials released a letter condemning Donald Trump.
They will not vote for him because he "would be a dangerous president and would put at risk our country's national security and well-being."
Ironically, elite abandonment of Trump may actually draw more voters to him and help him win. The reason for this is that Trump represents a victorious America rather than the status quo.
The list of national security officials who have signed the letter is impressive—these are people that I respect and who have served this country well. Many of us worry about the issues they address.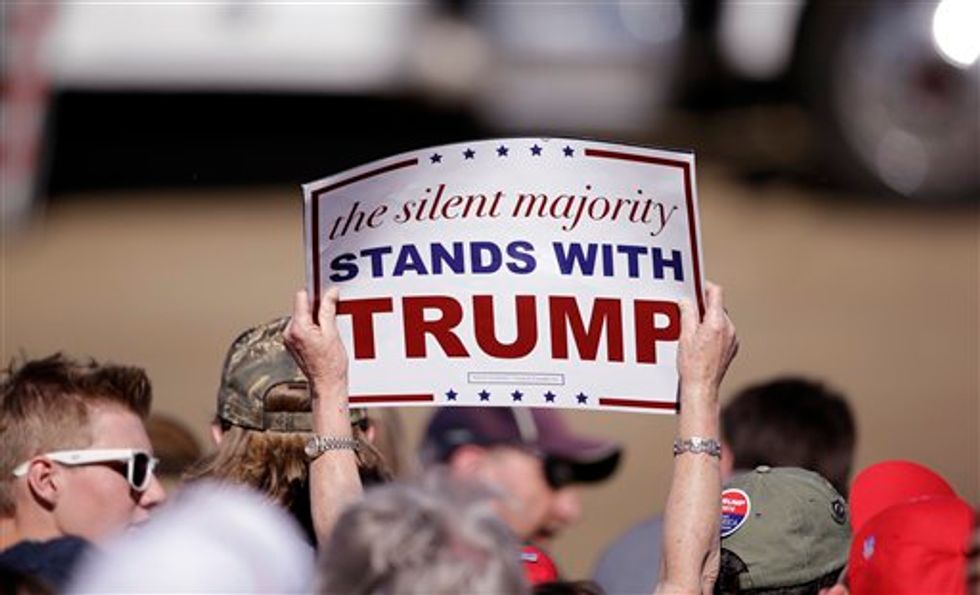 A supporter holds up a sign as Republican presidential candidate Donald Trump speaks at a rally Saturday in Lynden, Wash. (AP/Elaine Thompson)
Nonetheless, the letter misunderstands the disposition of many Americans at present. The letter makes two charges: a) Donald Trump is "dangerous" and therefore b) "will put at risk our country's national security and well-being." What the signatories are missing is that Trump represents "winning" after years of U.S. policies that were not oriented toward victory.
The first charge has to do with character and temperament. The writers say Donald Trump is "not qualified," lacking "the character, values, and experience to be president…He does not encourage conflicting views. He lacks self-control and acts impetuously. He cannot tolerate personal criticism. He has alarmed our closest allies with his erratic behavior."
This is an important judgment call that every citizen has to make about whether the aggressive, off-the-cuff, New York style of Donald Trump is what they are willing to vote for. One wonders, however, how different Donald Trump is from strong American nationalists such as Andrew Jackson?
The signatories suggest that the first charge is intertwined with the second, but this may be a political error when thinking about the American people and America's place in the world. Americans want a Commander in Chief who will put America first, who focuses on winning. Does the letter articulate a vision of a victorious American leader or another ditherer like Obama? They write:
In our experience, a President must be willing to listen to his advisers and department heads; must encourage consideration of conflicting views; and must acknowledge errors and learn from them. A President must be disciplined, control emotions, and act only after reflection and careful deliberation. A President must maintain cordial relationships with leaders of countries of different backgrounds and must have their respect and trust... We understand that many Americans are profoundly frustrated with the federal government and its inability to solve pressing domestic and international problems...but Donald Trump is not the answer…
This vision of the president sounds like one who is the tool of big government, who accepts the lowest common denominator proposals from unelected officials, and who kowtows to foreign governments, even those who have acted against the U.S. national interest. Unfortunately it sounds a lot like the Obama Administration: "bowing" to the Saudis and offering an open hand to (or reset) to adversaries like Russia and Iran while slighting allies like Israel. Destabilizing North Africa by taking out Gaddafi while not adhering to "red lines" in Syria. Giving lofty speeches from Cairo to Jakarta, but being unwilling for years to call out the religious ideology that underlies violent Islamism which is destabilizing the entire Muslim world.
There are three types of victory in international affairs. The first is beating one's opponents. The second is simply not losing. The third is vindicating one's values. Americans do not feel that the current president is winning by any of these definitions. On Obama's watch America's adversaries are emboldened, our "market share" is slipping, and our fundamental values are under assault by authoritarianism (e.g. Russia, China, Iran, and Latin American authoritarianism) and the radicalizing doctrines of violent Islamism. We have settled for far less than victory since Reagan won the Cold War.
Donald Trump articulates a vision of a victorious America, one that puts the national interest first in economic, foreign, and national security policies. Everyday Americans from both sides of the aisle believe that the past two decades have largely put the interests of foreigners over that of Americans, such as massive expenditures on nation-building but an unwillingness to fight to win against adversaries. If it appears elites suggest that Uncle Sam should walk around the world on eggshells, be content with paying everyone else's bills, and be controlled by cautious bureaucrats, this will only help advance Trump's candidacy with many voters.
Eric Patterson, Ph.D. is Dean of the Robertson School of Government at Regent University in Virginia Beach, VA. He is the author or editor of a dozen books, including "Ending Wars Well and Politics in a Religious World."
–
TheBlaze contributor channel supports an open discourse on a range of views. The opinions expressed in this channel are solely those of each individual author.