On Saturday night, Donald Trump shocked the civilized world with his statement, "I would bring back waterboarding … and I would bring back a hell of a lot worse."
I never understood the rationale behind those that attempt to draw a moral equivalency to the "atrocities" the U.S. committed against extremist detainees vis-à-vis the actual execution of captured U.S. service members and civilians.
If there is one thing the terrorists have taught us, it's that they exist in a world void of constraint. This not only empowers them to intimidate and control local populations but also emboldens them to operate in fearlessness of capture.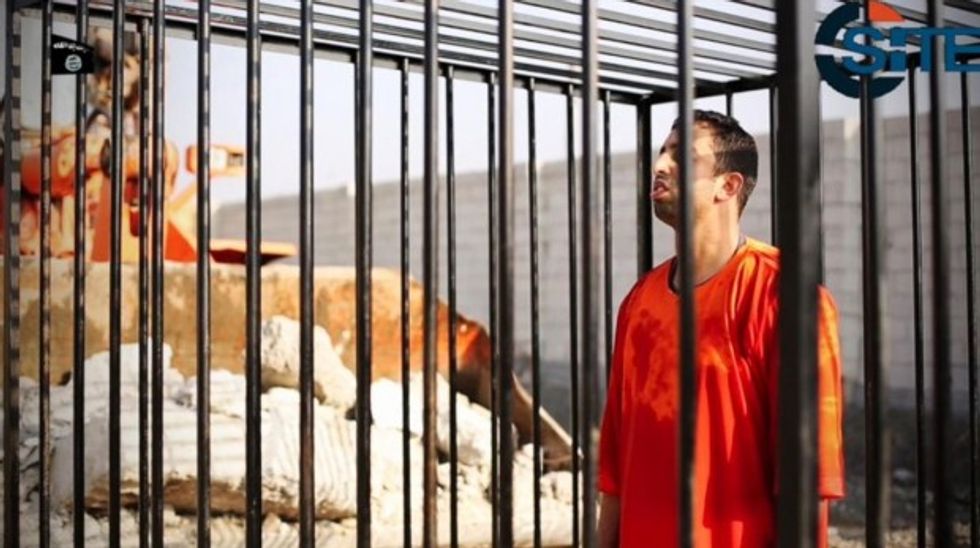 This still image made from video released by Islamic State group militants and posted on the website of the SITE Intelligence Group on Tuesday, Feb. 3, 2015, purportedly shows Jordanian pilot Lt. Muath al-Kaseasbeh standing in a cage just before being burned to death by his captors. (AP Photo/SITE Intelligence Group)
Americans and the world were disgusted by the pictures and stories from Abu Ghraib, and rightly so. People that had no training in interrogation techniques were abusing prisoners, and "some" things were beyond what would be considered acceptable by a majority of Western nations.
However, I'm sure many would be surprised by the reality that all American Special Operators and most of our allied colleagues undergo similar abuse and humiliation in an attempt to join elite military units.
I can only speak for a class of about 50 people in December 2005, but consider some of the similarities in the "inhumane" treatment that we systematically implement on our special operators.
Mass formations of naked soldiers forced to roll on the ground for extended periods of time—often on top of each other—while being sprayed with hoses in the middle of December. The consequences of challenging these techniques were beatings and/or isolation in boxes just big enough to fit a human—or, if you were lucky, 3-by-3-foot concrete cells. Other techniques consisted of sleep and food deprivation, constant propaganda on loud speakers, and sporadic interrogations that varied from friendly to violent—sometimes at the same meeting.
Critics of this comparison will point out that this training is voluntary and the recipients know when it will end. But that line of reasoning dismisses the reality that it is the act itself that is seen as inhumane and not the perceived timeline of the victim.
Regardless, this is how we train our special operators to prepare for an unthinkable capture scenario. Which, in the contemporary warfare environment, is ironic since most people captured by terrorists are beheaded, shot, or burned alive. All of which are not even a consideration by their civilized antagonists.
On the contrary, if a terrorist is captured today they are assured of two things: They will be treated with the utmost respect and dignity, and their captors will accommodate their religious beliefs by providing them with their sacred texts and prayer rugs — which is odd since the consensus is violent extremists are irreligious.
This knowledge results in a win-win scenario for any young man contemplating a career in extremist genocide. If they die fighting for the cause, they are rewarded in the afterlife. If they are captured, they will be treated with dignity and respect with the possibility of release.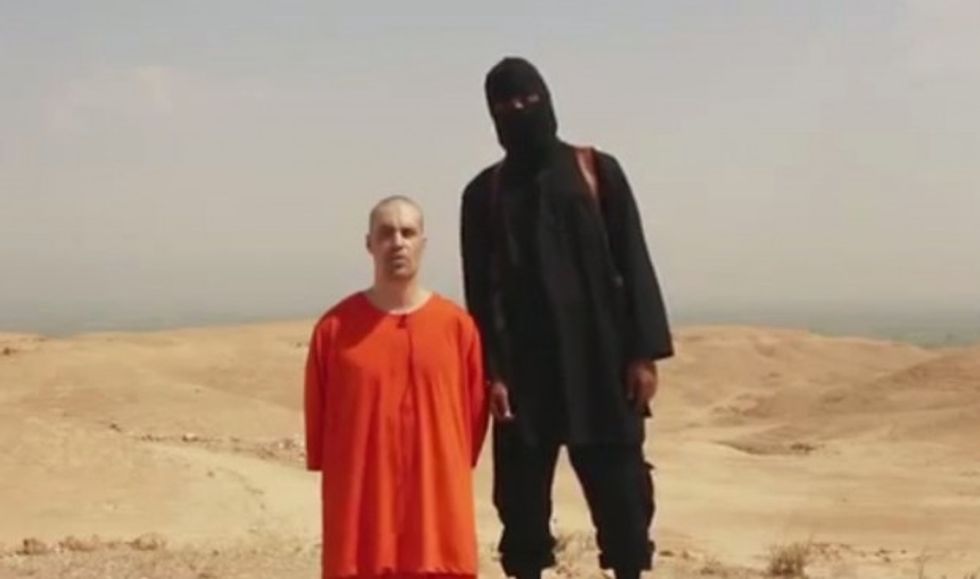 This undated image shows a frame from a video released by Islamic State militants Aug. 19, 2014, that purports to show the killing of journalist James Foley by the militant group. (AP)
Westerners, however, choose the moral high ground when it comes to dealing with the depraved sub-humans that currently plague the world. Our superior morality, combined with a virtuous understanding of human rights, causes some to go as far as charging the former commander in chief of the United States military with crimes against humanity — clearly demonstrating our commitment to moral absolutism.
Maybe that is exactly where we miss the mark on the issue of enhanced interrogations against terrorists like the Islamic State. Perhaps these depraved barbarians should be viewed on a more anthropomorphic level. Very few bat an eye when a rabid dog is put under, yet millions of people cry foul when defenders of the oppressed and helpless "simulate the drowning" of evil personified.
Opponents of enhanced interrogation will point to the fact that most of the techniques utilized didn't yield actionable intelligence — thus leading to the conclusion that the entire process is worthless. In warfare, however, some of the most effective tools don't always have tangible results. Consider a sniper. They "wear on the enemy's psyche," but that outcome cannot be measured quantitatively.
Could the reapplication of enhanced interrogation accomplish nothing more than to act as a deterrent to a lifestyle decision whose current consequence is similar to a person who commits armed robbery?
If our civilized society can move beyond its inability to get past words and phrases, and honestly consider the motivations and legitimate reasons for certain "politically incorrect" policies, maybe we too can see a utility in bringing back waterboarding, or something "a hell of a lot worse."
–
TheBlaze contributor channel supports an open discourse on a range of views. The opinions expressed in this channel are solely those of each individual author.