© 2023 Blaze Media LLC. All rights reserved.
Is Donald Trump just a person who calls himself a Christian, as his campaign spokeswoman, Katrina Pierson, believes?
Donald Trump may not have hired "Reverend" Jeremiah Wright to be the national spokeswoman for his campaign, but why did Trump appoint someone to that position who detests Christians, worships Malcolm X, and thinks Republicans are racist? This is a question that Christians in Iowa should ask themselves this week because the liberal media will not ask it for them.
The Daily Caller reports that Trump's campaign spokeswoman Katrina Pierson harbors a seething animosity toward Christianity, as well as religion in general. Pierson has mocked Christians in particular on numerous occasions. Her twitter account is ripe with her anti-Christian feelings. On one occasion Pierson actually stated, "There are no such things as Christians. Just people who call themselves Christians."
Screengrab
While Pierson looks down her nose at followers of Jesus, she boasts that her idol is the dead, radical-Muslim Malcolm X -- you know, the same guy Barack Obama's "God-damn-America" Jeremiah Wright often quoted.
To the surprise of no one, the liberal media isn't questioning Donald Trump about his spokeswoman's anti-Christian views or her idolizing a notorious America-hating Muslim. Instead the media has focused its feigned outrage on Pierson, who is half black, because she called for a "pure-breed" president in 2012. Who knew the liberal media had a problem with black people using provocative racial language?
I mean Pierson's idol Malcolm X called honkies "white devils" -- not a problem.
Barack Obama's racist preacher Wright (a wannabe Malcolm X) said he was sick "of negroes who just don't get it" -- not a problem. Now, Wright calls Obama "our Halfrican-American president" -- not a problem.
But when Donald Trump runs as a Republican and his (half-black) spokeswoman is discovered to have used the phrase "pure blood" -- stop everything! Liberals have proof of racism connected to the Republican Party. What a depressing joke.
As for Pierson's contempt for Christians and her idolizing an unrepentant America hater -- not a problem. Liberals totally approve of both. Next story, please...
Certainly Ms. Pierson has every right to believe and say whatever she wants, and Donald Trump has every right to appoint whomever he wants to represent his campaign. But an anti-Christian jerk who idolizes a man who hated our country -- that's the person Trump wants representing his campaign to Make America Great Again?
That's really inspiring.
Perhaps this is all just part of Trump's radical-new political strategy of doing whatever he wants and not losing votes. Iowa voters have probably heard that Trump joked over the weekend that "[he] could stand in the middle of Fifth Avenue and shoot somebody and [he] wouldn't lose voters." He's a real comedian.
Why didn't Trump say that he could bring a spokeswoman -- who insults Christians, idolizes a man who hated America, and believes Republicans are racist -- to Iowa and not lose votes? That is what Trump has actually done. But why isn't he bragging about it? Or is he?
Many Americans ignored Barack Obama's close relationship with Jeremiah Wright in 2008. Not surprisingly, Ms. Pierson was one of those Americans. In fact, it would be really interesting to know just how many of Trump's supporters voted for Obama that year.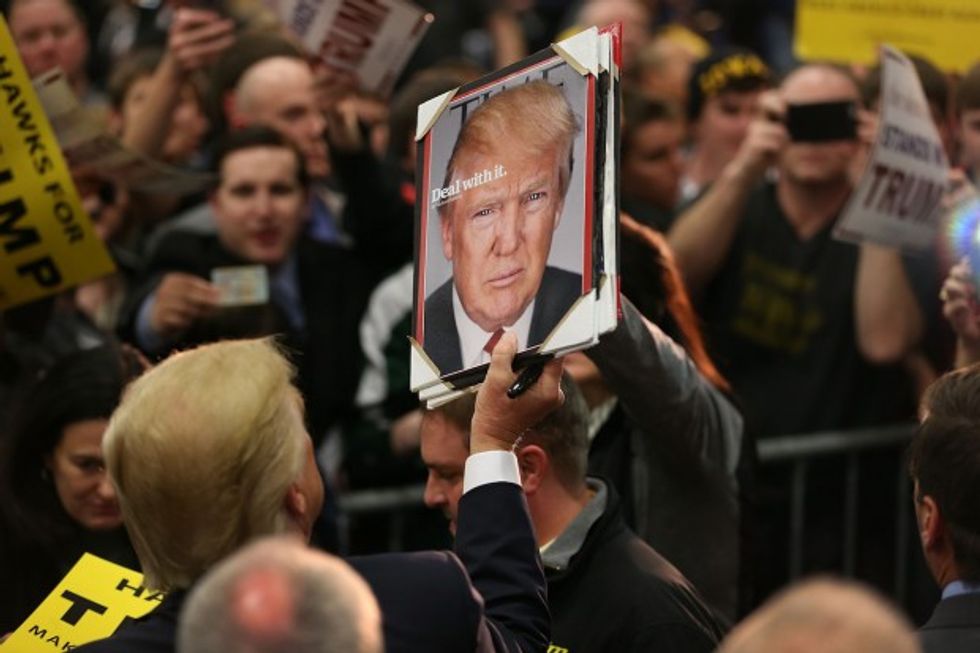 Republican presidential candidate Donald Trump holds a picture of himself after being given it as he greets people during a campaign event at the University of Iowa on January 26, 2016 in Iowa City, Iowa. Trump continues his quest to become the Republican presidential nominee. (Photo by Joe Raedle/Getty Images)
The consequences speak for themselves for having disregarded Obama's sketchy record, dubious relationships, and despicable actions when they clearly did not line up with the hogwash coming out of his mouth during the campaign.
So why are so many Americans ready to do basically the same thing with Donald Trump? I mean, isn't Trump cracking jokes about it already? He can't believe it himself.
Having Ms. Pierson as the spokeswoman for his campaign, should raise legitimate questions about Trump's judgment, dependability, and loyalty. If Trump were president, what sort of Supreme Court justices would he appoint? What sort of people would fill his administration? Would they be individuals like Katrina Pierson who idolizes an America hater?
Defenders of Ms. Pierson have noted that she volunteered for Ted Cruz in the past and that Cruz has complimented her as "a fearless and principled conservative." However, Ted Cruz never even tried to hire Ms. Pierson, and he certainly never considered making her the chief spokesperson for his campaign. Big difference, as Trump might say. Big difference.
When Pierson landed her positition as Trump's campaign spokeswoman, she said, "This is a nontraditional campaign. I can be a little bit more who I am. That's what I mean when I say it's like a perfect fit." Considering her opinion of Christians and her fawning over Malcolm X, I would say that is a fairly accurate statement.
The good news for Donald Trump is that Jeremiah Wright wasn't even enough to derail Barack Obama. If Christian Republicans in Iowa are anything like Barack Obama voters, Trump has nothing to worry about.
On the other hand, can the same be said for America?
–
TheBlaze contributor channel supports an open discourse on a range of views. The opinions expressed in this channel are solely those of each individual author.

Want to leave a tip?
We answer to you. Help keep our content free of advertisers and big tech censorship by leaving a tip today.
more stories
Sign up for the Blaze newsletter
By signing up, you agree to our
Privacy Policy
and
Terms of Use
, and agree to receive content that may sometimes include advertisements. You may opt out at any time.