Gone are the days when father knew best. No longer do you see Ward Cleaver or Mike Brady handing down powerful words of wisdom and molding the minds of young boys and girls to become great men and women.
Today, the modern family is mostly depicted as having unruly teenage children, an immasculated father - if any father is present at all - and a "strong" mother, who comes off more as a screeching tyrant than a nurturing influence. We've lost good family role models, whom viewers could look at and say to themselves, "No matter what happens, if we can love each other the way they do, we'll be a successful family."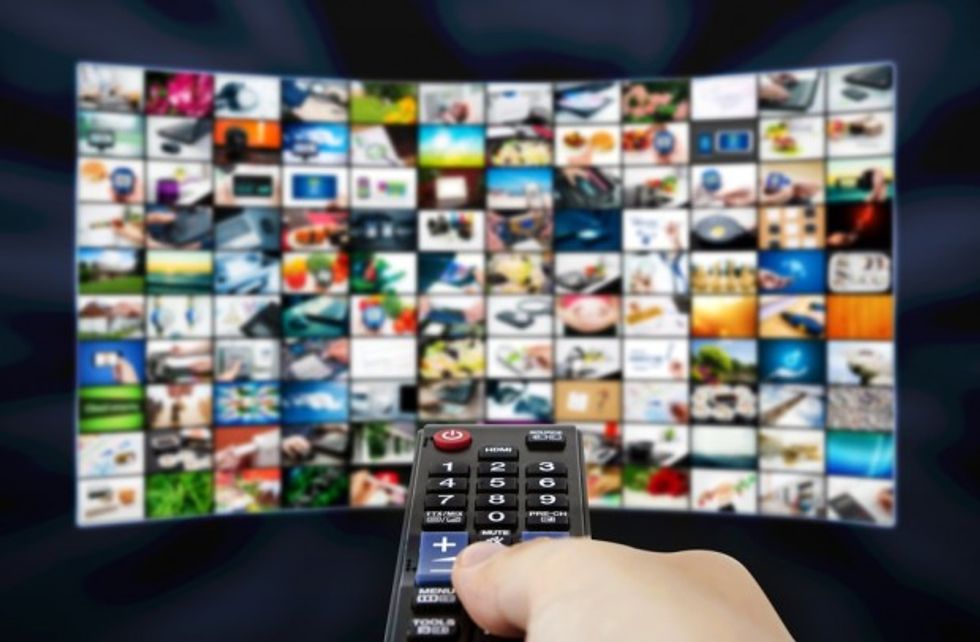 Image via Shutterstock
Thankfully, Blu-ray and DVD have given us the opportunity to have these great shows on home video. These are the television shows that promoted the best family values in the last 30 years, which every family should own and show to their children.
Home Improvement
Tim Taylor was the dad that every dad wants to be. He was the ultimate alpha male: He had a hot rod in the garage that his boys often helped him work on and he was a kid at heart himself. Jill was there to tame Tim's more infantile urges - which any good wife should do - but she was never portrayed as dominating or belittling him. She was a supportive wife, and the Taylors seemed to have a symbiotic relationship that all married couples should aspire to. Tim wasn't all fun and games as a father, though. When it was time to be the grown up, he was there and filled that role masterfully.
Smallville
While "Smallville" ended as an almost completely different show than when it began, initially it was a show very deep in traditional family values. The first five seasons of its 10 season run were very much about Clark Kent and his upbringing, which was the direct cause of him having the values that we have come to traditionally associate with Superman. Everything that Superman is and will ever be began right there on that farm with his nurturing mother and father, who guide him into becoming not just a Superman, but a good human being as well. John Schneider, who played Jonathan Kent was always praising the show for its portrayal of traditional family values.
"My favorite scenes from 'Smallville' are where Jonathan is hugging Clark," Schneider told I Am Rogue in 2012. "Superman is a lot of things, but one of the biggest things he is, is compassionate and I think what 'Smallville' says is that he got that from his parents."
Growing Pains
"Growing Pains" showed that a traditional family doesn't necessarily have to fall into the Donna Reed paradigm. The patriarch of the Seaver family was a work-from-home dad while the mom was the out-of-the-home professional. What "Growing Pains" got absolutely right was that while domestic roles were reversed in a lot of ways, gender roles never were. The father was still the father and the mother was still the mother, and this is how it is with real life families where the woman works and the man is the stay-at-home parent. The idea of Mr. Mom is a fiction. A dad who stays home and takes care of the cleaning and the childcare is still a dad, and he is still the masculine presence in the lives of his children. Jason Seaver was all of those things.
Family Ties
When your parents are left-leaning Woodstock hippies, how is a teenager to rebel? Easy, you become a Richard Nixon-loving Republican. "Family Ties" was a bit of an anomoly, in that a concept like this probably wouldn't be able to exist today. The biggest indication of how the depiction of conservatives in the media has changed can be seen in the two-part episode "All in the Neighborhood," in which a black family moves in to the Keaton's traditionally white neighborhood. Today, Alex would have been written as trying to justify the racism the other neighbors demonstrate. In real life, the majority of conservatives are disgusted by actual racism, just as Alex was in the episode.
The Cosby Show
One of the best things about "The Cosby Show" was that it wasn't about a black family. It was just about a family. The Huxtables being black was rarely, if ever, even mentioned, let alone made into entire story points. For the time, this was a direct contrast from the "blaxploitation" shows of the 70s, where everything was about black people being black people. "The Cosby Show" was unique, and reamins unique, because they were just people. With a mother who was a lawyer and a father who was a doctor, the Huxtables were also very much a 1 percent family, and again this was almost never made a plot point. The most important lessons we learned from "The Cosby Show" were that race and class were not important. At the very core, all families are alike and have many of the same good and bad times.
Step by Step
"Step by Step" was very much an updated 90s version of "The Brady Bunch." In the 1990s the blended family was much more prevalent than it was in the late 60s, but the families themselves hadn't changed. While the brothers and sisters - who were almost never acknowledged as being "step-siblings" - were much more open to teasing each other than the Bradys were, there was still a deep love and admiration for each other, showing what a true blended family should look like.
Full House
"Full House" definitely challenged the idea of what a traditional family could look like. While there was no mother in the home - the patriarch, Danny Tanner, was a widower - there were other family members around to try and fill that void. While it was acknowledged that they could never - and would never try - to replace the mother, Danny's brother-in-law Jess and his childhood friend Joey were there to help guide the Tanner girls through their most formative years.
Boy Meets World
"Boy Meets World" was a staple of television viewing for kids in the 90s. Those kids were reflective of our generation. They dealt with many of the same problems real kids were dealing with. In a lot of ways, it was one of the most legitimate portrayals of the typical teenager of the time. "Boy Meets World" often dealt with issues of pre-marital sex, peer pressure, underage drinking and the dysfunctional family, and it dealt with these issues from a pure heart. In a lot of ways, Alan Matthews was the dad that a lot of teenage boys in the 90s wished they'd had. He was loving and fair, but he also wasn't afraid to tell you if you're making a bad decision, step back and let you make that bad decision, then show you how to learn from it, while also putting the fear of God in you to make sure you never did it again.
–
TheBlaze contributor channel supports an open discourse on a range of views. The opinions expressed in this channel are solely those of each individual author.