Christianity has a stigma of gross hypocrisy.
When I was a kid, however, I was blissfully unaware of it and was quite active in the church. I was an usher, an acolyte, a member of the youth group and spent most weekends and some weeknights praying, singing and reading scripture.
So in love with the church was I that most of my young life I even wanted to become a pastor and proudly proclaimed my intention to all who would listen.
But as I grew up in the church I started to become more and more disenchanted by it. Not by the Bible, my pastor or even the message, but by the hypocrisy of my fellow congregants. Don't get me wrong, I've been as much a sinner as the next person, but the concept of church was that it was a community that tried to learn from mistakes and be better. We were supposed to be rooted in principle based on the word of God and stand for what was right.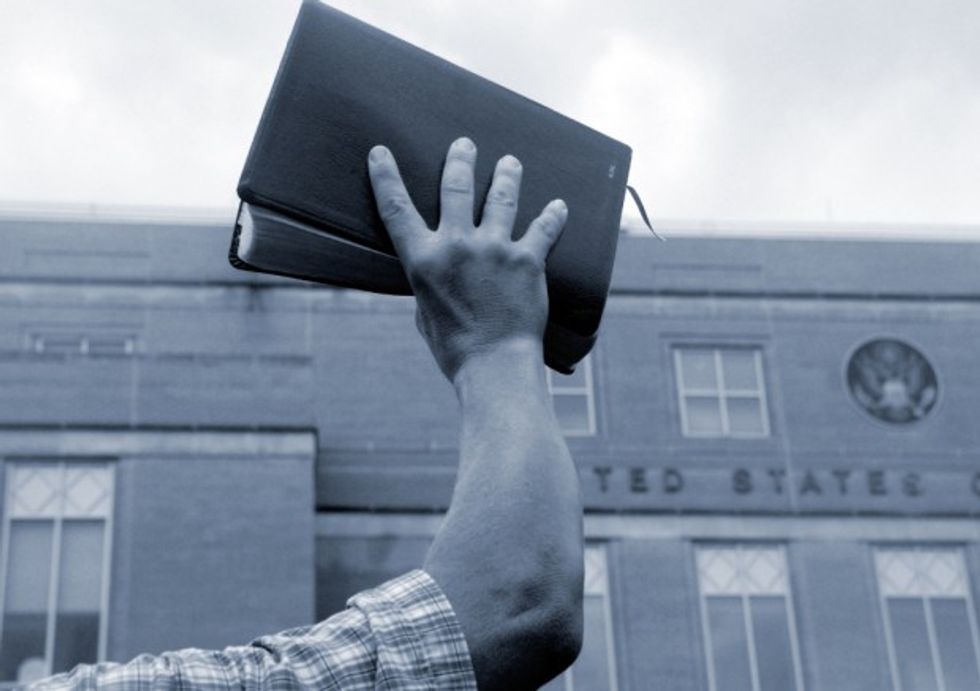 Photo credit: Shutterstock.com
Every once in a while I would see a glimpse of that on Sunday, but then it would vanish for the rest of the week. It was hard to defend my religion when I myself knew how poorly it was represented by the people who claimed to be devout followers. Over the years Christianity has taken a heck of a beating in the sociological sense and it hurt to watch as the very mention of my Christian God alienated people and caused further distrust.
I moved away from the career path of ministry because I saw how religion (of all faiths), rocked by scandal and greed, was dividing people more than it brought them together. Long gone are the days where the average Christian church preached on principle and drove congregants to action. Instead, the modern version just tries its best to not offend and hope you return the next week because pews are empty.
But every now and then we as Christians have a real opportunity to make significant strides in repairing the damaged relationship we have with those that have felt burned by us. This election season has presented us such an opportunity to stand on principle and do what's right.
Never has more been on the line for our country. Not since the Civil War have we seen such deep division. So it would make sense that Christian leaders should proclaim, with passionate fire, the type of candidate that Jesus himself would feel most comfortable with to lead us away from such a demise.
With this in mind, people like Liberty University President Jerry Falwell Jr., Dr. Ben Carson, Dallas megachurch Pastor Robert Jeffress and former Gov. Sarah Palin have all come out in support of Donald Trump over any other candidate. Trump has proven that he only lives by one faith and that is Trumptholicism. Where lying, disparaging others and using veiled threats is the only gospel he needs.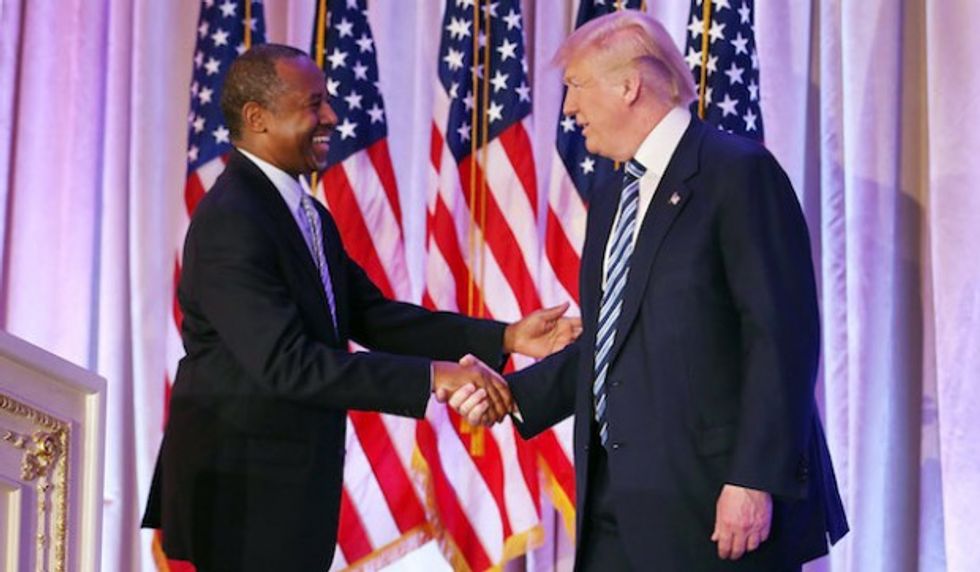 Republican presidential candidate Donald Trump shakes hands with former presidential candidate Ben Carson as he receives his endorsement at the Mar-A-Lago Club on March 11, 2016 in Palm Beach, Florida. Presidential candidates continue to campaign before Florida's March 15th primary day. (Photo by Joe Raedle/Getty Images)
What caused each of these individuals, who wave our faith like a flag on a mountain top, to believe that Trump is the man who will lead us out of the pit and into prosperity as a decent, honorable and principled future president?
Good question. Because their reasoning has the depth of Trump's vocabulary. All surface with zero substance.
Shortsighted choices like theirs generate even more evidence for those who've felt burned by Christians to point too for reference. Not only that, but the listed individuals have also managed to betray many believers who were still supporting them as well.
They've chosen to rally around a man who admits that he's never asked God for forgiveness, who has quoted Benito Mussolini and asks fans at his events to "knock the crap" out of others if they step out of line. They've sunk us further into the cracks of hypocrisy because of this and have contributed to the increased rotting of the Christian faith.
Because I at least try to practice my religion, I forgive these misguided faith leaders for making a terrible decision. But I'm not the one they'll need to ask for forgiveness from if their annointed candidate of Christianity makes his way into the White House.
–
TheBlaze contributor channel supports an open discourse on a range of views. The opinions expressed in this channel are solely those of each individual author.