Jonathan Wood is a Staff Attorney with Pacific Legal Foundation.
–
Suppose you're a shepherd in Arizona or New Mexico, and you're bedded down for the night. Suddenly, you're startled from sleep by a frightening commotion. When you check on your flock, there's just enough moonlight for you to see a predator viciously attacking them. Believing it is a coyote and that the massacre won't be ending any time soon, do you shoot the coyote to stop it? More importantly, if you do and it turns out that you were mistaken - the coyote is actually a federally protected Mexican gray wolf - should you go to jail for your mistake?
A federal lawsuit brought by an activist environmental group says "yes."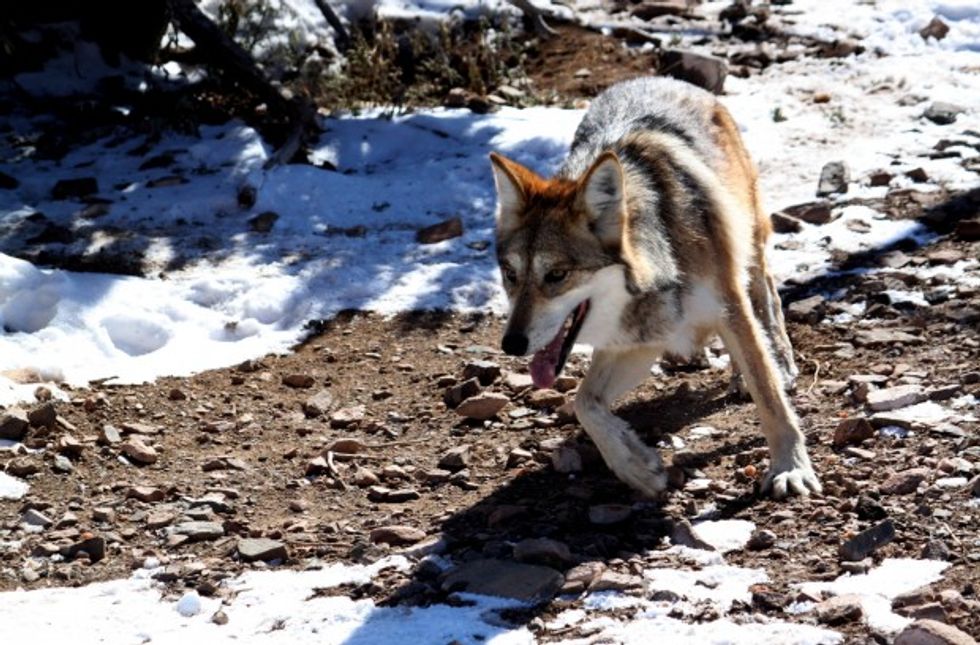 In this Dec. 7, 2011, file photo, a female Mexican gray wolf looks to avoid being captured for its annual vaccinations and medical checkup at the Sevilleta National Wildlife Refuge in central N.M. (AP Photo/Susan Montoya Bryan, File)
WildEarth Guardians claims that innocent mistakes resulting in harm (or "take") to protected species should result in criminal punishment. The group asserts that this unforgiving approach is necessary to accomplish the Endangered Species Act's mandate to save all species "whatever the cost."
The lawsuit is another disturbing example of the extreme agenda of some of the more zealous environmental organizations. The litigation -- now before a federal judge in Phoenix -- is specifically directed at harms to Mexican wolves in the Southwest; but it could ensnare Americans across the country, in urban as well as rural areas, with new legal jeopardy for innocent actions.
Under the Justice Department's current policy for enforcing the ESA's prohibition on takes -- called the McKittrick Policy -- a mistake isn't treated as a criminal case. You won't be branded an environmental offender if you happen to inadvertently harm a protected species. Only someone who knew that their action would cause a take, and who was aware of the identity of the affected species, faces prosecution.
WildEarth Guardians seeks to invalidate that policy, and impose criminal sanctions even when there is no knowing commission of a wrong.
With such a sweeping expansion of liability, courts across the country could fill up fast with prosecutions of new "offenders." The ESA's prohibition against "take" is so broad and the list of species is so long that many innocent activities would be criminalized. "Take" is not limited to intentionally killing a protected species, but includes collecting or harassing a species, or modifying private property that serves as habitat. The term essentially encompasses anything you do that has any effect on a single ESA-listed creature.
[sharequote align="center"]The innocent surfers, joggers, and homeowners aren't criminals.[/sharequote]
In other words, everyday activities -- such as driving, biking, or walking -- could suddenly trigger legal consequences if you happen to cause some inadvertent impact on one of the more than 1,500 species on the ESA list.
For instance, a surfer or paddle-boarder on the East Coast could land in legal hot water if they unknowingly got within five football fields of a protected right whale. A jogger in Northern California could get marched before a judge if they happened to step on a Valley Elderberry Longhorn Beetle. If a protected rodent has been run over in front of your home, you could be prosecuted if you moved it. Even diverting water on your own land would be a criminal offense if it somehow, unbeknownst to you, has some effect on a protected species' habitat hundreds of miles away.
Could this kind of limitless liability be what Congress intended?
In a word, no. The ESA is quite clear in exempting the innocent from being treated as guilty. It says that a person can't be locked up unless they "knowingly" take a protected species. This means that, to be convicted, you must have known that your actions would cause a take and have been aware of the species that would be affected. The innocent surfers, joggers, and homeowners aren't criminals.
In other words, the Justice Department's McKittrick Policy accurately reflects the letter and spirit of the ESA. WildEarth Guardians' lawsuit doesn't just challenge the commonsense approach that the McKittrick Policy represents, it also challenges the rule of law, by seeking to have the ESA rewritten by judicial edict.
Represented by Pacific Legal Foundation, several agricultural organizations -- New Mexico Cattle Growers' Association, New Mexico Federal Lands Council, and New Mexico Farm and Livestock Bureau -- have moved to intervene in the case to defend the Justice Department's policy and the plain language of the ESA.
"Without the protection afforded by the McKittrick Policy, farmers and ranchers could lose everything they have," said Chad Smith, CEO for New Mexico Farm & Livestock Bureau. "There are many situations that can lead to the accidental killing of an endangered species and this policy is the only thing that prevents a mistake from becoming jail time."
Why does WildEarth Guardians want to criminalize innocent, mistaken "takes"? The organization argues that failure to prosecute people who unknowingly harm a protected species allows the truly guilty to falsely claim that they were mistaken too.
But their proffered cure is worse than the disease. Our criminal laws are founded on the principle, articulated by William Blackstone, that "it is better that ten guilty persons escape than that one innocent suffer." That's why the standard for criminal convictions is "beyond reasonable doubt;" juries must unanimously vote for conviction; and we have countless procedures to protect the innocent from being falsely convicted.
WildEarth Guardians' argument turns this maxim on its head. It would expose all of us to potential criminal liability for innocent acts to make sure that a few guilty people are convicted.
You shouldn't face the prospect of jail time because you can't identify each of the 1,500 species covered by the Endangered Species Act, something that wildlife experts probably couldn't even do. Even if the statute didn't expressly include knowledge as an element of the crime, reason would dictate that it must be required anyway. It's inconceivable that Congress would have intended to send people to jail because the bug that smashed into their windshield happened to be one of the dozens of insects listed under the Endangered Species Act.
The extreme greens to the contrary, "smash a bug, go to jail" isn't logical – and it isn't the law.
–
TheBlaze contributor channel supports an open discourse on a range of views. The opinions expressed in this channel are solely those of each individual author.