© 2023 Blaze Media LLC. All rights reserved.
Hillary Clinton and Richard Cordray have the mistaken, arrogant, ignorant belief they know better how to run financial institutions for the good of society.
Last week, Richard Cordray, the director of the Consumer Financial Protection Bureau (the incarnation of the Dodd-Frank law) made the news. He is leading a regulatory push to lower the price of payday loans.
The Wall Street Journal quoted him as saying, "I personally believe banks and credit unions can be low-cost providers of small-dollar loans. I think that...there would and should be an ability for them to offer decent products."
This statement is both sad and scary. It's sad because of the economic ignorance it manifests. It's scary because this economically ignorant man wields awesome powers, yet lacks the wisdom to use those powers helpfully, and he remains essentially unaccountable to anyone who just might have a better grasp of economic reality than he does.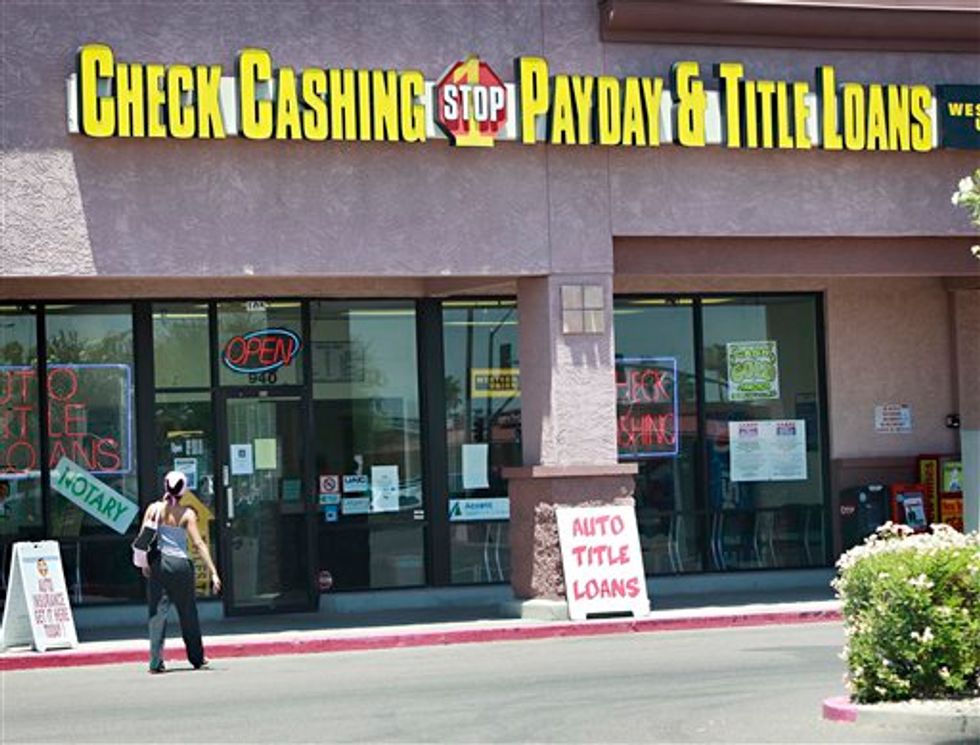 A customer enters a pay day loan store Monday, June 28, 2010 in Chandler, Ariz. (AP Photo/Matt York)
We all are entitled to our opinions. And when he says, "I personally believe..." and "I think," Mr. Cordray is making it plain that he is dwelling in the realm of opinion. In his opinion (which, alas, carries more weight than yours and mine, due to the regulatory power he wields) financial institutions can afford to continue supplying small, short-term loans at lower prices than they currently charge. Apparently, he knows better what banks can do profitably than the banks themselves do. Cordray also injects a normative concern: Lenders "should" be able to offer "decent products" -- implying that the products they offer now lack decency.
Let's address the decency issue first.
What gives Mr. Cordray the right to arbitrarily decide what fees (interest rates, application fees, or whatever) are "decent"? He thinks lending institutions should charge less. What would he think if some government bureaucrat presumed to tell him the price at which he could sell his house or automobile? Cordray rightly would tell the bureaucrat to buzz off because he has a right to sell his own property for whatever he thinks it is worth and whatever someone else is willing to pay for it. In short, he would stand up for his property rights. It is no different for moneylenders. They decide what price to ask for the use of their property. It is a peculiar notion of justice that individuals should be free to charge what they want for their property rights, but businesses shouldn't.
This brings us to the underlying economics. Nobody compels a person to take out a payday loan from a particular lender. If the would-be borrower thinks that a lender's fees are too high, he or she is free to seek out more favorable terms from another lender. The fact that borrowers haven't borrowed from another lender indicates that the borrowers weren't able to find a better deal elsewhere; thus, they are getting the best deal available to them.
Mr. Cordray, of course, wishes that they could get cheaper loans.
Why doesn't he start his own business and do what he thinks should be done himself? Ah, that's right -- he's too busy saving the world from his lofty perch in Washington. But why don't other lenders come along and offer lower interest rates on loans? After all, there are always enterprising individuals searching for ways to make a buck.
The economic fact of the matter is that if the current lenders were making large profits from the small-loan business, then some other lender or lenders would enter that market to get a piece of that juicy action. The fact that they don't enter a market they are free to enter indicates that the current lenders are charging a market rate for their services -- low enough to entice customers, high enough to make it worthwhile to the lender, but not so high as to attract lower-cost providers into the market. That is the way competitive markets work, Mr. Cordray.
Cordray apparently wants to impose a price ceiling on how much payday lenders can charge. If he crams prices below the market price, a shortage will develop. Demand for such loans will rise at the same time that the supply of such loans will diminish. That may prove beneficial in the short run for those individuals lucky enough to get the loan they need, but it could be devastating to those who can no longer get such loans. In fact, those unfortunate individuals will have no other choice but to turn to black markets to get the funds they desperately need. In those black markets, prices will not only be higher, but the consequences of failing to repay could be much grimmer (think broken kneecaps and other unpleasantness).
I will say one thing for Mr. Cordray: The ignorance and conceit that leads him to presume to lecture lenders on how to operate their businesses and to pass moral judgment on people whose businesses he really doesn't understand are not his unique faults. The whole progressive movement is riddled with them.
In fact, Cordray's conceit is at least matched, if not greatly exceeded, by Hillary Clinton. The Democratic presidential wannabe has proposed a plan to give federal regulators the power to "break up any financial institution that is too large and risky to be managed effectively." That probably sounds reassuring to voters who shudder at the recollection of the financial panic of 2008, but stop and think for a minute: What makes Hillary wiser and more perceptive than the country's financial experts? Where are the bright lines that will let her detect when a bank has gotten "too large" or too "risky"?
Does anyone seriously believe that Hillary Clinton (or any other politician) knows better than financial professionals with decades of experience how banks can be "managed effectively"? (Maybe that's why major Wall Street firms pay her millions of dollars for an hour or two of her time -- so she can give advice and solve their managerial problems for them. What do you think?)
No, the basic problem here is economic ignorance. Highly educated, intelligent people like Richard Cordray and Hillary Clinton may think they are smart enough to manage markets, but as the disastrous 20th-century experiments in political control of economic activity proved, there is no government in the world that can process essential economic information and coordinate economic activity with anywhere near the efficiency and effectiveness of free markets and the pricing mechanism. Hands off, do-gooders! Your blundering interventions will only make things worse, regardless of your intentions.
Mark Hendrickson is Fellow for Economic and Social Policy with the Center for Vision & Values at Grove City College.
–
TheBlaze contributor channel supports an open discourse on a range of views. The opinions expressed in this channel are solely those of each individual author.

Want to leave a tip?
We answer to you. Help keep our content free of advertisers and big tech censorship by leaving a tip today.
more stories
Sign up for the Blaze newsletter
By signing up, you agree to our
Privacy Policy
and
Terms of Use
, and agree to receive content that may sometimes include advertisements. You may opt out at any time.