Our freedoms—especially the Fourth Amendment—are being choked out by a prevailing view among government bureaucrats that they have the right to search, seize, strip, scan, spy on, probe, pat down, taser, and arrest any individual at any time and for the slightest provocation.
Forced cavity searches, forced colonoscopies, forced blood draws, forced breath-alcohol tests, forced DNA extractions, forced eye scans, forced inclusion in biometric databases—these are just a few ways in which Americans are being forced to accept that we have no control over what happens to our bodies during an encounter with government officials.
Worse, on a daily basis, Americans are being made to relinquish the most intimate details of who we are—our biological makeup, our genetic blueprints, and our biometrics (facial characteristics and structure, fingerprints, iris scans, etc.)—in order to clear the nearly insurmountable hurdle that increasingly defines life in the United States: we are all guilty until proven innocent.
 (AP Photo/John Minchillo)
Thus far, the courts have done little to preserve our Fourth Amendment rights, let alone what shreds of bodily integrity remain to us.
For example, David Eckert was forced to undergo an anal cavity search, three enemas, and a colonoscopy after allegedly failing to yield to a stop sign at a Wal-Mart parking lot. Cops justified the searches on the grounds that they suspected Eckert was carrying drugs because his "posture [was] erect" and "he kept his legs together." No drugs were found.
During a routine traffic stop, Leila Tarantino was subjected to two roadside strip searches in plain view of passing traffic, during which a female officer "forcibly removed" a tampon from Tarantino. Nothing illegal was found. Nevertheless, such searches have been sanctioned by the courts, especially if accompanied by a search warrant (which is easily procured), as justified in the government's pursuit of drugs and weapons.
Close to 600 motorists leaving Penn State University one Friday night were stopped by police and, without their knowledge or consent, subjected to a breathalyzer test using flashlights that can detect the presence of alcohol on a person's breath. These passive alcohol sensors are being hailed as a new weapon in the fight against DUIs. However, because they cannot be used as the basis for arrest, breathalyzer tests are still required. And for those who refuse to submit to a breathalyzer, there are forced blood draws. One such person is Michael Chorosky, who was surrounded by police, strapped to a gurney and then had his blood forcibly drawn after refusing to submit to a breathalyzer test.
"What country is this? What country is this?" cried Chorosky during the forced blood draw. Thirty states presently allow police to do forced blood draws on drivers as part of a nationwide "No Refusal" initiative funded by the federal government.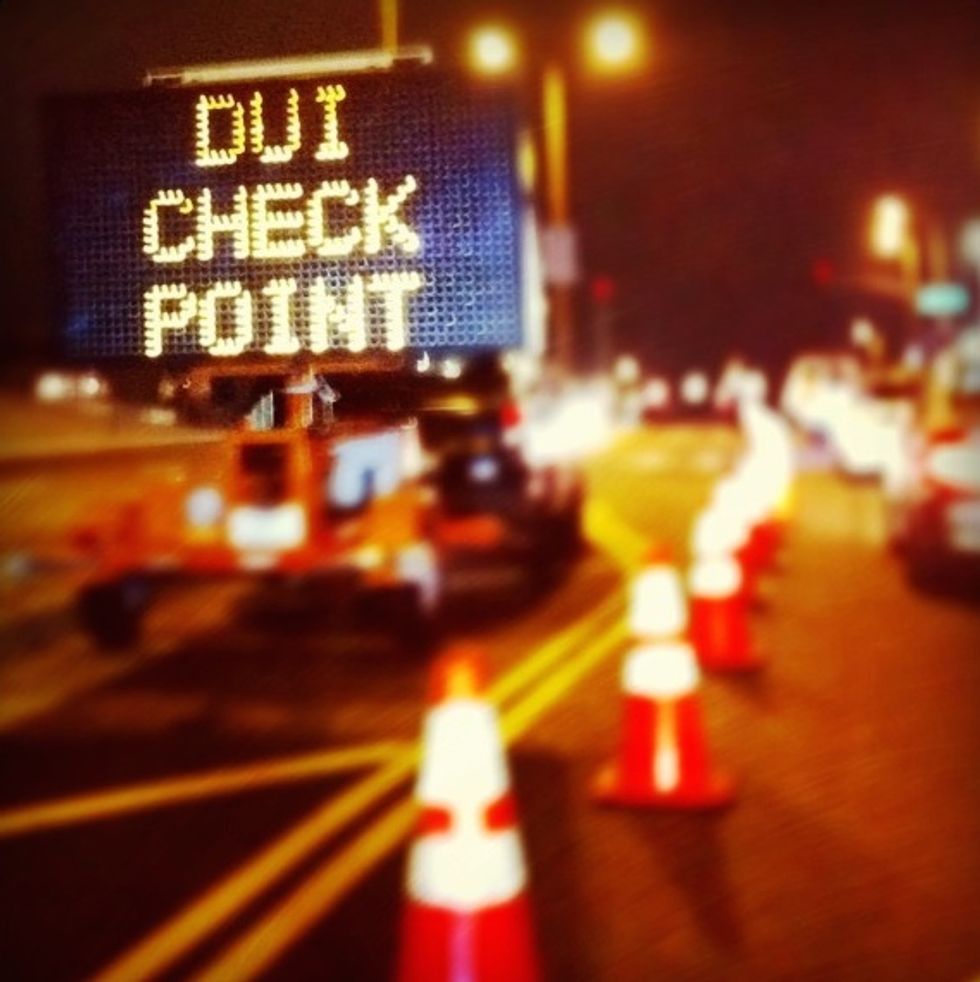 (Image via Jory/flickr)
The National Highway Safety Administration, the same government agency that funds the "No Refusal" DUI checkpoints and forcible blood draws, is also funding nationwide roadblocks aimed at getting drivers to "voluntarily" provide police with DNA derived from saliva and blood samples, reportedly to study inebriation patterns. When faced with a request for a DNA sample by police during a mandatory roadblock, most participants understandably fail to appreciate the "voluntary" nature of such a request.
Unfortunately, in at least 28 states, there's nothing voluntary about having one's DNA collected by police in instances where you've been arrested, whether or not you're actually convicted of a crime. The remaining states collect DNA on conviction. All of this DNA data is being fed to the federal government.
Iris scans, an essential part of the U.S. military's boots-on-the-ground approach to keeping track of civilians in Iraq and Afghanistan, are becoming a de facto method of building the government's already mammoth biometrics database. Funded by the Department of Justice, along with other federal agencies, the iris scan technology is being incorporated into police precincts, jails, immigration checkpoints, airports and even schools. School officials—from elementary to college—have begun using iris scans in place of traditional ID cards. As for parents wanting to pick their kids up from school, they have to first submit to an iris scan.
As for those endless pictures everyone so cheerfully uploads to Facebook (which has the largest facial recognition database in the world) or anywhere else on the internet, they're all being accessed by the police, filtered with facial recognition software, uploaded into the government's mammoth biometrics database and cross-checked against its criminal files. With good reason, civil libertarians fear these databases could "someday be used for monitoring political rallies, sporting events or even busy downtown areas."
(Image Source: YouTube)
As these police practices and data collections become more widespread and routine, there will be no one who is spared from the indignity of DNA sampling, blood draws, and roadside strip and/or rectal or vaginal searches, whether or not they've done anything wrong.
Yet as I point out in my book "A Government of Wolves: The Emerging American Police State," these databases, forced extractions and searches are not for our benefit. They will not keep us safe. What they will do is keep us mapped, trapped, targeted and controlled.
How do you protect yourself against having your blood forcibly drawn, your DNA extracted, your biometrics scanned and the most intimate details of who you are—your biological footprint—uploaded into a government database? What recourse do you have when that information, taken against your will, is shared, stolen, sold or compromised, as it inevitably will be in this age of hackers?
What happens when your DNA profile is compromised? And how do you defend yourself against charges of criminal wrongdoing in the face of erroneous technological evidence—DNA, biometrics, etc., are not infallible—that place you at the scene of a crime you didn't commit?
These are just a few of the questions we should be asking before these technologies and programs become too entrenched and irreversible.
While the Fourth Amendment was created to prevent government officials from searching an individual's person or property without a warrant and probable cause—evidence that some kind of criminal activity was afoot—the founders could scarcely have imagined a world in which we needed protection against widespread government breaches of our privacy on a cellular level. Yet that's exactly what we are lacking.
Once again, technology has outdistanced both our understanding of it and our ability to adequately manage the consequences of unleashing it on an unsuspecting populace. In the end, what all of this amounts to is a carefully crafted campaign designed to give the government access to and control over what it really wants: you.
–
TheBlaze contributor channel supports an open discourse on a range of views. The opinions expressed in this channel are solely those of each individual author.