Today "living in democracy is dangerous."
That's how former Charlie Hebdo journalist Caroline Fouest started a January 6 Newseum presentation ,a year after the Jan. 7, 2015, Paris jihadist massacre of her satire magazine colleagues.
Liberty-minded Americans should take note of the threats from religion in general, and Islam in particular, to free speech discussed by her and other panelists at the Newseum and at a CATO Institute event the following day.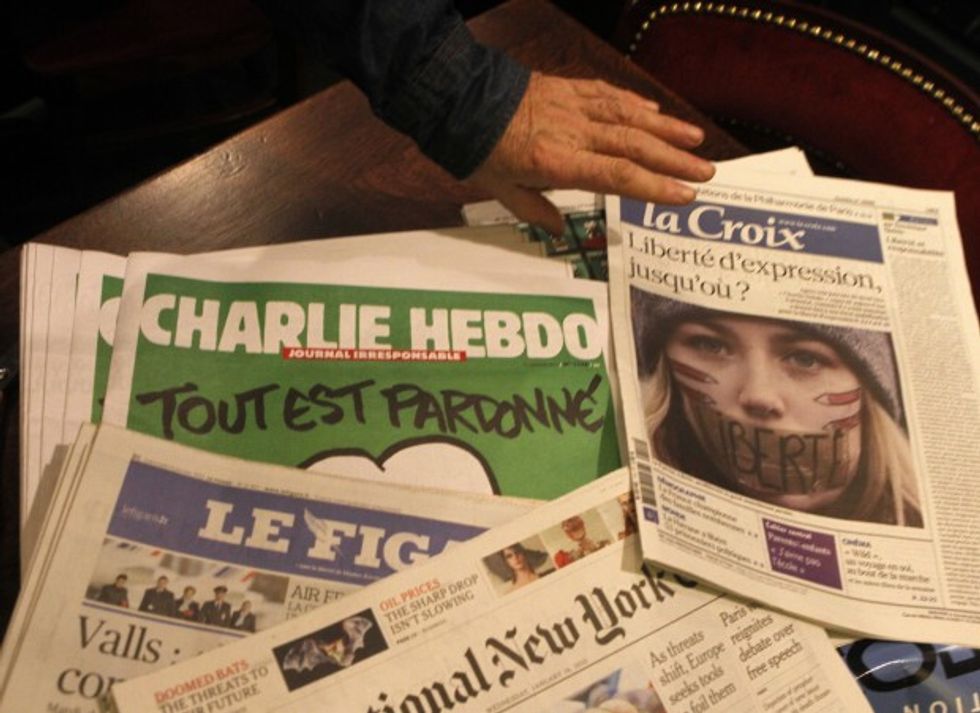 The cover of Charlie Hebdo newspapers is seen in a newsstand in Lille, northern France, Wednesday, Jan. 14, 2015. (AP Photo/Michel Spingler)
Americans, after the Garland, Texas, shooting, should know that Fouest considers terrorists perhaps an even greater threat to press freedom than state repression. An estimated 5,000 potentially violent Muslims live in France and 1,000 French citizen jihadists in Syria could return home, a grave worry for Charlie Hebdo staff currently under police protection. Delphine Halgand from Reporters without Borders noted that along with Iraq and Syria, France was among the deadliest countries for journalists in 2015.
Such threats have already impacted America, as the New York Times has has not shown any of Charlie Hebdo's cartoons of Islam's prophet Muhammad, yet published images of paintings offensive to Catholics, Fouest stated. CATO Institute legal scholar Robert Corn-Revere similarly mentioned that many American newspapers had not republished Charlie Hebdo Muhammad cartoons.
The "only explanation to that is fear," Fouest said; Corn-Revere concurred that "people are scared. There is a global intimidation." Both at the Newseum and the CATO Institute, he noted as well how North Korean threats had scared many American movie theaters away from showing "The Interview."
Fouest criticized as unprofessional and dangerous distortions of Charlie Hebdo's Muhammad cartoons as racist or "Islamophobic," comments Donald Trump should consider after condemning the Garland Muhammad cartoon contest.
"This is incredibly painful. It is like they are dead twice," she said of her murdered colleagues whose cartoons had inspired French anti-racism movements in the 1990s.
She stated that Charlie Hebdo staff "mock fanatics of all religions" while Halgand noted that only 38 of 500 Charlie Hebdo cover stories concerned religion and seven Islam. The "Islamophobic" accusation furthermore "is putting a target on the head of those journalists, those cartoonists," Fouest stated.
Trump might want to reconsider his condemnation of cartoons critical of Islam, as his controversial statements concerning Muslims can result in France in legal charges, Fouest and lawyer Renaud Beauchard both noted. Beuchard discussed in particular how a 1990 statute added an Article 24 prohibiting incitement of racial hatred to a French 1881 law regulating exceptions to free speech.
"It all proceeded in extremely good intention," he said, but in a "perfect illustration of the slippery slope" this provision has extended de facto to religious matters and created a "chilling effect" on discussion of Islam.
Europe and America had diverged over a fundamental free speech question raised by American campus protests, "do you protect the right to offend or do you protect the right not to be offended," Corn-Revere stated. Drawing upon his recent CATO Institute working paper, he discussed at CATO Europe's more restrictive speech regimes including blasphemy and hate speech laws. Statements about Islam similar to what American politicians had said had led to convictions in Europe, and Vatican condemnation as blasphemous of Charlie Hebdo's cover for the attack anniversary could have legal ramifications.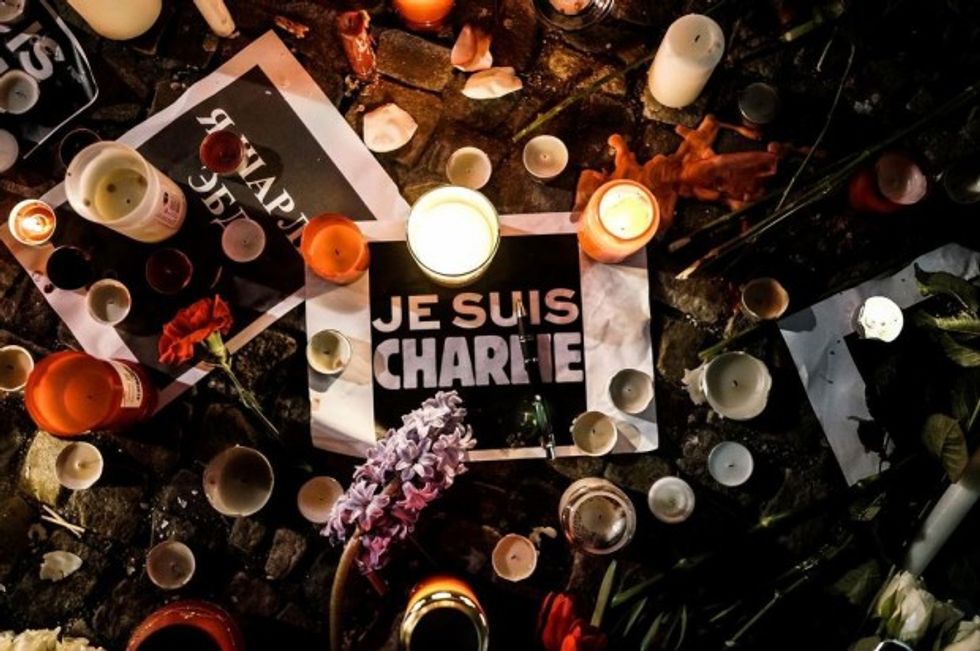 BERLIN, GERMANY - JANUARY 08: Papers with 'I am Charlie' displayed are left near candles at a vigil in front of the French Embassy following the terrorist attack in Paris on January 7, 2015 in Berlin, Germany. Twelve people were killed including two police officers as two gunmen opened fire at the offices of the French satirical publication Charlie Hebdo. (Carsten Koall/Getty Images) 
Americans should take to heart Beuchard's Newseum statement that the United States Constitution's First Amendment free speech protection "is a very unique" and Halgand's noting of blasphemy laws in almost half of all countries worldwide. Corn-Revere's fellow CATO Institute panelist, George Washington University Law School Professor Catherine Ross, briefly mentioned the Organization of Islamic Cooperation's international efforts to prohibit "insulting religion." Immediately after the Charlie Hebdo attacks she had encountered in class discussion resistance from three international students, two from India, one from Iran, in accepting Charlie Hebdo's right to draw Muhammad cartoons.
Yet Corn-Revere's CATO presentation warned that "it really doesn't matter what the law is" if people do not have the courage of their convictions to speak their minds. While American free speech protections remained strong, he identified a considerable challenge in university campuses increasingly hostile to a robust exchange of ideas. An October 2015 Yale University survey found 51 percent of American college students favoring restrictive speech codes. Campus authorities in one incident told a student that he could not distribute United States Constitution copies outside of a specified free speech zone. "I always thought that the free speech zone went from the Atlantic to the Pacific," Corn-Revere commented.
Punishment of offenses to religion allows the most pious to judge on the basis of devout, but fundamentally unprovable beliefs, Ross noted. The atheist Corn-Revere worried about global security in a "world based on this ancient dispute over who has the best imaginary friend." Yet hate speech laws often demand that "I have to be polite about it."
For all of their controversy, many speech restrictions offer little protection against antiliberal movements, Ross argued. Germany's Weimar Republic failed to stop Nazism's rise with hate speech laws and they are not stopping rising European antisemitism today. "Hate speech laws are not necessarily effective in killing the noxious doctrine," she said.
As European experience demonstrates for Americans, such laws certainly can hinder vital debate over ideas such as Islamic ideologies, as the various panelists discussed. This makes Supreme Court Justice Stephen Breyer suggestions to modify strict scrutiny constitutional analysis of any speech restriction with Old World "proportionality" balancing tests all the more troubling, as Corn-Revere's research has shown. Ross in turn noted that American legislators often pass popular, yet unconstitutional laws, with the expectation that the judiciary will show more constitutional fidelity and strike them down. Americans should be thankful that they still live in a land of the free, but, as 19th-century Irish politician John Philpot Curran once said, the "condition upon which God hath given liberty to man is eternal vigilance."
–
TheBlaze contributor channel supports an open discourse on a range of views. The opinions expressed in this channel are solely those of each individual author.