Question: If you are a U.S. soldier and are shot and wounded by a self-professed enemy, should you receive the respect and care a battlefield wounded soldier would receive?
Answer: Not if you were shot at Fort Hood.
Staff Sgt. Shawn Manning was shot six times on Nov, 5, 2009 by then U.S. Army Maj. Nidal Hasan, who was heard shouting, "Allahu Akbar!" as he pulled the trigger killing 13 and wounding 32 more. Staff Sgt. Manning still has two of the six bullets in his body and receives on-going medical care and therapy for his wounds.
[sharequote align="center"]If this isn't a moment for President Barack Obama's famous phone and pen I don't know what is.[/sharequote]
This past February, Congress passed the National Defense Authorization Act which included an amendment to the rules governing who qualifies for the Purple Heart to include those harmed at Ford Hood by Hasan. The Defense of Freedom medal is the civilian equivalent. This designation should assume treatment, care and benefits associated with honorable combat duty in the military.
Yet, currently, according to a letter from the secretary of the Army, Staff Sgt. Manning, and others wounded by Hasan, are not eligible for pay and benefits that a soldier wounded in battlefield combat would receive.
If this isn't a moment for President Barack Obama's famous phone and pen I don't know what is.
Maybe if he let a few more detainees go from the U.S. military detention facility at Guantanamo Bay, Cuba, he would see fit to pay attention to wounded veterans, but so far nothing doing.
Those who serve this great nation in our all-volunteer military deserve everything we can give them and more for their selfless service and personal sacrifice, whether or not they are killed or wounded in action.
However, if they are killed or wounded in action we owe a sacred trust to "bind up the nation's wounds, to care for him who shall have borne the battle," and of those who promise the "last full measure of their devotion" in our defense, so said President Abraham Lincoln in his Second Inaugural Address near the end of the Civil War, and at the dedication of the military cemetery at Gettysburg, respectively.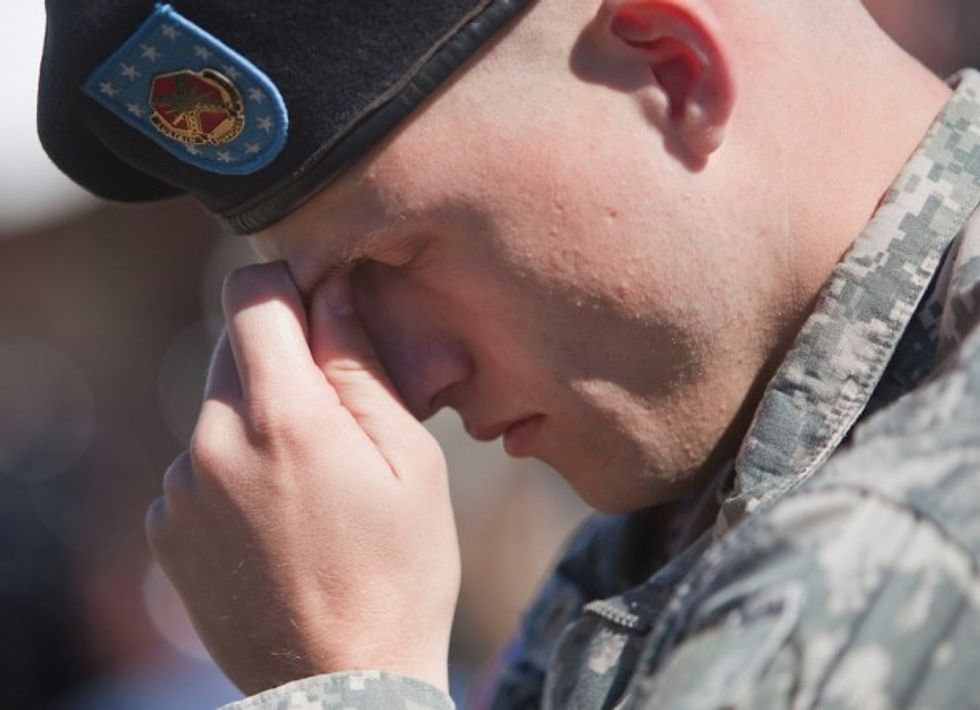 Corporal Eric Skoog observes a moment of silence at a remembrance service recognizing the 13 victims killed in the Ft. Hood attacks on the one year anniversary in Killeen, Texas on November 5, 2010. Major Nidal Malik Hasan, an army psychiatrist, is currently standing trial for killing 13 and wounding 30 during a shooting rampage on November 5, 2009. (Photo by Ben Sklar/Getty Images)
This sentiment and promise is held dear by nearly all Americans, and is part of our national fabric and Judeo-Christian ethic, a founding and lasting principle that is the foundation of trust and integrity we hold with our military personnel, past, present and future.
Without that promise to care for those who are wounded in battle why should anyone risk their lives?
Most military members don't serve for the pay. But taking away benefits for honorable service rendered is a death knoll for the survival of the world's best and most effective military.
Like parents are expected and even required by law to adequately care for their children, so too, the federal government has a covenant to care for its most exposed employees, U.S. military personnel.
It has been said there are technicalities which prohibit the Army from assigning combat benefits to the victims of Nidal Hassan, and that Staff Sgt. Manning will have to appeal his case in a "formal hearing." Appeal his case?!
It was said that since Hasan shot Staff Sgt. Manning with a personal weapon and not a military issued weapon that it didn't constitute an "instrumentality of war."
Really?!
It was said that because Hasan was not "adjudicated a terrorist" that Staff Sgt. Manning's "injuries were not sustained as a direct result of armed conflict."
Preposterous!
None of this would have happened had the Justice Department and Department of Defense had just treated the victims like the soldiers they are. Every soldier is due the dignity and respect of their position.
To the average citizen none of this makes any sense.
If someone wears the uniform and swears an oath to "support and defend the Constitution of the United States against all enemies, foreign and domestic," that person should receive the treatment, care and benefits afforded any other honorably serving soldier.
If you are shot to the calls of "God is great!" in Arabic, you are a casualty of war, nothing else.
Fix it, Mr. President. Don't make Staff Sgt. Manning have to appeal an idiotic decision made with absurd logic. Treat him and the other victims of a professed jihadist for who they are, wounded and honorable warriors.
I am a three-times mobilized U.S. Army major (retired) and author of "Saving Grace at Guantanamo Bay: A Memoir of a Citizen Warrior." Facebook, Blog, Twitter @mjgranger1
–
TheBlaze contributor channel supports an open discourse on a range of views. The opinions expressed in this channel are solely those of each individual author.