Next month Morocco will host the next United Nations climate conference. Over 3,000 journalists will be there, except for Canadian conservative outlet Rebel Media.
Its founder, controversial conservative Ezra Levant, has been singled out because "advocacy media outlets do not qualify for accreditation."
In short, because they don't adhere to the climate hysteria they will not be able to report on it.
Without outlets like Rebel Media, here are four things you won't hear about climate change.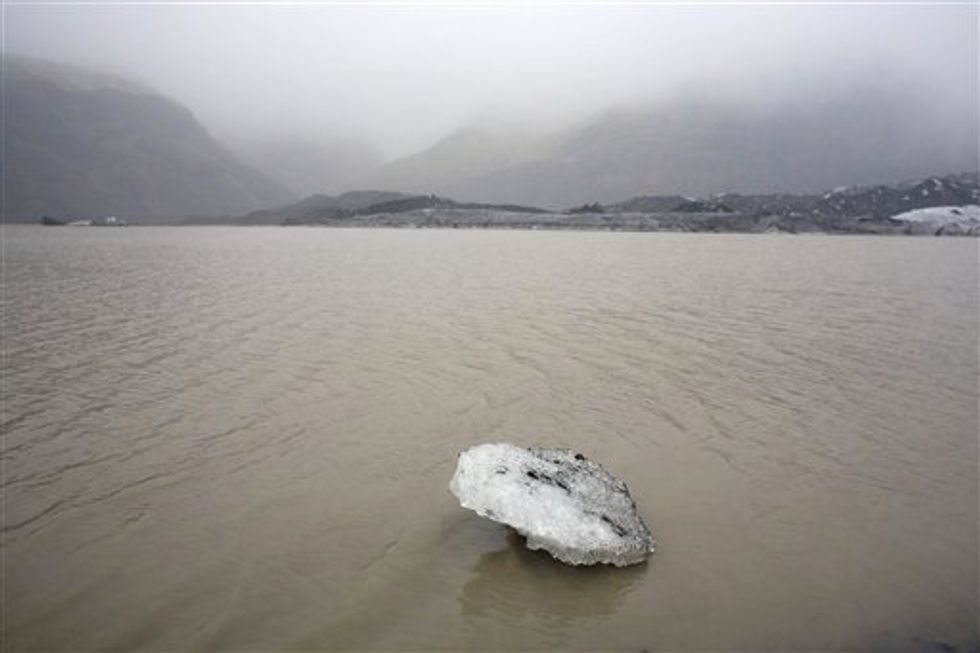 (AP/Thibault Camus, Pool)
1. The Pause Is Still Happening
Most mainstream media outlet will faithfully report governmental measures that September 2016 was the hottest month on record. These ever-adjusted measurements allow for temperature extrapolations where there are no reliable stations. Heat islands also influence temperatures; ironically they can come from solar panels.
Reliable satellite measures, on the other hand, keep showing no statistically significant warming since 1998. It's nowhere near the record set in February, at the peak of a strong El Nino, and its quick cooling might hint for a strong La Nina.
2. Hurricane Matthew Has Nothing to Do With Climate Hysteria
At the slightest sight of a climate extreme, ecofascist drool and start blabbering about its being fuelled by global warming/climate change/climate disruption. Hurricane Matthew was no exception; Hillary Clinton, Al Gore and their minions were warning us that it was a sign of dire extreme weather events to come.
There is a serious problem with that narrative: not only has Matthew hit the U.S. while being only a Category 1 hurricane, but the drought of major hurricanes (F3+) hitting the continental U.S. is still going one since Wilma in October 2005. This is the longest such "drought" since record keeping began 165 years ago.
3. Newspeak to Affect Hurricanes too
In other words, yet another warmist prediction has fallen flat – hurricanes have not become more numerous and stronger due to carbon "pollution". Besides many peer-reviewed papers find no link between changing climate and hurricanes.
But fear not! Since the present definition for hurricanes – the Saffir-Simpson scale relating wind speed – doesn't fit the present gloom and doom predictions, they intend to change it. Instead, people like Andrew Freeman would prefer to measure such rainfall and storm surge flooding. This way warmists will be able to more easily claim that such storm was a hurricane because of the damage it caused.
However, even that measure would fail since both world weather-related damage and flood-related damage (for the U.S.) with respect to the gross domestic product have been going down.
4. Switching to "Green" Energy Will Not Create Net Jobs
But even if one is ready to assume that we need to cut carbon "pollution" for the sake of the planet, switching to renewables like solar and wind will make our lives more miserable.
Democrats like Hillary Clinton would love to see more of these sources of energy in other to create so-called green jobs. The U.N. also loves these forms of energy in order to save Mother Earth. Unfortunately, doing so amounts to no more than recreating Frédéric Bastiat's broken window fallacy – the belief that spending public money improves the economy.
Sure, we "will see" construction jobs and people maintaining this new infrastructure. But we "won't see" (or more likely, ignore) the millions of jobs lost in the fossil fuel industry and the skyrocketing prices in our energy bills.
So if you want the next president and congress to focus their energy on making real job creation easy by unleashing America's energy potential, you know what to do on November 8.
–
TheBlaze contributor channel supports an open discourse on a range of views. The opinions expressed in this channel are solely those of each individual author.