After reading Glenn Beck's review of Disney's new movie "McFarland, USA," I felt compelled to see the film.
Having coached and taught teenagers in rough and impoverished communities, I wondered what the movie might imply about cultural values and assimilation.
"McFarland" is based on an inspiring true story that naturally captures a fundamental quality of America's true culture.
However, the way viewers interpret what they see in the theater depends on whether they accept uncomfortable reality or not.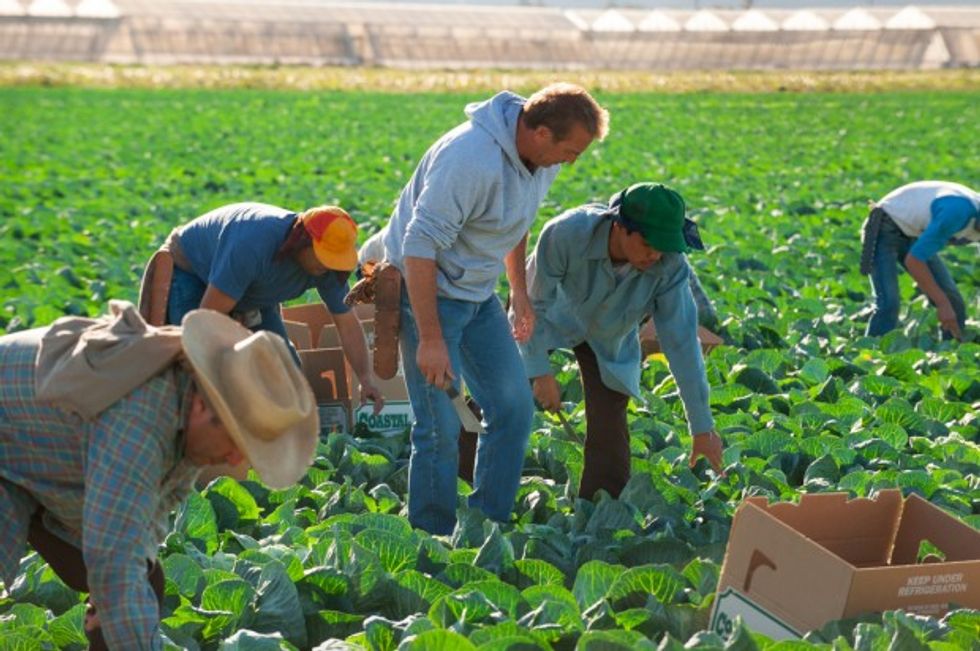 In this image released by Disney, Kevin Costner, center left, and Rafael Martinez appear in a scene from "McFarland, USA." (AP Photo/Disney, Ron Phillips)
The movie tells the story about a migrant-worker community of Mexican-American families and a white coach and his family. This tough little town sits not too far from Bakersfield, California.
"McFarland" clearly emphasizes that the people are Americans above all else. Disney may not purposely imply that America is a remarkable melting pot of productive values from various cultures, but the movie shows clearly how our melting pot works and how a salad bowl fails.
Some Americans probably find "McFarland" inspiring because they instinctively sense that it reflects how America is designed to work.
Set in 1987, "McFarland" is an uplifting symbol of America. The movie portrays a community that values American patriotism -- as well as Mexican traditions -- God, English, intact families, responsible fathers, hard work, kind neighbors, personal accountability, selflessness, respectful children, and education.
It is this part of "McFarland" that reaches out to and embraces the coach's family. Sharing common values and a common language makes it easier for the coach's family to acclimate to the community where white Americans are the minorities. "McFarland" is pretty straight forward about what assimilation looks like in America. It's a clever, but thundering message.
The coach settles permanently in McFarland because he comes to realize that family happiness and magnanimous-and-moral neighbors mean more than money, location, or familiar skin color. Meanwhile, the athletes discover that America truly allows them to dream bigger than they ever imagined possible.
On the other hand, "McFarland" represents 1987 America.
In 2015, multicultural ideology has brainwashed half of the country to believe that the cultural values portrayed in "McFarland" are no more productive or morally superior than the values of any other culture.
In fact, instead of being intolerant of cultures with counterproductive values, Americans are now forced to tolerate them. In order to embrace this kind of diversity, we are compelled to reject America's traditional values. It's a subversive way to fundamentally change things.
In "McFarland," we see a simple example of how multiculturalism divides people, even when they look alike. A sub-culture in "McFarland" (and America) embraces violence, idleness, drugs, material possessions, sexual promiscuity, and self-indulgence. The clashing values are not the focus of the story, but they clearly divide and plague the community.
Embracing a culture with destructive values can ruin anyone's life. A person does not need to be born in to poverty to experience this.
For Americans born in to tough circumstances, however, embracing a sub-culture of counterproductive values can condemn them to poverty forever.
"McFarland" reminds us of why people originally immigrated to America. With productive values, anyone has the chance to rise above adversity. The countries or cultures people leave behind do not offer that opportunity.
America's melting pot will never be perfect, but there is something irrefutably exceptional about it.
However, the values Americans choose to embrace matter. Multiculturalists do not like that reality, but ignoring reality does not change it. Lying about reality does not change it either. Being an American does not mean acting white. America and the world have plenty of white people who do not share the values highlighted in "McFarland."
Glenn Beck's review captured my attention because he described "McFarland" as the "Bedford Falls" of the 21st century. He commented that the people do not look like Jimmy Stewart, but here's the question: which people share the common morals and values that old George Bailey himself must learn to embrace?
Most of us recognize that reality. Others resent it.
What direction are America's values going today? Does America really look like 1987 McFarland? Does it look like Bedford Falls?
"McFarland, USA" reminds us not to take America's grace and virtue for granted. The simple story conceals an important and complex American message. Why would any of us choose to ignore it?
A recovering high school English teacher and a former Marine Corps officer, Lee Culpepper is a Christian, husband, writer, and mentor. Lee is also a contributor at Townhall.com and Bearingarms.com. Email Lee your feedback, or inquiries here. You can follow Lee on Twitter @drcoolpepper.
–
TheBlaze contributor channel supports an open discourse on a range of views. The opinions expressed in this channel are solely those of each individual author.