**The following is an in-depth review of "Gods of Egypt" and does contain spoilers.**
"Gods of Egypt" is the seventh feature film from director Alex Proyas, whose previous directorial efforts include 1994's "The Crow" and 2004's "I, Robot."
The film takes place in an alternate Egyptian world were the Earth is flat and the gods live among humans. It shares a lot in common with other mythical fantasies like "Clash of the Titans" and Marvel's "Thor."
Osiris, king of the gods, has decided to step down and turn over control of his kingdom to his son Horus. During the coronation of Horus, however, Osiris' brother Set stages a coup, killing Osiris and seizing the throne for himself. He then declares that the dead will have to pay to enter the afterlife.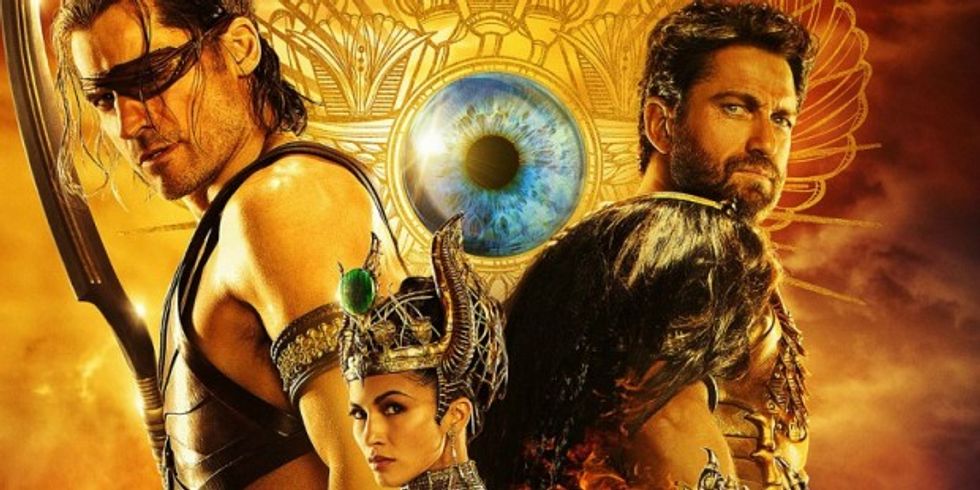 Screengrab
Set commissions the building of a monument to his father, Ra, using human slaves for laborers. Among the human slaves is Bek who hatches a plan to recruit the defeated Horus in a plot to overthrow Set and take back the kingdom.
Apart from the names and costumes, "Gods of Egypt" actually bears very little resemblance to anything from actual Egyptian mythology. It also bears very little resemblance to anything even close to an engaging or entertaining film.
"Gods of Egypt" boasts an all-star cast, so the acting is very good and everyone turns in decent performances. Unfortunately, great acting can't save a poorly written movie no matter how much high-priced talent you stick on the sets, especially when those sets only exist in the digital realm.
The film doesn't attempt to tell an engaging story or present identifiable characters, instead the filmmaker seemed more interested in making a visually stunning special effects piece. In that respect the film succeeds, but expensive CGI doesn't carry a film all on its own and the spectacular visuals quickly lose their appeal leaving the film with nothing to offer.
The Hollywood Reported projected "Gods of Egypt" would pull in around $15 million in its opening weekend, and while the film did meet those projections that is still a far cry from the film's $140 million budget. It's a pretty safe bet that "Gods of Egypt" is well on its way to becoming 2016's first big flop.
Much of the film's lackluster opening can probably be attributed to controversy over casting mostly white actors to play Egyptian characters, but the film itself doesn't offer anything in the way of proving its detractors wrong. The controversy itself is kind of silly - should you really hold a film that depicts a flat Earth and gods coexisting with mortals to realistic standards? - and while a good film probably could have overcome it, "Gods of Egypt" just isn't that film.
While "Gods of Egypt" probably shouldn't be skipped over the perceived "whitewashing" of the characters - none of whom have ever actually existed in real life, by the way - it should be skipped because it just isn't a very entertaining film.
–
TheBlaze contributor channel supports an open discourse on a range of views. The opinions expressed in this channel are solely those of each individual author.