On Dec. 15, 1791 the Bill of Rights was adopted by Congress.
Considering the contempt the Democrats show towards it, one would hope that Republicans would stand up to defend it. Unfortunately, the Las Vegas debate showed that most Republicans don't show much support for that document that protects our God-given rights.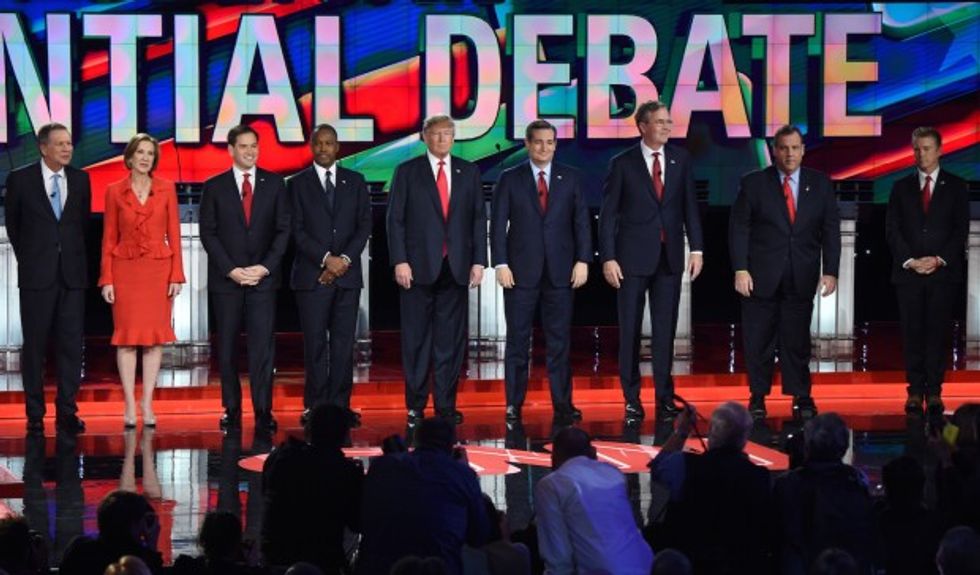 Republican presidential candidates (L-R) Ohio Governor John Kasich, businesswoman Carly Fiorina, Florida Sen. Marco Rubio, retired neurosurgeon Ben Carson, businessman Donald Trump, Texas Sen. Ted Cruz, former Gov. Florida Jeb Bush, New Jersey Gov. Chris Christie and Kentucky Sen. Rand Paul take the stage at the start of the Republican Presidential Debate, hosted by CNN, at The Venetian Las Vegas on December 15, 2015 in Las Vegas, Nevada. AFP PHOTO / ROBYN BECK 
During the pre-debate, candidates showed their support for the National Security Agency program to collect phone metadata. None of them therefore showed their support for the Fourth Amendment which requires courts to have a warrant before collecting any data on anyone.
The situation was ironic for Sen. Rick Santorum. He is a climate skeptic because, most likely, he saw that computer-generated models are not accurate. And yet, he claims that the metadata's computer algorithm are accurate and need to be reinforced. Fortunately, he still stands for Second Amendment rights. He opposes denying people their right to bear arms if they are on the terrorist watch list. At least, as long as the process of setting this list is not transparent.
On his side, Gov. George Pataki showed contempt for the Bill of Rights but also for the rule of law at large. He strongly supports collecting metadata without caring about its constitutionality. He also wants law enforcement to be able to use a "backdoor" on cellphones to better spy on people.
The only candidate that showed support for the Constitution was Gov. Mike Huckabee. He didn't show explicit support for spying, instead he suggested that we access places opened to the public like mosques in order to listen to what they say. After all, "if their religion is so peaceful they would want people to listen so they could join," he said. But if they plot against the U.S. then we can open an investigation on them.
The Bill of Rights received a little more support during the main debate. Sen. Rand Paul was the only one to actually mention that it was Bill of Rights Day, saying that it represented what America stands for. He also showed no interest in collecting metadata since we were not getting specific information.
His Texas colleague, Ted Cruz, said he supports listening to cellphones, showed his support for the Constitution. He rightly denounced President Barack Obama's attempt to strip our rights after the San Bernardino attacks while doing nothing about the bad guys who murdered the people. He also defended his voting against a Department of Defense appropriation bill since it allowed detainment without due process.
Gov. Chris Christie also pleaded for to government to act within what the Constitution allows. Nevertheless, and ironically, he wants to restore the NSA tools of surveillance on the American people.
However, and most sadly enough, none of the 13 candidates even remotely talked about the importance of the Second Amendment. They could have easily burned the hosts by telling them that an armed people would have significantly decreased the number of deaths in San Bernardino. If not, then why hasn't this massacre taken place in Texas? Wyoming? At a gun show? Why do mass shootings keep happening in gun-free zones?
Conservatives, do you truly want to "make America great again?" Then you had better choose someone who will favor what made it great in the first place: the Constitution and the Bill of Rights. And in the last debate only Tea Party favorites Ted Cruz and Rand Paul actually showed respect for the documents.
–
TheBlaze contributor channel supports an open discourse on a range of views. The opinions expressed in this channel are solely those of each individual author.