Hillary Clinton's love of dog whistles is coming back to bite her.
No, I don't mean her barking incident, that's a different problem. I'm talking about her recent speech at the Schomburg Center for Research in Black Culture in Harlem. You remember, the one where she met with Al Sharpton and had a coughing fit.
Less-publicized were her remarks about Republicans:
"Justice Scalia's passing means the court hangs in the balance. Now the Republicans say they'll reject anyone President [Barack] Obama nominates, no matter how qualified. Some are even saying he doesn't have the right to nominate anyone, as if somehow he's not the real president. That's in keeping with what we've heard all along, isn't it? Many Republicans talk in coded, racial language about takers and losers. They demonize President Obama and encourage the ugliest impulses of the paranoid fringe. This kind of hatred and bigotry has no place in our politics, or our country."
So, in other words, thinking President Obama shouldn't nominate a new justice to the Supreme Court is code for believing he's not the real president, and is a dog whistle for racism. Got it?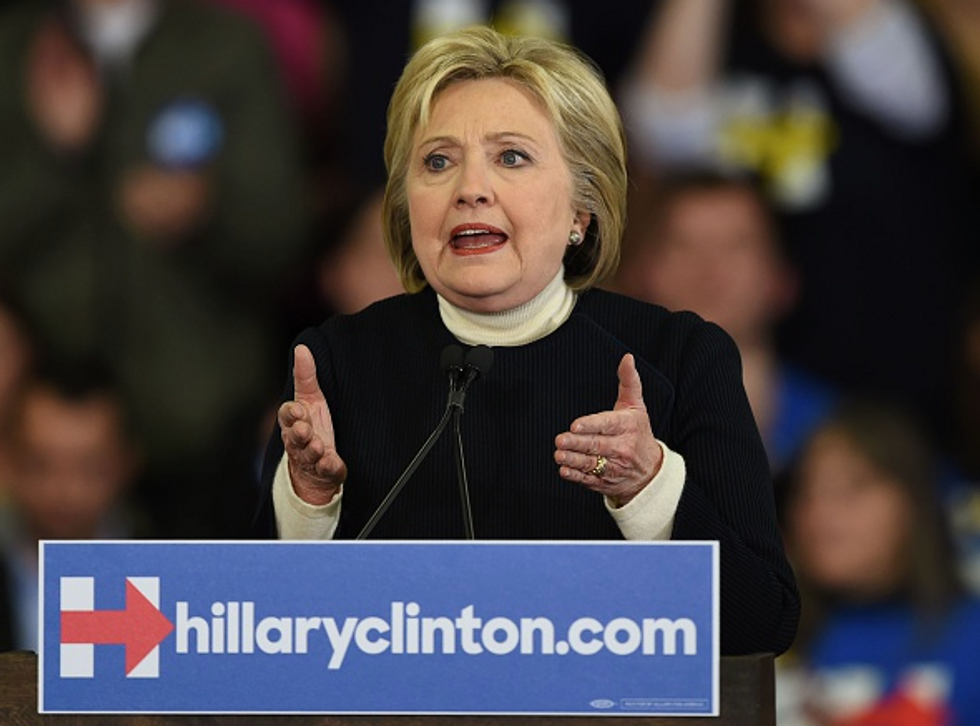 (DON EMMERT/AFP/Getty Images)
While Obama should get to choose Scalia's successor, this "coded language" accusation is bogus. It's a frequently used to attack in politics – "my opponent is using code words that his supporters understand as denigrating minorities" – which has the delightful advantage of being impossible to disprove: of course you're going to deny using code words when you're trying to communicate something secretly!
It's a frustrating allegation to deal with, and I know that it's tempting to retaliate in kind, by saying that Democrats have their own "code words" for socialism or anti-Semitism.
But I'm not in favor of that kind of response. Besides, it turns out Clinton is getting a taste of her own medicine from fellow progressives based on a speech she gave in 1996 (right around the 26-minute mark):
"But we also have to have an organized effort against gangs, just as in a previous generation we had an organized effort against the Mob. We need to take these people on. They are often connected to big drug cartels. They are not just gangs of kids anymore. They are often the kinds of kids that are called 'super-predators.' No conscience, no empathy. We can talk about why then ended up that way, but first we have to bring them to heel and the President has asked the FBI to launch a very concerted effort against gangs everywhere."
Just a few quick (and salacious) tangents:
First, is it me, or was she a better candidate 20 years ago when she was stumping for her husband's re-election?
Second, Clinton also used this speech to lament that our society is "saturated with messages of sexuality that are inappropriate for children" at the very moment that her husband was having an affair with Monica Lewinsky, which would ironically wind up further "saturating" us.
Third, in case you find it odd that a first lady is giving such a detailed policy speech, remember that the election of President Bill Clinton was advertised as a "two-for-one" deal, in which his wife would be given all sorts of responsibilities for setting and carrying out the president's agenda. We can assume that deal is still in play for the 2016 election, and, given that Bill Clinton lied to a grand jury, thwarting a woman's attempt to pursue justice for her allegations of sexual harassment – making him a poor candidate for official responsibilities – that means Bill's "sex life" counts as a reason not to support Hillary.
But, getting back to codebreaking: Hillary Clinton has been taking heat from a number of liberals and progressives for her 1996 speech on the basis that all this talk of "drugs," "gangs," "super-predators" and so forth is code for African-Americans kids. Clinton, they say, was using these "dog whistles" to covertly attract the support of bigots who hate black people.
Frankly, I think this is bogus. But how would Clinton refute the accusation? By saying, "no, I wasn't using code words," as any person secretly using code words would do? Or by pointing to the African-Americans who she has befriended and who support her – just like Republicans and conservatives routinely do, to no avail?
Maybe she could accept that there's some poetic justice in this turnabout, and take the lesson that, if you don't want it done to you, don't do it to others.
–
TheBlaze contributor channel supports an open discourse on a range of views. The opinions expressed in this channel are solely those of each individual author.