In a bittersweet March 7 press conference, Peyton Manning choked back tears as he officially pulled down the curtain on his 18-year career.
And what a career it was, one in which the former University of Tennessee quarterback literally rewrote the NFL record books and left his indelible mark on the game of football.
This article, however, isn't about those records. Or the Super Bowls, or Peyton's tremendous accomplishments off the field, or even his stellar reputation as a humble man and a class act.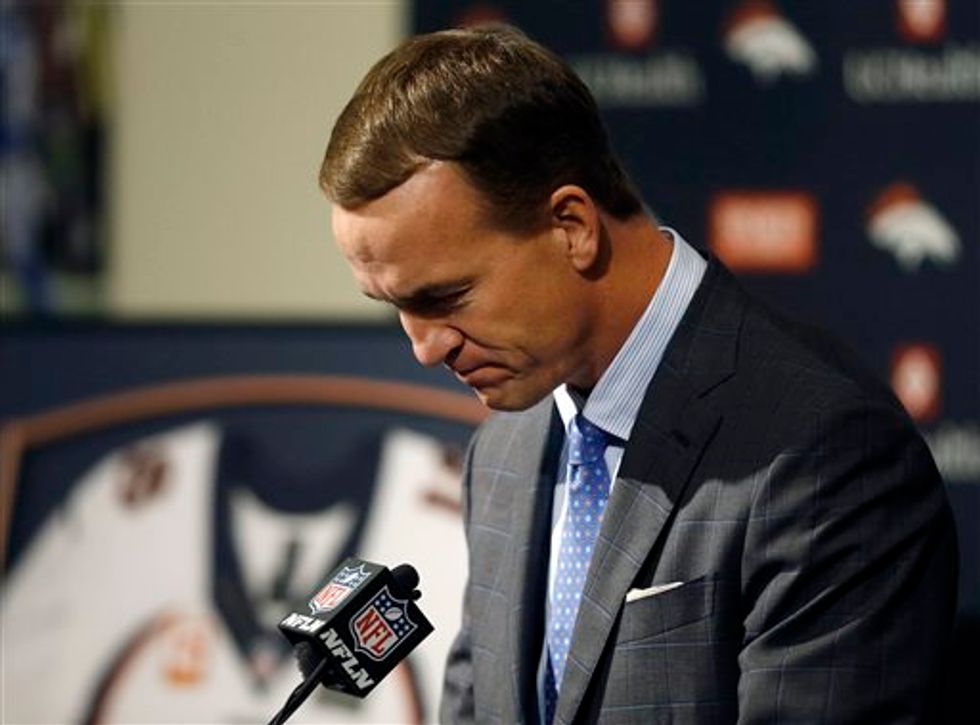 Denver Broncos quarterback Peyton Manning pauses while speaking during a news conference where he announced his retirement from professional football, in Englewood, Colo., Monday, March 7, 2016. Manning finished a record-breaking 18 year career by leading the Broncos to the team's Super Bowl 50 victory over the Carolina Panthers. (AP Photo/David Zalubowski)
Rather, it's a story about how a stellar individual who accomplished amazing things and made it to the absolute peak of his profession can have his reputation tarnished and nearly destroyed at the whims of the social justice warrior mindset.
And if it happened to him, make no mistake, it can happen to any of us.
It all started after Super Bowl 50, when the very talented but clearly not-quite-ready-for-prime-time Cam Newton, gave a sulking, rude, unsportsmanlike press conference that put more than a dent in his reputation. "Journalist" (and flaming social justice warrior) Shaun King, hurt that Cam's reputation was taking a hit, felt the "moral imperative" to pen the hit piece of all hit pieces about Manning and an incident that happened 20 years ago when he was 19 years old.
According to Fox Sports columnist Jason Whitlock, King is "...not a journalist. He's a race hustler from Twitter, from the Black Lives Matter movement, who stirs racial controversy to elevate himself. He's a white guy presenting himself as black."
It didn't matter. The piece went viral and suddenly the narrative had changed from class-act and two-time Super Bowl champion to scumbag who got away with almost raping a female trainer at the University of Tennessee.
As the initial media reaction to the Duke lacrosse case and many others have clearly shown, to the average culturally brainwashed person reading King's article, the woman is always right. That's the liberal, social justice warrior mindset in a nutshell.
Apparently all you've got to do to be a victim is decide you want to be one. If a woman alleges it, it's gospel. It doesn't matter if she turns out to be a chronic false-accuser and semi-professional lawsuit plaintiff. It doesn't matter if there are witnesses that corroborate the accused's story. It doesn't even matter if her story has changed over the years. It doesn't matter in the court of public opinion because equal rights and male privilege outweigh truth.
And heaven forbid the guy be a white, conservative, Christian. In fact, those are the kind of scum - you know, the kind that don't understand their privilege - that need to be brought down the lowest.
In case you're not familiar with the case, the fact that Manning did something inappropriate in the locker room in the presence of female trainer Dr. Jamie Naughright isn't disputed. What actually happened, however, is.
Manning insists it was a simple prank, a "mooning" where he pulled his shorts down and exposed part of his butt cheek to another athlete. It was unfortunate and regrettable because Naughright was in the room at the time and saw it, but it wasn't directed at her.
Naughright's version, however, depends on when she is telling it.
In her first account, the one she gave when she received her $300,000 settlement for that and 27 other non-Manning related complaints, Manning exposed his buttocks in close proximity to her face.
The second, alleged in a 2003 lawsuit after Manning brought the incident up and alluded to Naughright in his 2001 book, involved something much more graphic, and criminal, if true. Something that would have necessitated police involvement instead of campus administrators.
Even though a former teammate, Greg Johnson, has recently corroborated Manning's account, ultimately this is a he said/she said case, right? Thing is, 20 years of history can tell a lot about a person. If Manning truly had the mindset of a sex offender, nay a sex predator capable of something dastardly enough to do what was alleged in Naughright's second account, wouldn't he have done it to someone else by now?
It works the other way too, of course. If Naughright were in the habit of making allegations and/or filing frivolous lawsuits to make money, wouldn't she have…
Oh wait…
There was that 2010 lawsuit against fashion designer Donna Karan because Naughright was injured during physical therapy with a trainer Karan had recommended. It was dismissed because ostensibly every sane person wants to be able to recommend a professional to a friend without getting sued if that professional does a poor job.
There was also the suit against Deli Delicacies, a Lakeland, Florida restaurant where she slipped and fell outside. According to former owner (and former Naughright friend) Gretchen Anglero, "This is what she [Naughright] does. She sues people to make money."
So much for friendship.
The saintly woman of stellar reputation who according to Shaun King never said "one vulgar word" during her time at Tennessee was allegedly in the habit of calling the Knoxville News Sentinel every couple of weeks to engage in profanity-laced tirades, railing on about conspiracies, sexcapades, and documents that, if mailed, would prove it all. Except, she never mailed them, even though the newspaper offered to pay the postage. In fact, it got so bad they stopped taking her calls.
Do these things about Naughright mean Manning is entirely innocent of the allegations? Not necessarily. Only two people really know, but in incidents like these the truth is usually somewhere in the middle. My money, however, would fall well short of a criminal, sex predator-type malfeasance.
But in the court of public opinion, social justice warriors like Shaun King and their ilk revel in tearing down someone who has been the epitome of professionalism and class, so long as said someone doesn't belong to any of their preferred "victim" groups.
–
TheBlaze contributor channel supports an open discourse on a range of views. The opinions expressed in this channel are solely those of each individual author.