Thirty-two years ago, my mom decided to sit down and write a letter.
In her perfect, elegant schoolteacher script, she wrote to encourage a man she felt needed comforting. She thought that, if the letter ever crossed his desk, it might make a difference to know that someone even way out in rural Minnesota was thinking of him and praying for him as he traversed this most difficult job.
The weeks past. Low and behold, one day a response arrived. It stood out from the other letters and bills in the mailbox—it felt thick and hard, as though a piece of cardboard was in the long envelope.
Indeed, between two pieces of cardboard was one simple piece of paper, on which the recipient of my mom's letter wrote to thank her for her words of encouragement.
It was signed: Ronald Reagan.
This Dec. 17, 1981 file photo shows President Ronald Reagan pointing to a reporter for the next question during his news conference in the East Room at the White House in Washington. AP Photo, File
Peggy Noonan—special assistant to the 40th president— once recalled how Reagan would take time each day to pour over a selection of "a dozen or so" letters from the thousands that came daily.
Not only did he read them, but he took time to respond. It was just who he was. He didn't do it for political purposes—he responded because, as Noonan further wrote, Reagan was "utterly egalitarian" and "never thought he was stooping to the people he wrote to …"
Noonan continued:
"He realized that people pour their hearts out to presidents and in a modern, highly technological society with a quarter billion people it was important that they know that they have at least a chance to make it through to the top guy. That is why he answered letters from citizens with the same kind of care and respect that he gave letters from world leaders, from popes and prime ministers. That moment, when you treat the lonely mother like a great leader, is the Great Democratic Moment, the one in your office, alone, that silently expresses who we are." (pp. 259-260, "When Character Was King: A Story of Ronald Reagan")
My husband (who, as many of you know, did not grow up here) once asked me: "So, I understand the importance of Reagan's policies—but explain to me: why he is revered on SUCH a level today?"
He's right—it seems like Reagan is invoked more often than a candidate's own family when they're out on the campaign trail, and there's nary a conservative gathering, club, or event where his name isn't dropped at least once.
So what IS it?
That certain je ne sai quois of sorts—I contend—was exactly how Noonan's title describes him: character.
Agree or disagree with his politics, he was a genuinely good man—and it was magnetic. The genuineness of his persona set him apart, and I believe it's actually a starvation for that "realness" that has fostered the Donald Trump phenomena of 2015.
Except there's a difference between bold character—and brashness for the heck of it (think Trump, and his take on Rand Paul: "I never attacked him or his looks, and believe me, there's plenty of subject matter right there.")
But that's a story for another day—or another writer.
I watched the second GOP President Debate—and amid the groan-worthy smack-downs from some, the cringe-worthy boringness of others, and the truly impressive moments from still others—one statement in particular had me shouting at the screen in agreement.
(By the way, after a summer of storms, a wedding, Fourth of July fireworks, and now Mommy's very vocal viewing of the debates, I'm pretty sure it's official: My kid can sleep through anything.)
It was so powerful a statement that I couldn't get it out of my head. And there it sat all evening, and all day the following day, right alongside the aforementioned title of Noonan's book:
"Iran and Planned Parenthood. One has something to do with the defense of security of this nation. The other has something to do with the defense of the character of this nation."
That was former HP CEO Carly Fiorina, who continued: "I dare, Hillary Clinton, Barack Obama to watch these tapes [in reference to the harvesting of organs from aborted children]. Watch a fully formed fetus on the table, its heart beating, its legs kicking, while someone says 'we have to keep it alive to harvest its brain.' This is about the character of our nation …"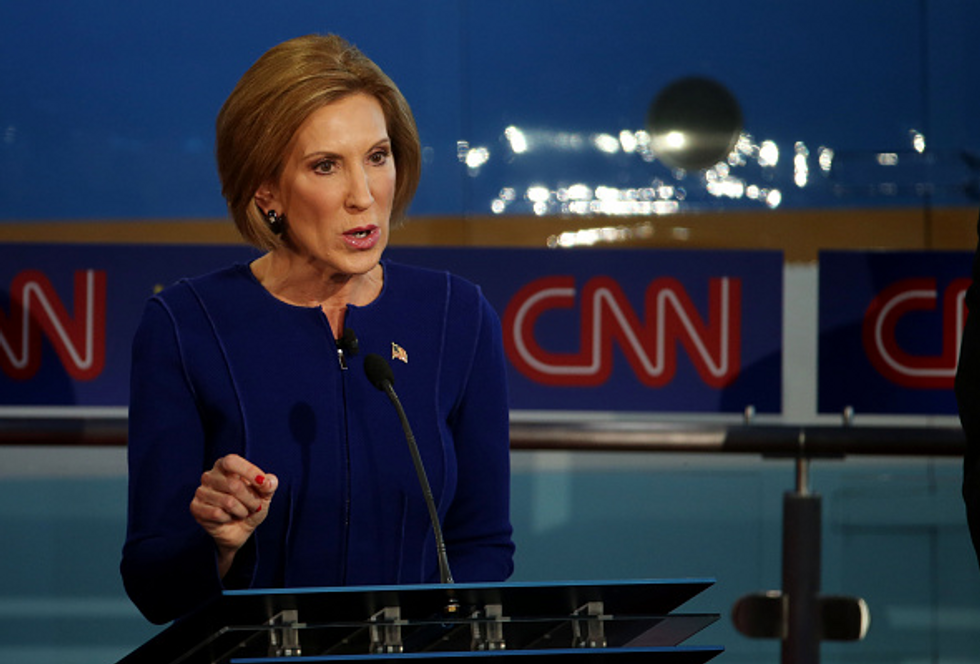 Republican presidential candidate Carly Fiorina takes part in the presidential debates at the Reagan Library on September 16, 2015 in Simi Valley, California. Fifteen Republican presidential candidates are participating in the second set of Republican presidential debates. (Photo by Justin Sullivan/Getty Images)
And in just a few seconds, Fiorina brilliantly summed up the potential demise of our nation and our society: the enemy that longs to kill us from without, and the disease that's already killing us from within.
While our national security is incredibly hard to protect (and incredibly hard to get back once you arm the state sponsor of terror with nuclear weapons), a loss of our character is something rotting and infectious.
Americans, especially my liberal friends: we can disagree about economics and foreign policy; we can disagree about immigration and education. We can disagree about a lot—and to be certain, many of these things have dire consequences if poorly or wrongly addressed.
We cannot disagree about character.
And that's what we need to recognize as the heart of the rotting problems in our country.
It's a lack of character.
It's a little body prematurely taken from its mother's womb, lying on a table awaiting death at the hands of a soulless adult who cackles about how best to preserve the parts; a soulless adult who won't see the inside of a jail for murder, and who is instead defended for "preserving women's healthcare."
It's a group that believes cops are "pigs in a blanket" to be fried "like bacon," and that it should be "open season" on cops and white people—and who are then greeted at the White House.
It's Middle Eastern Christians whose children are being crucified, whose women are being sold into sex slavery, and whose men are being beheaded, and who are subsequently offered no help from a government that instead vowed to help 10,000+ Syrian refugees; one out of every 50 of whom are believed to be Islamic State fighters.
It's a presidental candidate who makes jokes about putting our national security at risk by using a private server for State Department email conversations.
I don't know whether or not Carly Fiorina will, or should win the GOP nomination for the presidency. But I know one thing for certain: if the pinnacle of her campaign was her comment in last Wednesday night's debate, her efforts have been well worth it.
You see, she's done us a great service by reminding us that no matter WHO we choose, we're choosing a warrior to fight not just for the economic survival and national security of our country, but for its character; for its very soul.
Think about that when you go to the polls.
Mary Ramirez is a full-time writer, creator of www.afuturefree.com (a political commentary blog), and contributor to The Chris Salcedo Show (TheBlaze Radio Network, Saturday, from noon to 3 p.m. ET). She can be reached at: afuturefree@aol.com; or on Twitter: @AFutureFree
–
TheBlaze contributor channel supports an open discourse on a range of views. The opinions expressed in this channel are solely those of each individual author.