Update: Vanessa Kerry and members of the Iranian foreign ministry have denied that Mohammad Javad Zarif's son served as best man at her wedding.
—
It was a fall evening in 2009 at Brandegee House, a "Tuscan-style villa in Boston." Two Massachusetts doctors wed, accompanied by their families and a wedding party, which included the son of Iranian diplomat Mohammad Javad Zarif.
So?
The couple was Dr. Vanessa Bradford Kerry and Dr. Brian (Behrooz) Vala Nahed, and Zarif's son was the best man.
Yeah? So?
Dr. Vanessa Bradford Kerry is now-Secretary of State John Kerry's daughter, and Mohammad Javad Zarif was Kerry's counterpart in the nuclear negotiations with Iran.
How convenient for Iran.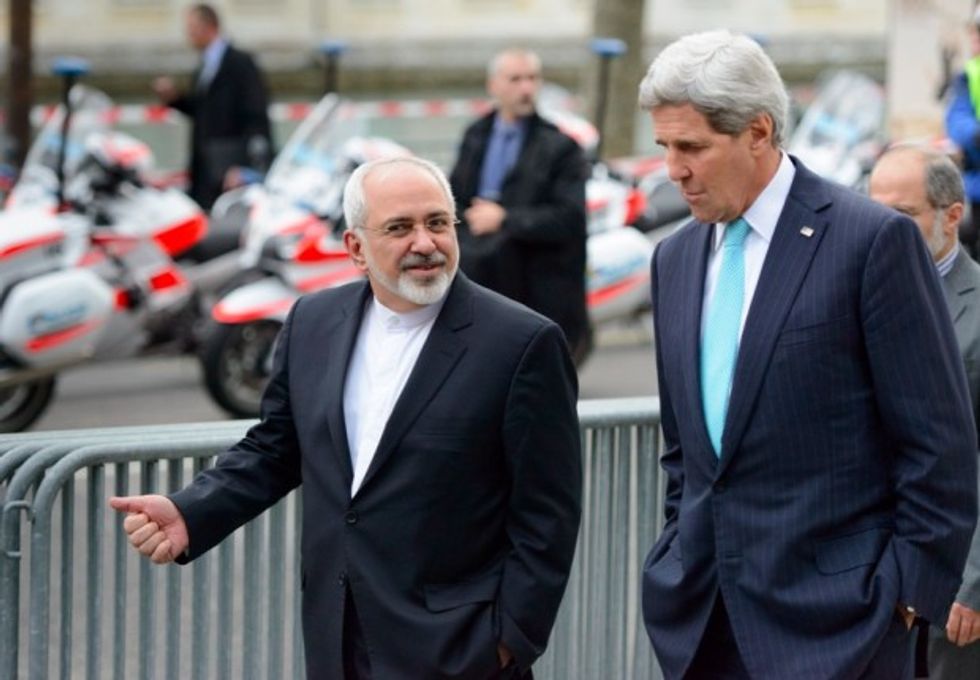 U.S. Secretary of State John Kerry, right, speaks with Iranian Foreign Minister Mohammad Javad Zarif, as they walk in the city of Geneva, Switzerland, Wednesday, January 14, 2015, during a bilateral meeting ahead of the next round of nuclear discussions. (Image source: AP/Keystone, Laurent Gillieron) 
In fact, nearly every step of this process has been utterly convenient for Iran.
How convenient for Iran that our president and his administration doesn't so much as bat an eye when Iran's leadership continues to spew violent rhetoric towards the United States (and subsequently its allies), saying that the deal "won't change Iran's policy towards the 'arrogant' government of the United States" and that they will "continue to support its allies in the Middle East including the Lebanese Hezbollah, Palestinian resistance groups and the Syrian government."
Meanwhile this same administration condemned Israeli Prime Minister Benjamin Netanyahu for voicing his nation's fears of a nuclear Iran, and subsequent address to Congress to that end.
How convenient for Iran that in April of this year, the United States agreed to release Iranian scientist Mojtaba Atarodi "who had been arrested in 2011 for attempting to acquire equipment that could be used for Iran's military-nuclear programs." Yet the world's preeminent superpower cannot (or will not), as part of the very same negotiations, get Iran to release three Americans—a Marine, a Christian pastor, and a journalist—held hostage in Iran.
How convenient for Iran that so many people in the United States are too distracted by side-shows like Cecil the Lion to care about whether or not the administration is actually telling the truth; something the Iranian government itself claims has been a farce all along, intended only to "calm Congress and other Zionest lobbies."
Take, for example, the president's reassurance to the Jewish community "rattled by his nuclear negotiations with Iran ... that 'America has its back.'" Except, Annex III of the nuclear deal contains concerning verbiage that seems to "stipulate that the U.S. [would] block Israeli attempts to scupper the Iranian nuclear threat."
At minimum, the United States and other Western nations would engage in "co-operation through training and workshops to strengthen Iran's ability to protect against, and respond to nuclear security threats, including sabotage."
In other words—Israel is not free to defend itself from a looming threat should it deem necessary, because we are literally going to show Iran how to fight back.
In this Sept. 27, 2012 file photo, Prime Minister Benjamin Netanyahu of Israel shows an illustration as he describes his concerns over Iran's nuclear ambitions during his address to the 67th session of the United Nations General Assembly at U.N. headquarters. Credit: AP 
How convenient for Iran that "American or Canadian inspectors working for the U.N. nuclear watchdog" will not be permitted to visit its facilities, citing verbiage in the deal that "inspectors should be from countries that have diplomatic relations with Islamic republic of Iran." Even so, approved inspectors from the International Atomic Energy Agency (IAEA) "will not have access to "sensitive and military documents."
How convenient for Iran that no one—including John Kerry—seems to have bothered to read the so-called "side deals" that form part of the larger nuclear deal.
These two side deals were "made between the Islamic Republic of Iran and the IAEA as part of the Joint Comprehensive Plan of Action (JCPOA) will remain secret and will not be shared with other nations, with Congress, or with the public." The deals involve the "inspection of the Parchin military complex," and "details how the IAEA and Iran will resolve outstanding issues on possible military dimensions of Iran's nuclear program."
In other words, actions relative to "one of the most secretive military facilities in Iran … a critical linchpin in the Iranian nuclear program that has long-been suspected of both long-range ballistic missile and nuclear weapons development" (Parchin) and the "possible military dimensions of Iran's nuclear program" are to be decided not by the United States, but by Iran, and a United Nations agency.
How convenient for Iran that we seem to have conveniently forgotten what "holocaust" means; that President Barack Obama has seen fit to call "ridiculous" those who express concern over what Iran itself has consistently said about the elimination of the Jewish state through "resolute and armed confrontation."
How convenient for Iran that our leadership doesn't bother to listen to its experts; experts like Joint Chiefs of Staff Chairman Martin Dempsey, whose clear "military advice to the administration was that the U.S. should not relieve sanctions on Iran under any circumstances." Dempsey boasts decades of service, whereas John Kerry's service has been the subject of immense controversy, and President Obama hasn't ever served a day. Despite this—Dempsey's advice went unheeded.
Perhaps most convenient of all, however, is that Iran is dealing with the United States during a time when its leaders find precious little good in upholding the rule of law. When asked by Representative Brad Sherman (D.-Calif.) during a House Foreign Affairs Committee hearing whether or not the administration would "follow the law even though you think it violates this agreement clearly and even if you think it's absolutely terrible policy," John Kerry's response was stunning:
"I can't begin to answer that at this point without consulting with the president and determining what the circumstances are."
In other words, no, not necessarily.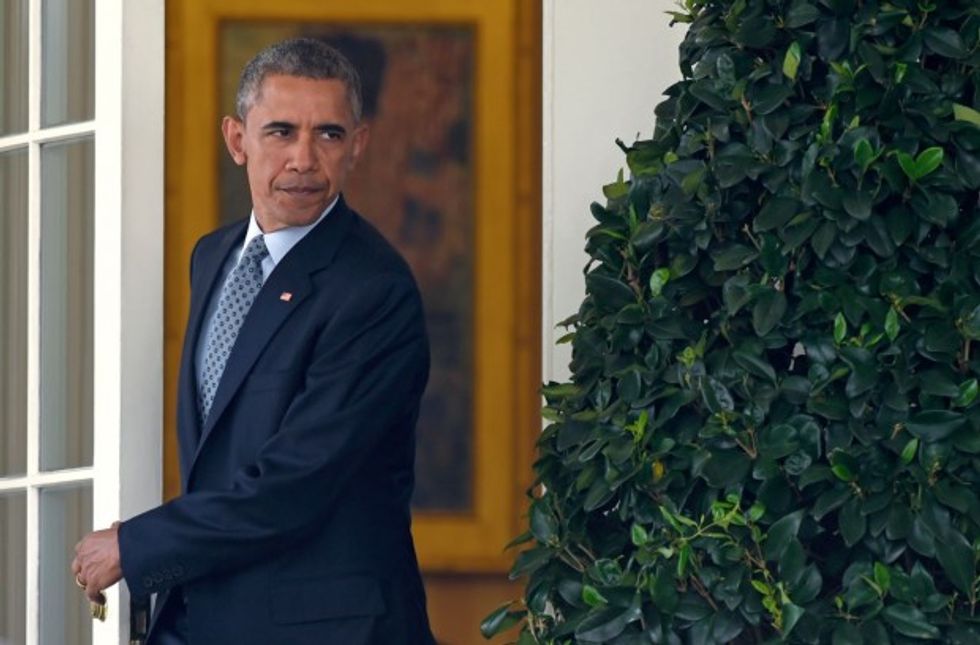 President Barack Obama walks to the Rose Garden of the White House in Washington, Thursday, April 2, 2015, to speak about the breakthrough in the Iranian nuclear talks. The president heralded a framework nuclear understanding with Iran as an "historic" agreement that could pave the way for a final deal that would leave the U.S., its allies and the world safer. (AP Photo/Susan Walsh) 
To supporters of the deal, none of this really matters—since the supposed goal of this deal is to "avoid" more war in the region. We're also told there's no chance that Iran could build a nuclear weapon. So how we got to the deal and how the deal is maintained is of little consequence.
Think about that for just a moment.
In order to avoid war, we need to allow Iran, the largest state sponsor of terror, immensely expanded access to both cash flow (through lifted sanctions) and maneuverability as it pertains to their nuclear program?
In order to avoid war, we need to allow Iran and the increasingly anti-Semitic U.N. to call virtually all the shots in the "inspection" process of nuclear development?
In order to avoid war, we need to allow our president and his administration to break our laws and side instead with—need I mention again—the world's largest state sponsor of terror?
How utterly convenient for Iran, and all the world's evil characters, that we live at such a time as this.
Mary Ramirez is a full-time writer, creator of www.afuturefree.com (a political commentary blog), and contributor to The Chris Salcedo Show (TheBlaze Radio Network, Saturday, from noon to 3 p.m. ET). She can be reached at: afuturefree@aol.com; or on Twitter: @AFutureFree
–
TheBlaze contributor channel supports an open discourse on a range of views. The opinions expressed in this channel are solely those of each individual author.