A rumor circulating on conservative websites stating that the son of Iranian Foreign Minister Mohammad Javad Zarif served as best man at the 2009 wedding of John Kerry's daughter has been dismissed by Iran's foreign ministry, the U.S. State Department and Kerry's daughter, Vanessa.
The suggestion of friendly ties between the Kerry and Zarif families raised questions about the U.S. secretary of state's ability to conduct the sensitive negotiations over Iran's nuclear program dispassionately and unperturbed by social ties, particularly because Zarif was also Iran's chief negotiator at the talks.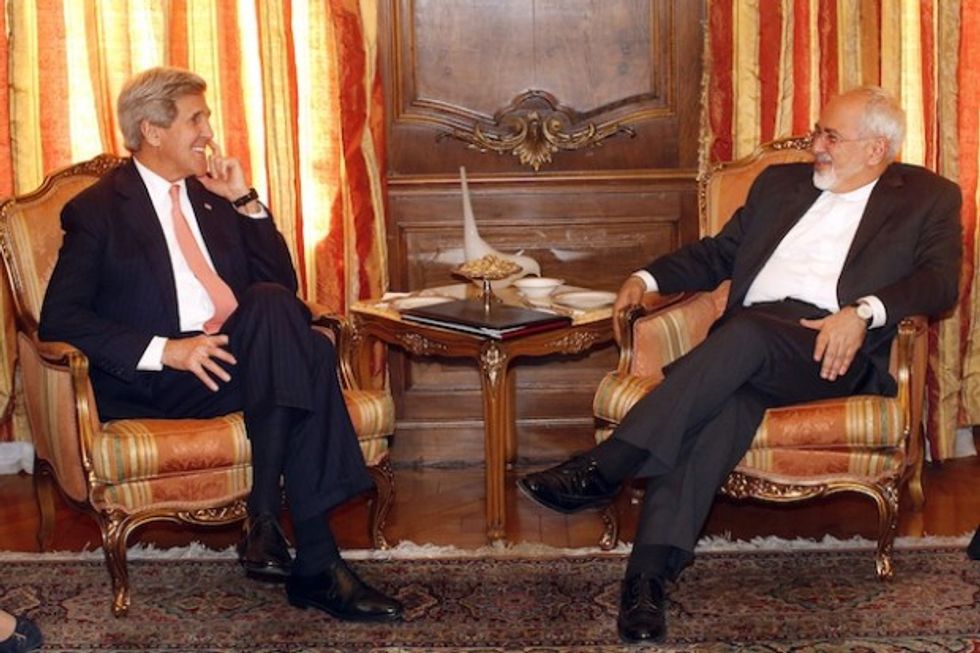 U.S. Secretary of State John Kerry meets with Iranian Foreign Minister Mohammad Javad Zarif at the United Nations, April 27, 2015, in New York. (Jason DeCrow-Pool/Getty Images)
The best man rumor appears to have most recently been promoted on former Republican Rep. Allen West's website on July 28.
An Iranian foreign ministry official on Monday told Iran's semi-official Mehr News Agency that the claim was a "pure and baseless fabrication." Foreign ministry officials also knocked down the claim to Iran's Fars News Agency.
"A number of unreliable media circles produce such kind of news by misusing news production procedures and seek certain incentives, including attracting more audience," the unnamed official told Mehr.
In response to an inquiry from TheBlaze, a State Department spokesman Monday afternoon said the reports about Zarif son's attendance at the wedding are "false."
Also responding to the rumors, Vanessa Kerry tweeted on Sunday that Zarif's son was not at her wedding ceremony:
Persian Shrug http://t.co/BtnKMzXM27 via @po_st Happy 2 verify. No wedding party when we married. No Zarif's son. Sorry 2 disappoint.

— Vanessa Kerry (@VBKerry) August 2, 2015
Vanessa Kerry, a physician, married Dr. Brian Nahed in 2009, the New York-born son of Iranian-Americans who live in California.
A contributor for TheBlaze also repeated the rumor in an opinion piece published Saturday that said the wedding "included the son of Iranian diplomat Mohammad Javad Zarif."
The Internet rumor watchdog Snopes.com on Friday published an extensive takedown of the rumor.
This story has been updated with the response Monday afternoon from the State Department.