Despite the fact that everyone agrees that the Paris attacks were cruel, there is plenty of quiet chattering that blames the French themselves, or more expansively, the West itself, for these attacks. How can it be the West's fault that Islamist terrorists massacred innocent civilians in Paris? Should we self-blame?
Islamic State justifies its behavior by arguing that there is no distinction between civilians and combatants in this jihad. The only difference is between those who follow the straight path of Islam versus infidels. However, few people—including most Muslims—take this justification for the Paris bloodshed seriously.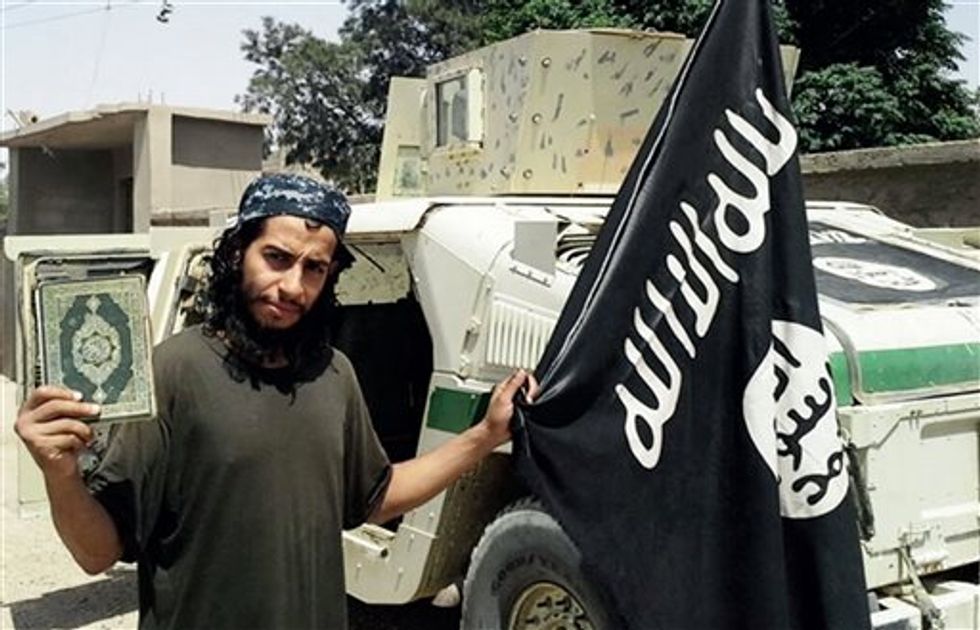 This undated image made available in the Islamic State's English-language magazine Dabiq, shows Abdelhamid Abaaoud. Abaaoud, the child of Moroccan immigrants who grew up in the Belgian capital's Molenbeek-Saint-Jean neighborhood, was identified by French authorities on Monday Nov. 16, 2015, as the presumed mastermind of the terror attacks last Friday in Paris that killed over a hundred people and injured hundreds more. (Militant Photo via AP) 
Western critics, typically from the political left, argue that the U.S. has somehow abandoned the Middle East and thus all its violence is somehow our fault. The left has created a fictitious narrative of the U.S. as a colonial power with a dodgy record that includes blind-support for Israel, decades of oppression of Arabs, and leaving Iraq in a mess in 2010.
This is just bad history.
The U.S. was never a colonial power in the Middle East. Indeed, it was U.S. pressure that blunted the last real gasp of British and French colonialism in 1956 during the Suez Crisis. The U.S. has been a great partner in the region, liberating Kuwait, being a staunch ally to NATO-member Turkey (unlike some European NATO members), and supporting anti-Communists throughout the Cold War. The U.S. played a modest political game in the region for most of the period up to 9/11, overtly supporting democracy in principle but unwilling to upend the status quo and cause regional insecurity. Moreover, it was the Obama administration that pulled out of Iraq in 2010. Yet, even such revisionist history does not explain nor justify Paris' Friday the 13th.
Others on the left argue that it is failed policies of "inclusion" (not assimilation) in the West that spurred on the Paris murderers. The logic goes like this: Western societies have not done enough to provide social benefits, such as education and guaranteed employment, to Muslim young men. They feel anomie from being poor and marginalized and hence lash out in anger after being radicalized by Islamist imams in mosques and online.
Again, this argument neither explains nor justifies the arguments of the Paris attackers.
On the one hand, the background reporting has demonstrated that many of the attackers had a decent standard of living, often better than many of their extended "cousins" across the greater Middle East. They were fed, clothed, sheltered, and had access to free public education. The relative wealth of terrorists should not surprise us: many violent Islamists come from family wealth (Osama bin Laden) and have high levels of education, like medical doctor Ayman al Zawahiri. It is not poverty that marginalizes these individuals, but their crazy, violent ideas.
The political right is arguing, at least in the U.S., that the "abandonment" of Iraq in 2010 by the Obama administration is responsible for what ultimately happened in Paris. It is important that we carefully evaluate the logic of this argument and not go in for facile soundbites.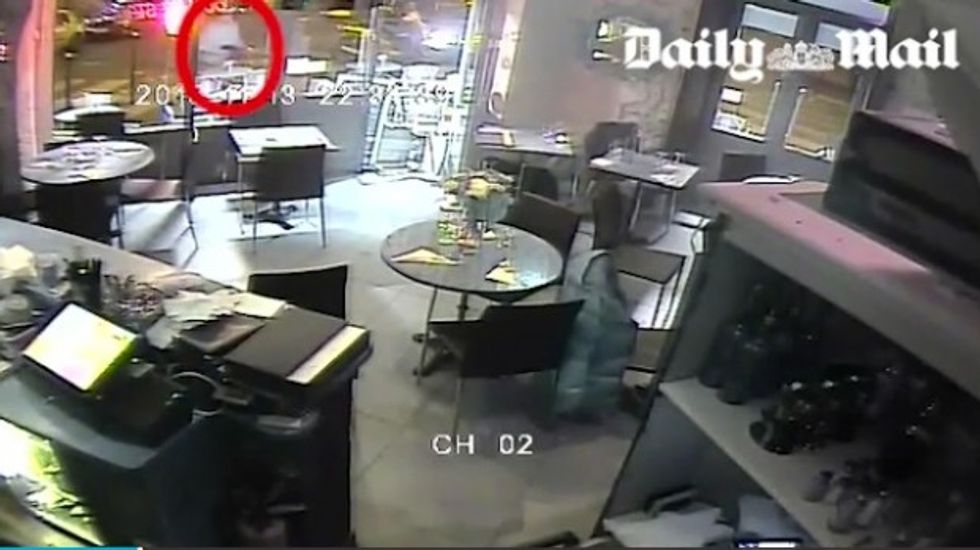 Video obtained by Britain's Daily Mail appeared to show the Islamist gunman aiming point blank at a woman under a table and trying to fire. (Image source: Daily Mail) 
Although it is widely understood that the departure of Coalition forces did contribute to an already unraveling Iraq in 2010-2011, this does not explain the faltering Bashar al Assad regime in neighboring Syria nor the wider resonance of violent Islamist ideas across Muslim communities worldwide. In other words, the Syrian civil war would have continued to play out even if Iraq were significantly more stable and even if there were thousands of U.S. troops on the ground in Iraq. The Syrian civil war provided geographical and political space for Islamic State to rise up.
So, what really caused the Paris attacks?
It was not French policy in North Africa and the Levant during the Cold War, nor the U.S. retreat from Iraq in 2010. The Paris massacres were not caused by U.S. support for Israel, or old British colonial policy, or even the demise of assimilation policies in favor of politically-correct multi-culturalism, across the West.
People pulled the trigger. People detonated the bombs. Those people were violent Islamists motivated by a hatred of Western publics and Western values. The responsibility lies with the people and ideas represented by Islamic State and its Islamist siblings: Al Qaeda, Boko Haram, Lashkar-e-Taiba, HAMAS, Hezbollah, the Pakistani Taliban, and others.
To be clear, even if the West has misguided domestic and international policies, there is no excuse or justification for the deadly assaults of 11/13. The Parisian bombers attacked theaters and market places. They targeted innocent civilians, from the newly-wed to the child to the grandmother.
Who is to blame? They are. There is no reason for the West to accept the slightest iota of blame for these diabolical acts.
But, it is worth considering one final question: what motivated them to do it? What could possibly motivate a group of young men and women to stage such a heinous attack on civilian life and property? The attackers could have targeted military or police installations, or even civilian government agencies, but instead went after softer prey.
Sadly, the motivation was a perverse blend of hatred and religious faith.
The Brookings Institution's report calls Islamic State a distinct jihadi-salafist "brand" with a focus on building a pure society, governed by a caliphate, through violence and bloodshed. We cannot shy away from this fact.
The attackers understood their behavior to be justified by their understanding of Islam and fully expected that their suicides were actually the heroic deeds of martyrs going straight into the arms of a proud god. Hence, they, their supporters, and their instigators are solely and fully responsible for what happened on 11/13. The blame is theirs and the West must do everything in its power and commensurate with its values to stop such attacks from occurring again in the future.
The West cannot be tacitly complicit by sitting on its hands or hiding behind politically-correct slogans. It must aggressively yet thoughtfully target that minority of Muslims who have chosen violent Islamism as an ideology and way of life and forestall future attacks of this nature, rather than clucking over inclusion, social services, and multiculturalism. And, instead of twiddling its thumbs over immigration issues from the relative safety of home, the West's leaders must deny Islamic State any safe haven in which to hide.
Eric Patterson, Ph.D. is Dean of the Robertson School of Government at Regent University and author or editor of numerous books, including the co-edited volume "Debating the War of Ideas."
–
TheBlaze contributor channel supports an open discourse on a range of views. The opinions expressed in this channel are solely those of each individual author.