Whenever the left bashes an organization, it's usually because they disagree with their philosophy. Many times as well, the left shows disdain toward an organization because of who supports it financially.
If the left hates a group, it's typically an entity I want to know more about.
In this case, those on the left are frantic about The LIBRE Initiative and what they are accomplishing.
The LIBRE Initiative is a non-profit grassroots organization that was founded in 2011. Their undertaking "advances the principles and values of economic freedom to empower the U.S. Hispanic community so it can thrive and contribute to a more prosperous America."
LIBRE's philosophy alone would be enough for any "good" liberal to want to minimize the group's efforts. It certainly appears to be the mind-set of many in our current administration who seemingly believe in keeping people "down" and dependent upon the government.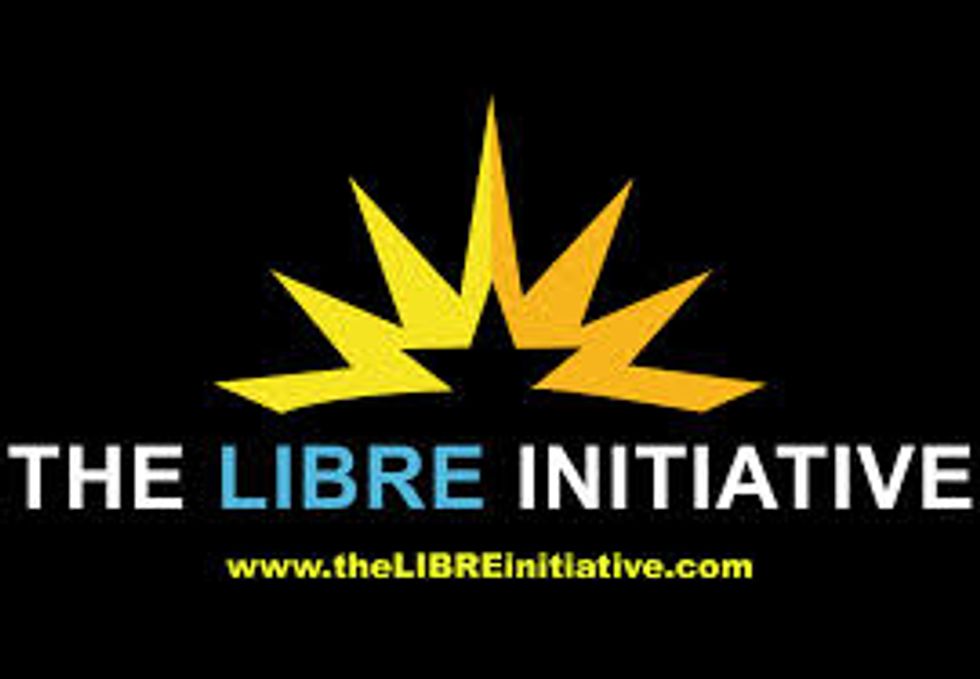 The Libre Initiative.
Another fail, in the eyes of the left, is that LIBRE, which means "free" in Spanish, is "dedicated to informing the U.S. Hispanic community about the benefits of a constitutionally limited government, property rights, rule of law, sound money supply and free trade" through community events, research and policy initiatives that protect "our economic freedom."
The mere fact that LIBRE espouses a constitutionally-based limited government is yet another reason that could send many Democrats reeling.
Additionally, leftists appear to be concerned about this group because the executive director of LIBRE, Daniel Garza, who is Hispanic, once worked in the George W. Bush administration and continues to employ other former Republican staffers and operatives.
LIBRE currently is located in seven states and has 50 employees. While the group is mainly in Florida, it is looking to increase the number of employees by 20 people with an expansion planned for North Carolina and Wisconsin.
Garza indicates that LIBRE's work is predominantly geared toward "community building," which can vary from community to community. It also means that the group may assist illegal immigrants in getting driver's licenses, in states that allow it, in order for them to find employment. In other states, food or education may be the focus.
The group supports immigration reform, as well, but is not in favor of President Barack Obama's executive order on immigration.
Demonstrator Alex Ferguson holds a sign reading 'No Vacancy, Try The White House' during a protest near the entrance to the US Border Patrol facility in Murrieta, California on July 7, 2014. The protestors are opposing the arrival of buses carrying women and children undocument migrants for proecessing at the Murrieta Border Patrol Station. Deportations of illegal migrants crossing the US border are being stepped up, a top Obama adminstration official said on Sunday, defending the White House's handling of a flood of undocumented children. AFP PHOTO / Robyn Beck
"We don't look at whether someone is documented or not," Garza said. "That's why we're active in supporting immigration reform."
However, as to Obama's executive order on immigration, Garza said, "Regardless of where each one of us stands with respect to immigration reform, it's clear that taking matters into your own hands isn't the right answer — it leads to unintended outcomes that don't work for anyone. Nobody knows that better than members of the Latino community who fled autocratic governments."
Many Democrats, however, don't believe LIBRE has the Latino community's best interests in mind.
LIBRE spent $1.4 million on ads against Democratic candidates because of their support for Obamacare. One ad in particular just so happened to take aim at a Latino.
"It's unacceptable that an organization that claims to support the Latino community is attacking Latino candidates," said Labor Council For Latin American Advancement president Hector Sanchez. "We are the most underrepresented group when it comes to public office, to have them going after Latino candidates is an attack on the Latino community."
However, this argument falls short, because LIBRE backed another Latino candidate who is a Republican.
Could there be another more pressing reason for the Democrats to loathe LIBRE?
LIBRE is funded by one of the "left's most dreaded and infamous" rivals; the Koch Brothers.
In February 2015, a liberal organization, People for the American Way, thought they had broken a secretly hidden story about LIBRE's connection with the Koch Brothers. They tried to smear the group by "exposing" this information to the public.
"It takes a lot of gall to write something like that and present it as an exposé," said Garza, who described the report as "condescending" and "ridiculous on its face."
What is happening here, according to Garza, is that the Left is threatened by groups like LIBRE who are reaching out to Hispanic voters, and doing so successfully.
Charles Koch, half of the famous "Koch brothers" duo. He and his brother, David, are often blasted by liberals for their monetary donations to conservative causes.
What PFAW failed to realize, or was hoping no one would notice, is that the Koch Brothers connection with the group had been revealed years earlier by both Politico in 2011 and Huffington Post in 2013.
It goes without saying, many Democrats feel that a group can't be for Latinos if they are connected with the Koch Brothers, even though LIBRE's efforts would suggest otherwise. The left continues to ignore the work LIBRE is doing in the Latino community and brings up the Koch Brothers relationship at every opportunity.
In a statement to BuzzFeed News, the Democratic National Committee said they've known for some time that "the Koch Brothers were using their secret dark money to fund this group" and said they take the financial issue seriously looking forward to 2016.
Perhaps Democrats are just concerned LIBRE will help Latinos learn to make independent and informed decisions rather than just "toe the Democrat Party line."
Additionally, there are those who believe that LIBRE encourages Latinos to be nonpartisan, thereby suppressing their desire to vote.
Andres Ramirez, a Democratic strategist whose office is three blocks away from LIBRE's in Las Vegas, said "There isn't a lock on the Latino electorate."'
"If you look at voter registration patterns, the greatest increase in registration among Hispanics is those identifying themselves as nonpartisan. So it's easier for groups like LIBRE to say Democrats and Republicans are the same f**king party — it's easier to discourage them and suppress their appetite for voting."
I interviewed Garza on my Internet radio show, Stand For Truth Radio, last year. I found him to be very forthright about his group's objectives.
I encourage you to listen to the show and make your own decision about this organization. I believe you will certainly be hearing more about LIBRE as we draw closer to the 2016 election and as the race to secure the Latino vote heats up.
–
TheBlaze contributor channel supports an open discourse on a range of views. The opinions expressed in this channel are solely those of each individual author.