Now that I have officially written off any possibility of voting for Donald Trump in the general election, it is time for me to turn my attention to something that is actually productive. Since I refuse to be led like a sheep to the slaughter, it is now time for me to find another presidential candidate that I can support.
Unfortunately, candidates like Libertarian Gov. Gary Johnson are making this a harder transition than I anticipated. I first assumed the Libertarian Party would be a natural fit. It was only natural to assume the Libertarian Party was by default the party of "leave me the hell alone," and that is something I can see myself getting behind despite the socially liberal leanings of many of the party faithful.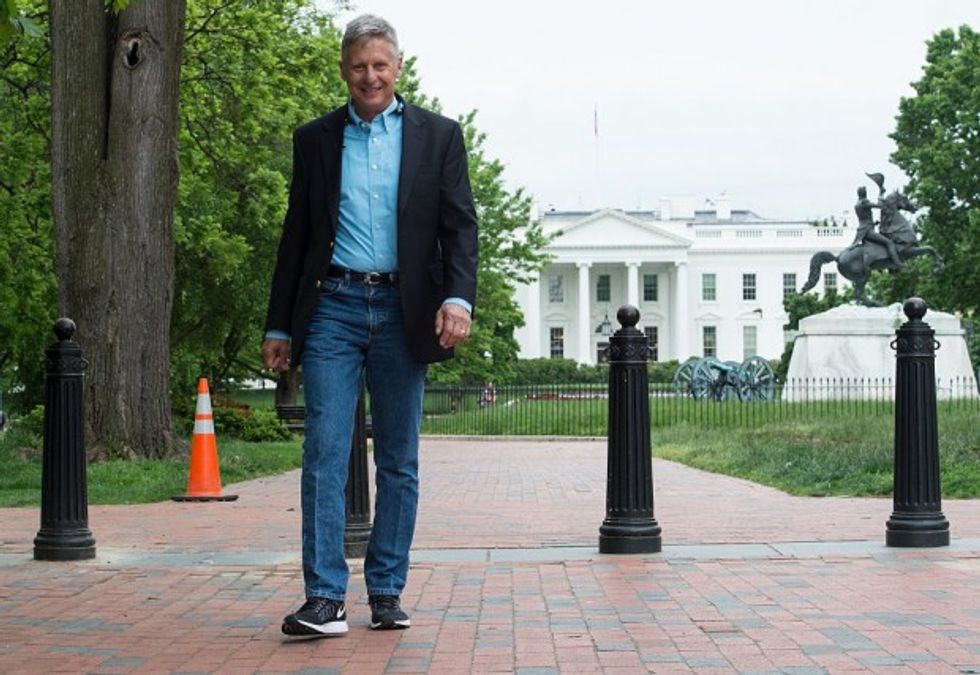 US Libertarian Party presidential candidate Gary Johnson walks in Lafayette Park across from the White House during an interview with AFP in Washington, DC, on May 9, 2016. Former New Mexico Gov. Gary Johnson is running for president as a Libertarian. (NICHOLAS KAMM/AFP/Getty Images)
However, the fact that Johnson is the front runner for the party nomination leaves me to believe that the party under Johnson would be less socially liberal and more socially big-government progressive.
Johnson has essentially stated it should be the role of government to force private businesses into transactions that fly in the face of their personal religious objections. In a recent Facebook post, Johnson said:
Of course, we all know that this conversation is really "code" for the current, and far more real, conversation about society's treatment of LGBT individuals. I have even heard some talk of a "right to discriminate". And of course, we have states and municipalities today trying to create a real right to discriminate against the LGBT community on religious grounds -- the same kinds of "religious" grounds that were used to defend racial segregation, forbid interracial marriages and, yes, defend discrimination against Jews by businesses. That is not a slope Libertarians want to go down.
But contrary to Johnson's beliefs, religious liberty laws were not enacted to give people a "right to discriminate." They were created in response to actual government force being used against those practicing their first amendment rights in their personal lives.
Individuals have been forced to pay massive fines and forced to abandon business opportunities because government felt they should be able to dictate when and where individuals have a right to actually practice their religious beliefs.
Johnson has also defaulted to his false arguments that under religious exemption laws energy companies would be able to cut off power to homes occupied by homosexuals. This argument is completely bogus for multiple reasons.
First, electricity is a utility and a modern necessity that is often required by governments to occupy the home. In reality, energy could easily be classified as an exception to the rule because there is typically no competition and more closely be categorized as a regulated government utility than a private business.
Plus, bakers, photographers, reception centers and t-shirt printers are all part of a plentiful free market, where if you don't like the service you are getting, or not getting, you can simply go somewhere else or start your own business to fill a void. Government has no excuse for getting involved.
Second, there have been no examples of major corporations, or really any businesses for that matter, denying the totally of their services based solely on sexual orientation. This is a fallacy.
The vast majority of homosexual discrimination lawsuits that have garnered national attention have been refusals to provide customized goods and services for private weddings. Marriages have been practiced by religious institutions for thousands of years; it is a core belief to hundreds of religious denominations. This is a religious liberty issue.
Because of that selective nature of the denials I think it is a stretch to classify it as discrimination. If it is discrimination, then it is discrimination against an event and not the people involved.
As evidence, the New York farm that denied their services for the wedding itself still offered the use of their property for the reception. This was not a case of hate against people for their sexual orientation; it was conscientious choice on deeply held religious beliefs surrounding participation in a specific event. The same bakers that refused to bake a wedding cake have never refused any other services and have even sent other baked goods to LGBT activists as an act of goodwill.
I know Libertarians take pride in their stances on the "fringe" issues such as drug legalization, but they get stuck in their own philosophical arguments and can't gain any traction in the mainstream. If the Libertarian Party wants to be taken seriously as a legitimate alternative maybe they should be seen defending mainstream liberty principles such as the First Amendment. An AP-NORC poll from December 2015 found eight in 10 Americans said it was very or extremely important for people like them to practice their religion freely.
In spite of Johnson's comparisons to historic discrimination laws, religious freedom protections don't create a government bureaucracy or an enforcement requirement to push political morality onto others. Instead these laws simply create additional barriers between individuals and government coercion. Religious freedom laws create more individual freedom, not less.
This argument that some people just deserve to be devoured by the destructive fires of government seems a good way to ensure people like me look somewhere else to cast our votes in the general election. Johnson may feel comfortable describing people like me as a homophobes and bigots, and comparing us to racists, slave owners and anti-Semites, but these claims are all unfair and irrational.
It would be a shame if the Libertarian Party threw away millions of potential votes just because they were too cocky in their own self-righteous philosophies to understand the mindset of the voters up for grabs this election year. Republican voters are not looking for just any alternative. And we are especially not looking for an alternative who is so blatantly condescending towards those with sincerely held religious beliefs.
I already feel I have nothing to lose with my third party vote, so I hope the Libertarian Party will not feel too confident that they will automatically have my vote just because I won't be voting for Trump or Hillary.
After all, there is always the Constitution Party.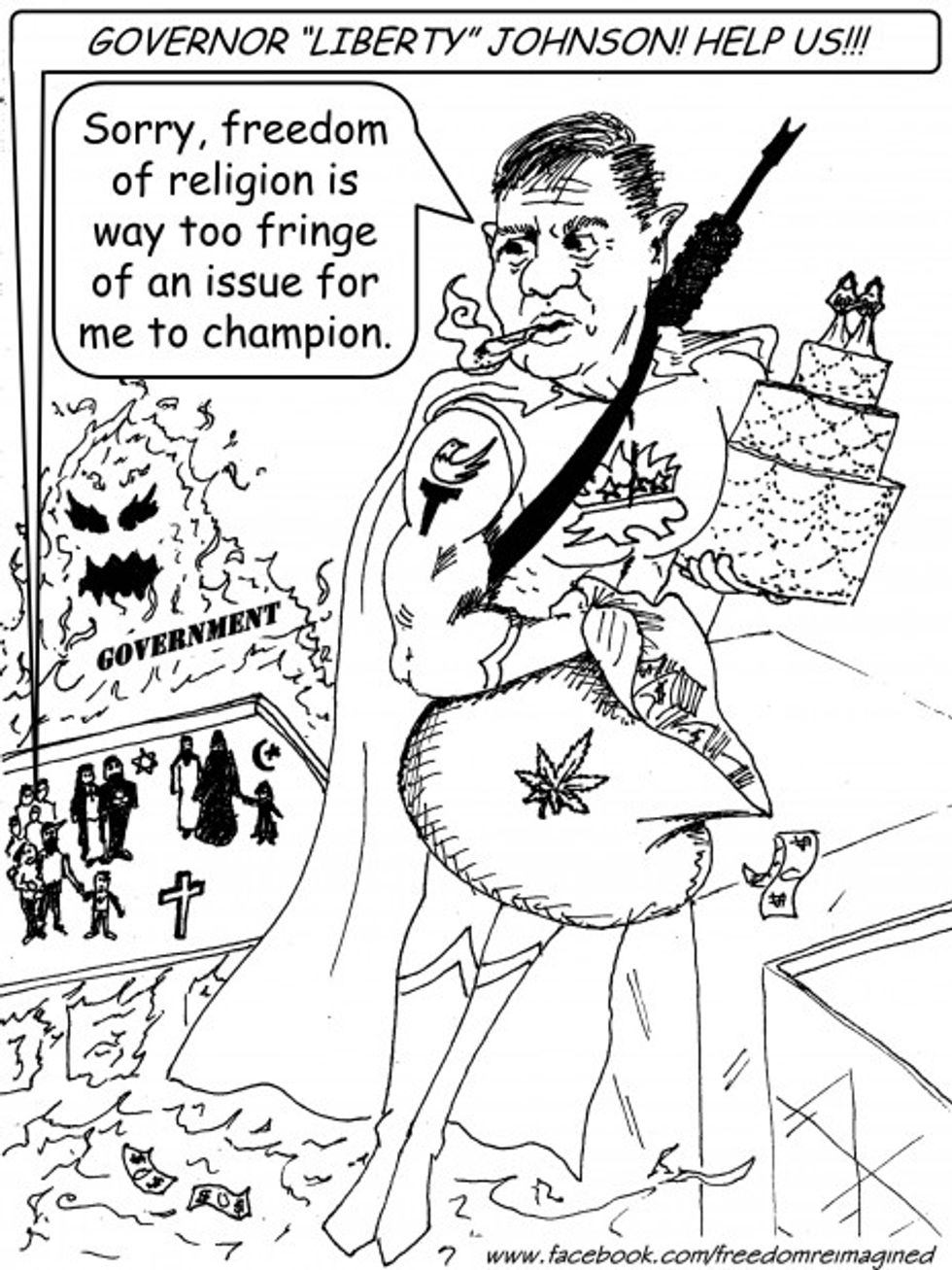 Fringe (Karl Knighton) 
–
TheBlaze contributor channel supports an open discourse on a range of views. The opinions expressed in this channel are solely those of each individual author.