Aaron and Melissa Klein, the owners of Sweetcakes by Melissa, were ordered by Oregon state officials last month to pay $135,000 in damages after they declined to make a wedding cake for a lesbian couple. Now, the bakers are sending a powerful message to gay rights groups.
The Kleins, who continue to defy a July 13 order from Oregon's Bureau of Labor and Industries, decided this week that they wanted to let gays and lesbians know that, despite ideological and theological differences, they love and care about them.
The husband and wife duo baked 10 cakes, packaged them up and drove to California, where they collaborated with Ray Comfort — the Christian leader who recently released "Audacity," a movie about homosexuality — and mailed them out to gay rights groups on Wednesday.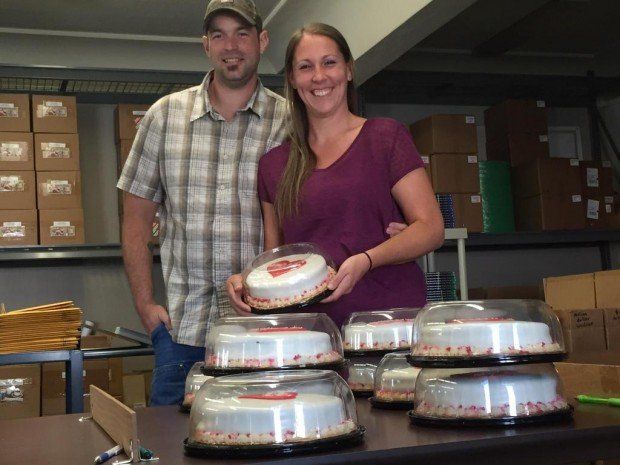 Aaron and Melissa Klein are sending cakes to gay and lesbian groups. (Photo courtesy Melissa Klein)
"We had been speaking to Ray about the movie, and Ray came up with the idea — 'What about sending [gay rights groups] cakes?'" Melissa Klein told TheBlaze on Thursday. "And I was like, 'Oh my gosh, that is such an amazing idea.'"
From there, she said that she and Aaron spent time coordinating with Comfort to come up with a shipping method that would keep the cakes intact for proper delivery.
The Kleins drove down to meet Comfort in California, where they shipped the cakes along with a letter, a $25 gift card and a copy of "Audacity" with each package.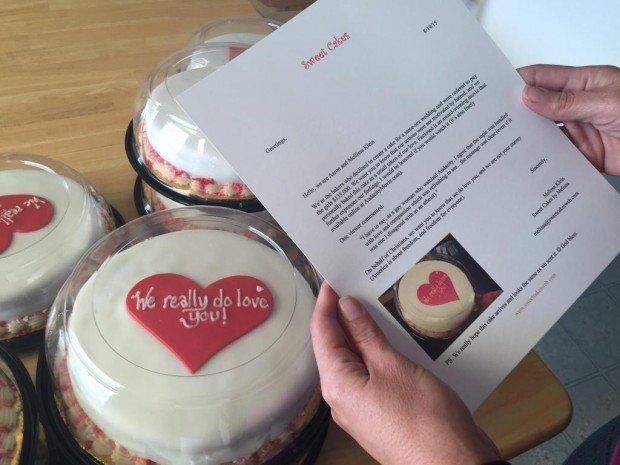 Photo courtesy Melissa Klein
"We're doing it in hopes that they can hopefully see [how] to understand us as being Christian, and why we believe the way we do — and why we do the things we do," Klein said. "They don't understand the things we do."
Each 8-inch cake was frosted white with red, white and blue swirls — an intentional color scheme that Klein said she hopes will send a powerful message.
"We wanted to have the cake represent freedom — that we all should have freedom and to live our lives the way we want to," she said, noting that she believes gays and lesbians should be free to live as they choose. "But I also feel like I should have the right to live the way I want to, and that should be my choice."
Klein is hoping that the cake, letter and gift card packages will send a message of goodwill. To drive that point home, in the middle of each cake is a heart with the words, "We really do love you."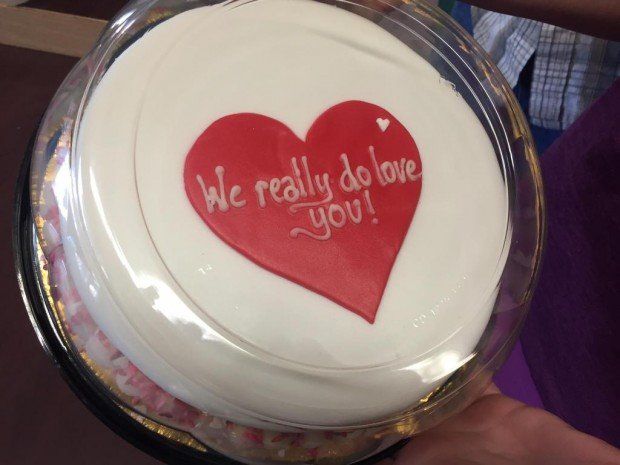 Photo courtesy Melissa Klein
Klein said she isn't expecting to hear back from the groups they sent cakes to, though said it would be "awesome" if any subsequent interactions did happen.
"Our actions were not done with hate," she reiterated of the cake refusal that landed her and Aaron in the headlines.
As TheBlaze previously reported, problems for the Kleins began in 2013 after they declined to make a wedding cake for lesbian couple Rachel Cryer-Bowman and Laurel Bowman-Cryer based on the bakers' religious views; the government subsequently awarded damages to the women.
The Kleins have filed an appeal in an effort to dismiss the $135,000 in damages and have not yet handed over any money, despite a July 13 order — an act that could potentially land them with additional penalties.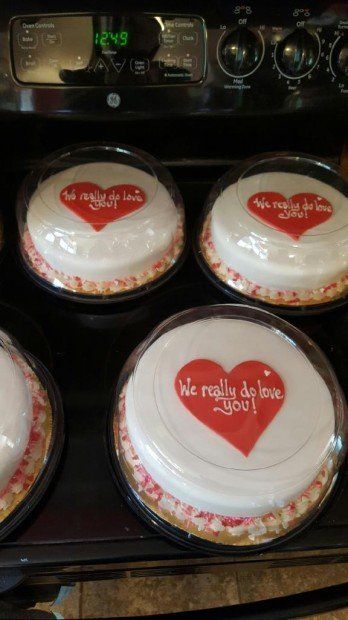 Aaron and Melissa Klein are sending cakes to gay and lesbian groups. (Photo courtesy Melissa Klein)
"In my heart, I felt like if we give anything we are giving in and giving up this fight and setting this precedent for the next person in line," Klein told TheBlaze. "We're still fighting this."
As for their latest cake gesture, she said that she and Aaron have plans to continue sending cakes to other gay and lesbian rights groups in the near future.
"Our plan in this was definitely not to become a publicity issue or stunt," she said. Instead, she said, she's truly hoping to send a message of love.
Listen to the story being discussed on TheBlaze Radio.
Follow the author of this story on Twitter and Facebook: