This article has been updated.
-
Marco Rubio had a small, golden opportunity to connect with Michigan voters on the Flint water crisis, but instead he credited Republican Gov. Rick Snyder in a positive manner, and it was not well received.
Yet, while Ted Cruz did not address the issue directly, he did come close by shedding light on the bigger problems in Detroit.
"What happened was a terrible thing," Rubio said. "What happened in Flint was a terrible thing. It was a systemic breakdown at every level of government, both at the state and partially the federal level, as well. … But accountability is important. I will -- see, I'll give the governor (Rick Snyder) credit. He took responsibility for what happened. And he's talked about people being held accountable, and the need to change this."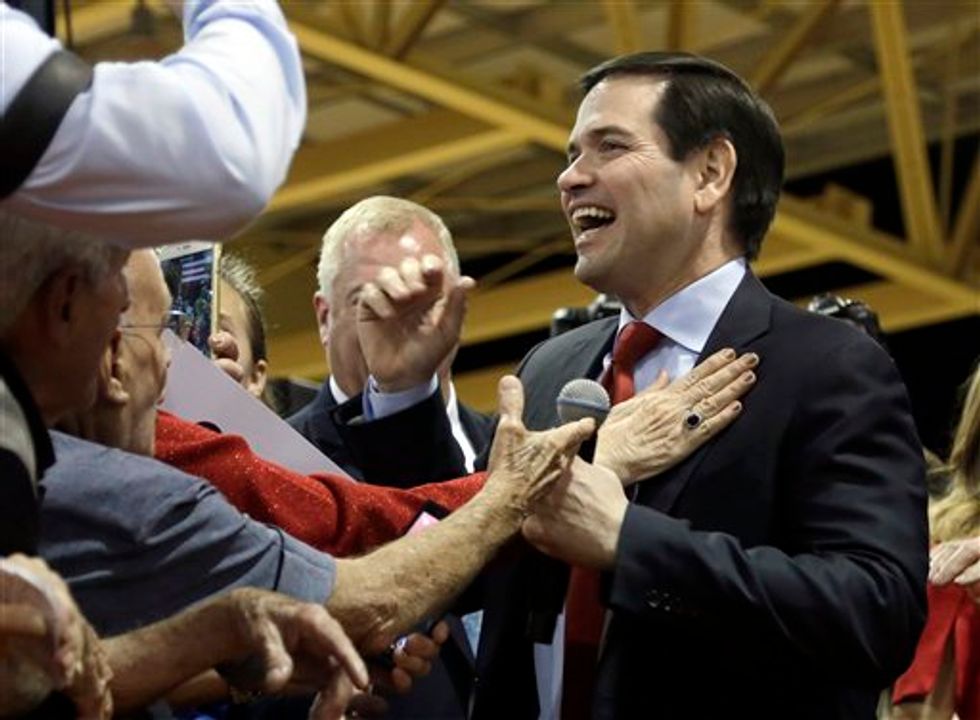 Republican presidential candidate, Sen. Marco Rubio, R-Fla., arrives at a campaign rally, Tuesday, March 1, 2016, in Miami, on Super Tuesday. (AP Photo/Alan Diaz) 
In the weeks and even months before the debate you couldn't walk into a coffee shop without hearing the Flint water crisis being discussed. It has been a hot button issue in the state since Sept. 25, 2015 when the city issued a lead advisory advising citizens to drink only cold water.
The city had switched its drinking water source to the Flint river in April 2014, and the corrosive levels were so bad that General Motors shut off its access to the river amid concerns for its manufacturing. The Department of Health and Human Services declared a public health emergency on October 1 advising residents not to drink the water at all.
Shortly thereafter, on October 15, Snyder signed a $9.35 million bill to reconnect the Flint water supply to Detroit. The issue only worsened as the months progressed, and on December 14, Flint Mayor Karen Weaver declared a state of emergency. The National Guard was called in to provide water and other supplies.
Amid the speculations of the governor hiding his alleged knowledge of the situation, Common Cause Michigan called for Snyder to release all documents and emails, which he later did.
In addition, the U.S. Attorney's Office in conjunction with the EPA, launched an investigation on the matter. Snyder's approval ratings plummeted, even with his own party. Then on March 3, the day of the debate, Snyder hired two attorneys to assist as legal counsel on the matter.
If it sounds like an awful lot to take in, that's because it is. The entire situation surrounding Flint has been a messy one to say the least, and residents were hoping for their concerns to be addressed. What they got was what seemed like an appeasement question, which was then answered in the worst possible way by Rubio.
For as much as Snyder has appeared to cooperate, the evidence is stacked against him that he or his staff did more to hide the issues, than they did to resolve them. So, for Rubio to credit Snyder with his handling of the crisis, it did more to hurt, rather than help, his campaign.
One crisis in a smaller city largely occupied by minorities may not seem like a big deal, until you remember the situation Detroit continues to face. Sure, they've made economic progress and new development is beginning to reshape the face of the city, but it's still driven by underwage minorities who feel like they don't have a voice. That was something Cruz addressed.
"Detroit is a great city with a magnificent legacy, that has been utterly decimated by 60 years of failed left-wing policies," Cruz said to roaring applause from the crowd. "In the 1960s, Detroit was the Silicon Valley of America. It had a population of two million people, had the highest per capita income in the country.
"And then for 50 years, left-wing democrats pursued destructive tax policies, weak crime policies, and have driven the citizens out. This city now has just 700,000 citizens. There are vacant homes one after the other, after the other. Crime has been rampant. It is an outrage."
It hit home hard. The crowd appreciated that he took a stance and laid out a plan for bringing back jobs and restoring the economy -- both in the area and in the country. It was a resounding speech and well received. But will it be enough for Cruz to pick up the extra support he needs? We'll know in a few days.
One thing that Michiganders may remember is the soft hold that Cruz was reported to have placed on the bipartisan Flint water deal. However, the campaign's Rapid Response Director states that Cruz "never had a hold" on the bill, and the story was nothing more than a false rumor started by Democratic Sen. Chuck Schumer.
Yet, it was Rubio who lost a chance to gain ground by siding with Snyder. Even failing to address the breakdown among Snyder's staff and within the federal government did more damage than anything else he could've said on Thursday night. It will be interesting to see whether Cruz can benefit from the aftermath.
–
TheBlaze contributor channel supports an open discourse on a range of views. The opinions expressed in this channel are solely those of each individual author.