"Miracles from Heaven" is based on the book of the same name by Christy Beam, based on her own real-life experiences.
"Miracles from Heaven" tells the story of Christy's family and their struggle in dealing with their daughter Annabelle being diagnosed with an extremely rare illness that doesn't allow her body to digest food. At first, Annabelle's parents aren't sure what is wrong with her, but as she begins vomiting a lot and showing signs of severe illness, they soon take her to the hospital.
At first the family is told by doctors that Annabelle is lactose intolerant, and after another visit to the emergency room they are told that she's simply suffering from acid reflux. After this second diagnosis, Christy can't contain her frustration and lashes out at the doctor, demanding to see the head of the department.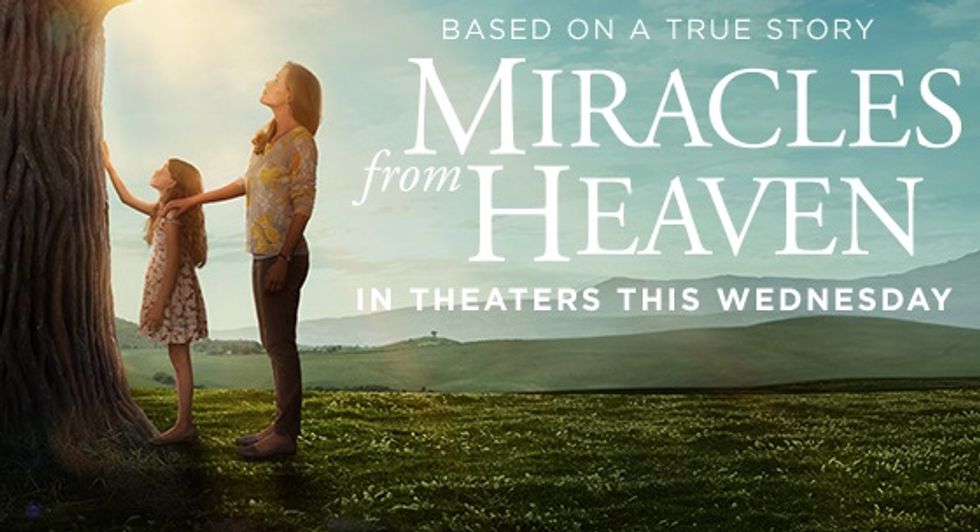 Screengrab
Dr. Burgi, the head of the hospital's pediatrics, is brought in to look at Annabelle's results and confirms Christy's worst fears.
Unable to really help with Annabelle's affliction, Dr. Burgin refers Christy to a pediatric specialist in Boston. The problem, however, is that this doctor is highly sought after and is booked until the middle of the next decade. After many failed attempts to get ahold of this doctor in Boston, Christy decides that she is just going to take Annabelle to Boston and worry about getting an appointment once they get there.
Once in Boston, of course, Christy and Annabelle aren't able to get in to see the doctor. Not willing to give up, Christy took Annabelle to dinner in order to come up with another plan. While at dinner they met a waitress played by Queen Latifah, whom Annabelle took an immediate liking too. The waitress, Angela, offers to take Christy and Annabelle on a tour of Boston while they wait to see if they can get in to see their doctor.
Angela brings a lot of much-needed humor into the film. Angela provides some much-needed levity and fun not only to Christy and Annabelle, but to the audience as well. Queen Latifah is only in the film for a few minutes, but they are an incredibly enjoyable few minutes.
Christy and Annabelle do eventually get an appointment with the specialist, but after several months of tests and looking into Annabel's condition, the doctor must admit that he can't help Annabelle, and that all Christy and her family can do is just give her the best quality of life that they can, for as long as she has left. Christy returns home with Annabelle knowing that there is no hope of Annabelle ever recovering from this.
"Miracles from Heaven" is such a genuine film that it can appeal to a wider audience than just Christians. Usually, the problem with faith-based movies is that they tend to only have anything to offer to church-going audiences. "Miracles from Heaven," while absolutely rooted in faith and religion, tells a story that can appeal to anyone who has children.
Where this movie goes off the rails for a faith challenged audience, I think, is near the end when Annabelle explains what she saw while she was unconscious inside a tree. She claimed to have left her body and gone to Heaven. This is shown in a very "What Dreams May Come" sort of dream sequence. I'm not sure this was really necessary, and it does sort of take the viewer out of the film for a few moments.
If you're trying to appeal to a non-Christian audience, this isn't really the way to do it. This is where you lose them, because until now nothing has happened to convince them that God is real. There are plenty of scientific reasons given for Annabelle's possible recovery, and while the chances of those scientific explanations happening are said to be astronomical, it's no more astronomical than asking a non-believing member of the audience to just start believing.
The title of the move is extremely important. It's written in the plural, "Miracles from Heaven," because there isn't just one miracle that happens in this movie. There is the healing of Annabelle, which is the big one, but the film begins to point out all the little things that happened throughout the film that the audience, much like the film's characters, took for granted until it's explained. There are many events that led to other events that without these events the ultimate healing of Annabelle might never have happened.
Whether you believe these are miracles or you write them off as coincidence or dumb luck, everyone can look back on points in their lives and realize that if A hadn't led to B and B hadn't led to C many of the best moments of your life might never have happened. The real story this movie conveys isn't the healing of a little girl, it's that we are all blessed with micro-miracles every day and that God's presence is always with us.
"Miracles from Heaven" tugs at the heart-strings. If you leave the theater with dry eyes, you just aren't human. But it also leaves you with hope. Hope that every struggle we go through will have an ultimate lesson to teach. Something that, whether we realized it or not, we needed to learn, and even if the outcome isn't has happy as this one, the lessons are just as important.
Jennifer Garner turns in one of the best performances of her career, and all the actors are equally as genuine. Even the kids, most of whom have probably never had a professional acting gig, do a great job of embodying their characters and helping the audience to get lost in the film.
"Miracles from Heaven" is a must see and is definitely the best film of this Easter season. Of course, we still have "God's Not Dead 2" to look forward to.
–
TheBlaze contributor channel supports an open discourse on a range of views. The opinions expressed in this channel are solely those of each individual author.