Thank you board of education, administration, faculty, distinguished guests and of course, the class of 2016.
Today, we turn the page on this chapter of our life and start a new story. A story that we have been preparing, studying and training for. This new story should excite and thrill each of us. After all, it belongs to us and what we do next will impact what's written moving forward.
As a graduating class that has always been plugged into the digital universe and can't recall a time that America wasn't engaged in a war effort somewhere in the world, our view of how things are and work is unique.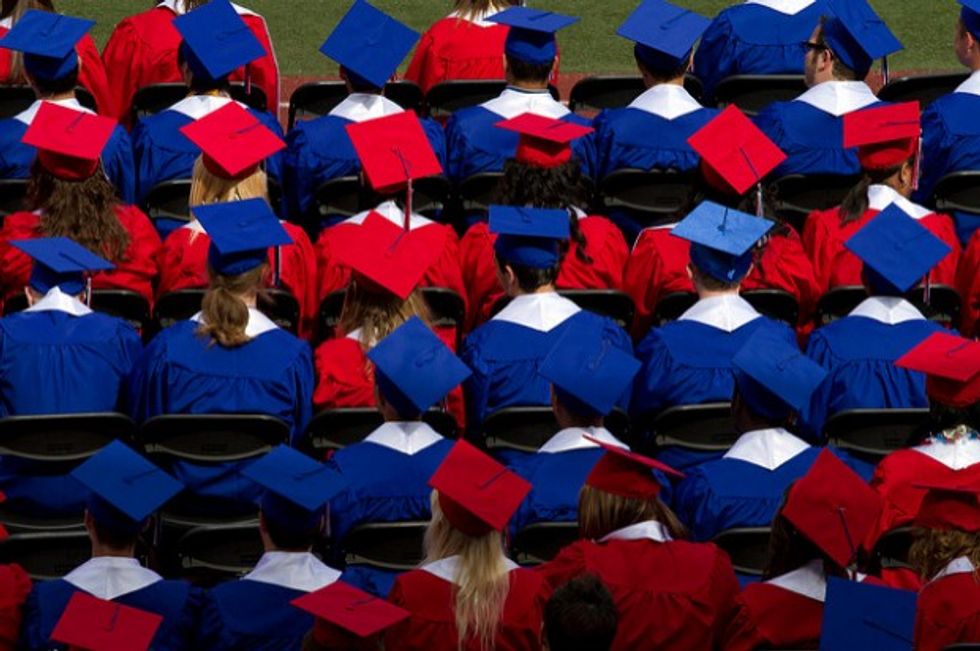 Image source: Flickr/Richard Wood
Having grown up with access to information at our fingertips, not knowing something is as solvable as a Google search. We've been surrounded by instant celebrities and reality stars our entire upbringing, where people like Paris Hilton and Kim Kardashian are famous for being famous.
We are by and large more tolerant and open minded than many of the generations before us and because of that, we hold the relationships we've cultivated with our tribe close to our hearts. Our squad goals are admirable, bae.
(Pause for laughter - hopefully).
But as we start a new story we should proceed with caution. The world is a far different place than it was when we entered this institution four years ago. The United States has never had more debt than it has right now. America continues to print money as a way to sustain the economy all while decent jobs have dried up.
Most entry level positions now require some sort of experience in order to be considered for hiring, and on top of that, the competition for such spots have become cutthroat.
For decades we have been told to go to college, get a degree and not only will we make one million more dollars over the course of our lifetime, but that we would be able to walk right into a great job, be able to afford a nice home and start a beautiful adult life.
Our generation is the most educated group our country has ever known and that is absolutely something to be celebrated. Sadly, it has come at the cost of well over one trillion dollars in student loan debt. What's worse is that because so many of us now have a degree, there is an oversaturation of people with degrees and no place for them to go.
Home prices have now rebounded to pre-market crash levels, and if you do end up getting a job with that degree you earned, don't expect to rake in the cash as millennials are earning 20 percent less than our parents did at the same time in life.
Unfortunately, the national narrative has still not changed even though reality has. We have been sold a good lie. I call it a good lie because bettering ourselves through education and striving for excellence isn't wrong, in fact, it's something that we should strive for our entire existence, but the means in which to achieve it has become wrong.
No one seems to want to acknowledge that things have changed because those that surround us, such as our family and friends, still believe in the good lie because it worked for many of them. We must understand that in order to succeed in this new America, we need to stop listening to the narrative we've been told works and create a new narrative that actually does.
It needs to be said here and now: The American dream as we know it is dead.
We are facing an adverse political situation in this country where two parties have stopped standing on principle and have degenerated into little more than disrespectful, self-interested mirrors of one another.
Hear me when I tell you that no candidates have the answer we are seeking because the candidates we know only want more power for themselves or for us to allow government to be the solution.
The America that once was had always looked to the individual for solutions. Government has never solved anything or made life easier for anyone.
Globally, terrorism remains a consistent issue as does conflict among people of differing faiths and beliefs. The world economy is also so fragile that any small event might send it spiraling out of control.
To say things look bleak would be an understatement.
But I am here today to let you know there is still a flicker in the candle. There is still a light to guide us out of the darkness and that light lives within our generation. While our window is definitely closing, we still have a shot a changing the world and our home for the better.
We have just become the largest living generation. Our influence and power has yet to be tapped. But as we begin our new story, we must not allow it to be hijacked by radicals of any ideology. People that tell us if we just make concessions on a few of the truths we hold close, that we can have something else for the trouble. Don't fall victim to the cult of personality.
And along the same line, we must not silence those we disagree with. Because sometimes those that disagree with us force us to question our beliefs and either strengthen our position or help us to understand that there might be a better way.
Remember, class of 2016, no one owes us anything and we are entitled to nothing. Because anyone that can give us something can also take it away.
We have the power now. We are responsible for the story waiting to be written. It's up to us to use the pen with honor, bravery and kindness. If we come together and trust one another, there's no telling the type of bestseller we'll create.
Rise up, graduates, the world needs us now more than ever.
Wade Heath is a speaker and founder of the Do Good. Be Great. millennial movement. Contact him: Events@WadeHeath.com
–
TheBlaze contributor channel supports an open discourse on a range of views. The opinions expressed in this channel are solely those of each individual author.