It was blisteringly hot.
Stifling desert sun beat down on my back, made worse by the black shirt I stupidly chose to wear that day. I walked alongside miles of irregular border fencing in the Tucson sector of the Arizona-Mexico border with the (now late) Cochise County Sheriff Dever; I stared down from Coronado at the wide open, fenceless border to the west.
It was certainly a once-in-a-lifetime experience for a completely inexperienced young blogger. I had just reached out to Dever looking to get his thoughts on Arizona SB1070 - the "controversial" act that, in short, required state law enforcement officers to ask about immigration status during a "lawful stop, detention, or arrest."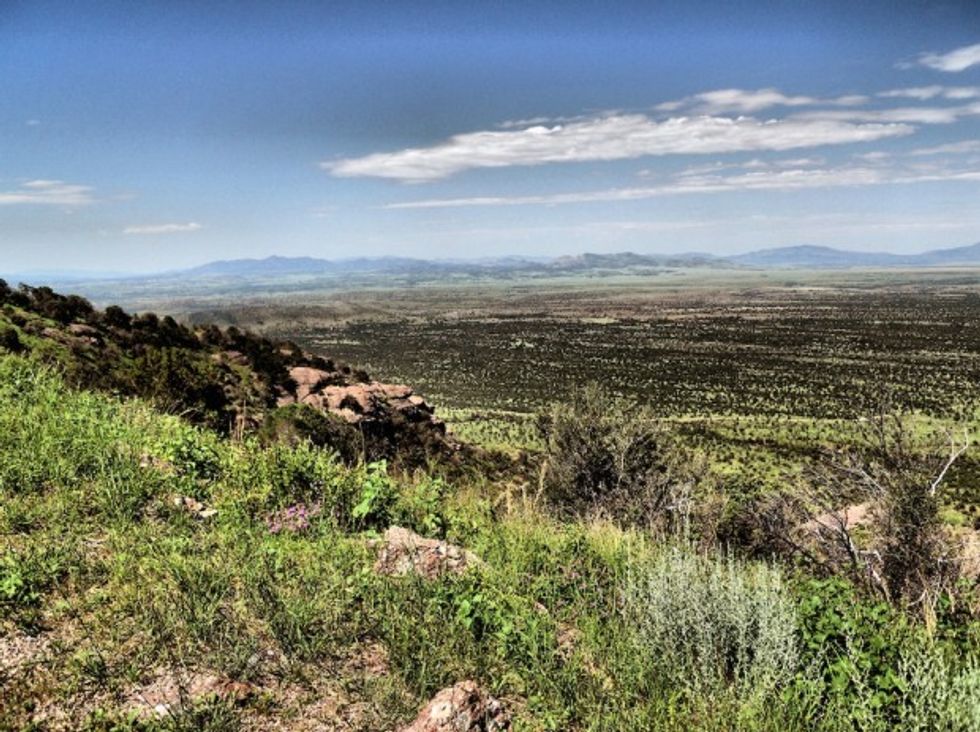 View from Coronado to the west (no fence). (Image source: Mary Ramirez)
What I ultimately ended up with was pretty epic.
"You'll have to come down here sometime for the dime tour," Dever joked, as we wrapped up that initial interview, "And then you'll really see something."
So naturally, I decided to hop on a plane. Because, duh.
There were several things that shocked me throughout my conversations with Dever: From how sophisticated the crossings actually were (there are scouts hiding out with powerful telescopes and communication technology in the mountains to the south) to just how much Dever was getting under the Obama administration's skin (he claims Border Patrol was instructed to inform Janet Napolitano's office each time he'd bring anyone down to the border for a look-see) - I was pretty floored.
And yet there are so many more layers and complexities - so much we don't talk about.
Since so much oxygen is taken up by narratives about how our border and our laws represent nothing more than jingoistic grandstanding about keeping certain people away from the American Dream - we don't make it past that.
And while that narrative is busy excusing away lawlessness for the sake of a cause - another element stealthily takes advantage.
"So - is it happening?" I asked Dever, wondering whether or not the Middle East is taking advantage of our carelessness at the border.
He didn't hesitate for an instant.
"We have had people find prayer rugs, Korans, and other evidence of this left behind on their properties. In fact, not too long ago we apprehended a group of 11 individuals from Lebanon," Dever explained. Not only that, he went on, but highly powerful cartels in Mexico are helping them do it.
And before I take the flack, no - just because they've got a Koran doesn't mean they're automatically a terrorist. But let's think about this objectively, shall we? All Muslims are not terrorists. And yet, terrorists bent on global terror and domination are overwhelmingly Muslim.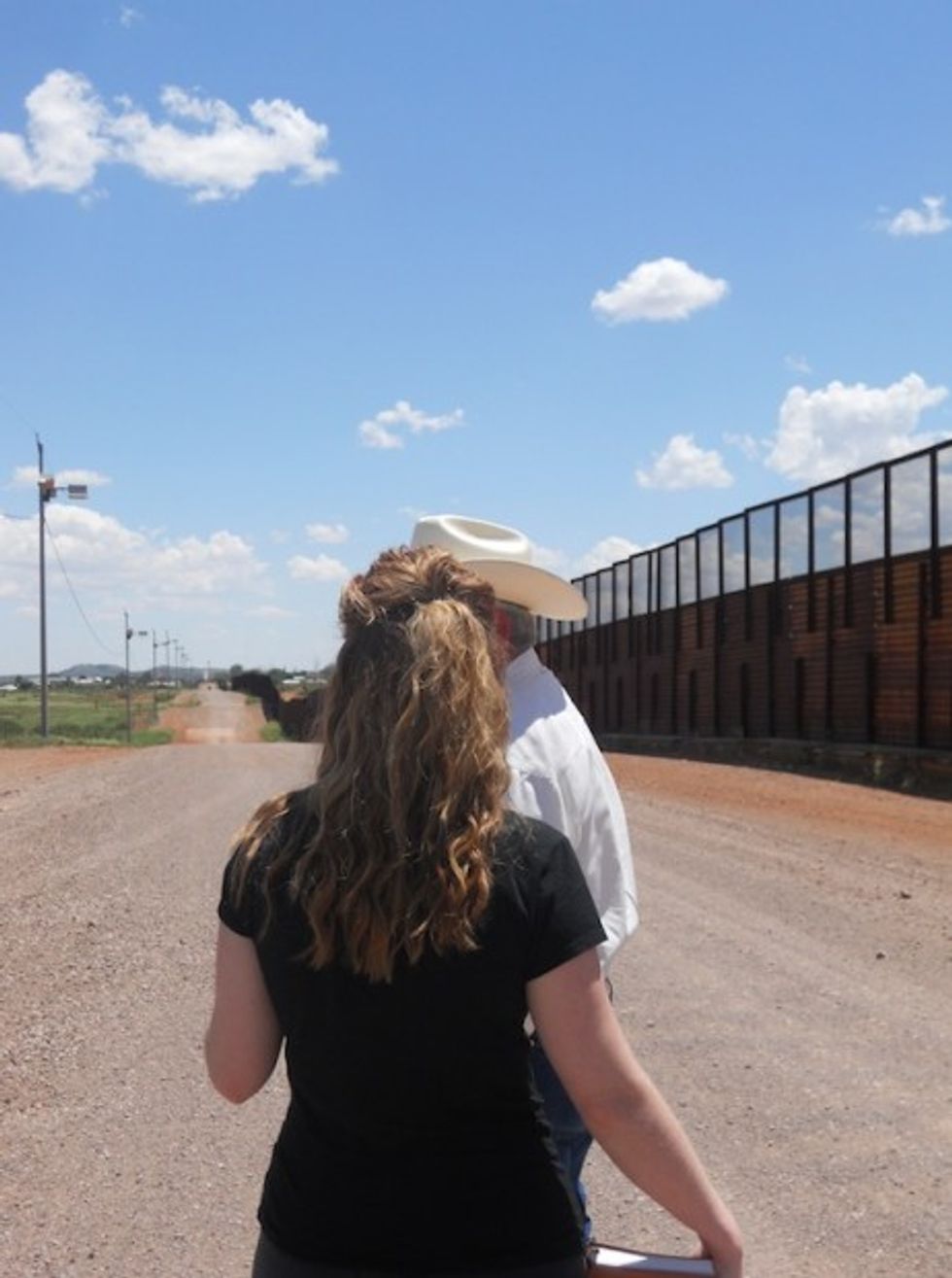 Author at the border with Sheriff Larry Dever (Image source: Mary Ramirez)
So it's not exactly conspiratorial to worry about the motives of people crossing illegally on foot into a country so epically far away from their own that it's almost comical.
Ok, ok - so why am I dredging up this old interview, anyway?
Because it's happening. Today. And it has been for years. And yet our media would rather talk about anything but.
Meet Shaykh Mahmood Omar Khabir, the Islamic State militant so radical he was forced to leave his home in Kuwait.
According to Judicial Watch and the information they obtained from "a high-ranking Homeland Security official in a border state," Khabir and others have been helped by Mexican cartels to cross the border time and again during Khabir's nearly year-long residency in the border state of Chihuahua. Khabir openly bragged to the Italian newspaper il Giornale about his exploits in an article titled "Jihad has an Ally in Mexico: the Narcos:"
"It is easier for us to find points of convergence with the Mexicans than Europeans," said Khabir. "They are passionate and they know how we keep our word. They're unlikely to betray."
And betray, they have not. In fact, the increasing Islamic-style executions by cartels seems to indicate greater and greater influence by the jihadis on the groups they cooperate with. Further still, "some Mexican smuggling networks actually specialize in providing logistical support for Arab individuals attempting to enter the United States."
And it's not just Khabir, and it's not just this year. Our own State Department admitted that it has known for over 10 years that "'Arab extremists' are entering the country through Mexico with the assistance of smuggling network 'cells,' according to State Department documents obtained by Judicial Watch that reveal among them was a top Al Qaeda operative wanted by the FBI."
They've known for over TEN YEARS.
Which, interestingly enough, is right around the same time Sheriff Dever participated in a focus group at the National Counterterrorism Center in Virginia:
"In 2005, [at the focus group] the question at hand was this: Would Mexican drug cartels help facilitate the movement of terrorists, chemicals, etc.? Their conclusion was that no, they wouldn't, out of fear of retribution for a terror event that could be tied back to Mexico. I told them they were wrong- after all, if you look at all the carnage going on in Mexico right now, they're [the cartels] not afraid of anything. Secondly these people are profiteers. They are pirates. They are interested in one thing- money. If you pay the price, they'll move anything you want them to move."
For crying out loud, these people are mutilating their own countrymen and hanging them from overpasses. I don't think they care how they affect Mexico's image in the world.
It makes perfect sense. Cartels exist to make money. Islamic terror organizations like Islamic State and al Qaeda are relatively lucrative ventures. And, after all, some might say sneaking across a porous, largely rural border (particularly at a time when the country on the receiving end all but ignores—and often celebrates—those who break the law this way) seems a heck of a lot easier than doing it the visa route, like the 9/11 hijackers did.
So, just how many "Special Interest Aliens" (SIAs—aliens from nations with ties to terror) are crossing the border, many aided by equally violent cartels?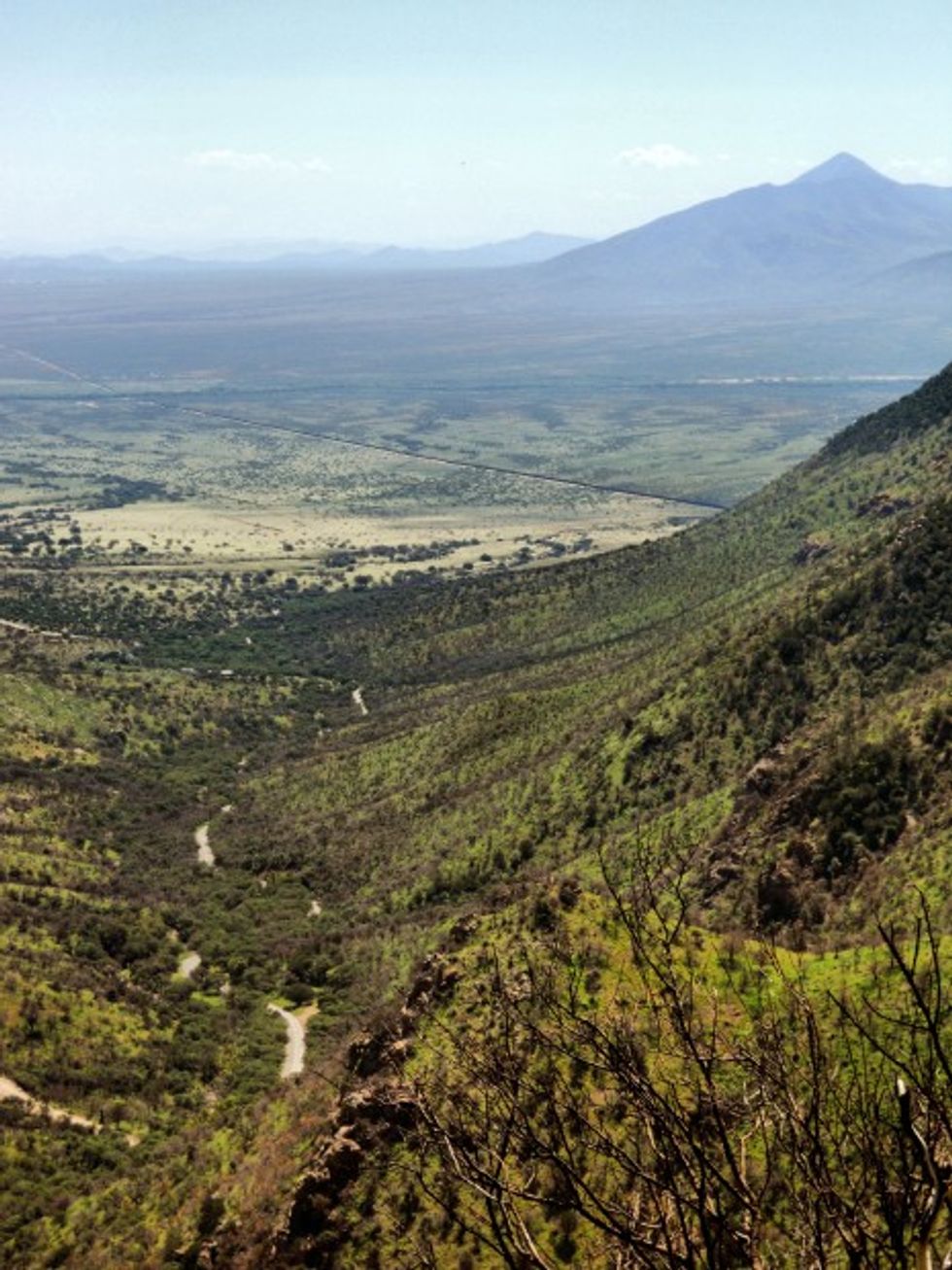 View from Coronado to the east (fence) (Image source: Mary Ramirez) 
Your guess is as good as mine.
We can't even say for certain how many illegal aliens TOTAL are here, let alone how many SIAs.
We do know that over the past several years, hundreds of SIAs have been apprehended annually attempting to sneak in at various points of entry (with our southern border historically the most popular choice). We also know that Atlanta's Channel 2 Action News recently highlighted leaked documents showing a spike in SIA apprehensions at our southern border.
And keep in mind: Those are just the ones we've caught.
Here's food for thought: it doesn't take an army of terrorists to carry out a significant attack.
September 11th: 19. Attempted Times Square bombing: 1. Boston Marathon bombing: 2. Charlie Hebdo (Paris) attacks: 2. Paris attacks: 7. Brussels attacks: 4(?).
To name a few.
So, you tell me: is it really jingoistic and racist to be concerned about the carelessness at our wide-open southern border?
Call me crazy: nope.
Mary Ramirez is a full-time writer, creator of www.afuturefree.com (a political commentary blog), and contributor to The Chris Salcedo Show (TheBlaze Radio Network, Saturday, from noon to 3 p.m. ET). She can be reached at: afuturefree@aol.com; or on Twitter: @AFutureFree
–
TheBlaze contributor channel supports an open discourse on a range of views. The opinions expressed in this channel are solely those of each individual author.