Summer is around the corner and I've found it's the perfect time to reinforce a good work ethic in our kids. I know what you're thinking, "Wow. She sounds like a fun mom."
Don't get me wrong, I'm all for a summer filled with fun and down-time just like everyone else. But summer vacation also affords our family the opportunity to focus on valuable lessons that aren't taught in the classroom – namely household chores.
As parents, our job is to train up our children to become responsible, capable adults who can one day operate and manage their own homes and families. But somehow, parents have traded in this job description for one that reads more like a cruise director – in charge of all the details of our kids' extracurricular activities and entertainment.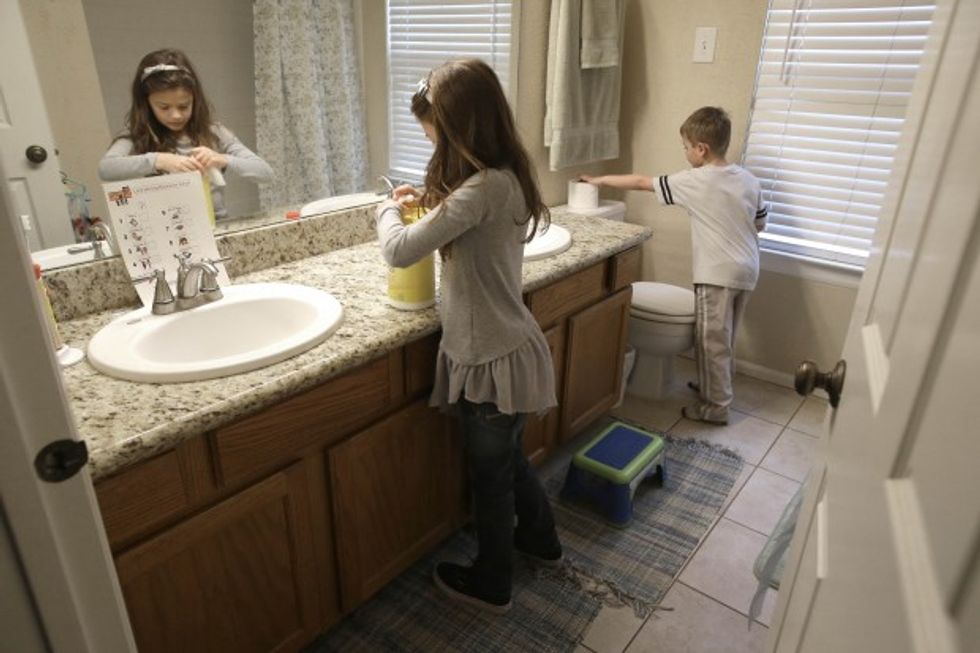 In this Saturday, Feb. 8, 2014 photo, Lily Cherry, 8, cleans her bathroom as her brother Aiden, 6, right, puts out a new roll of toilet paper at their home in Kingwood, Texas. Their mother Andrea Cherry has passed on her childhood practice of doing chores to her children believing it gives them a sense of family responsibility. For Cherry who works full time, having the kids help makes it possible for her and her husband who would otherwise do all the cleaning, to have enough time to take the kids to their soccer practices and games. (AP Photo/Pat Sullivan)
The result is kids who don't know how to do simple household tasks nor do they feel responsible for contributing to the family. In addition, parents (namely mothers) are worn out from doing everything themselves.
If I ask my children to contribute to our family only at their leisure, I'm sure all they would hear is "leisure." Ultimately, it is my responsibility to draw out the greatness that has been bestowed in my children. I happen to believe that pulling weeds, sweeping and taking out the trash goes a long way in drawing out greatness.
Sorry, kids. But you'll thank me later.
It's important to note that every parent of every generation has been tasked with instilling a work ethic in their children. However, in past generations, instilling a good work ethic was much easier. If you didn't work, you (and possibly the whole family) didn't eat.
Not so in our culture.
While I'm not suggesting sending your 9-year-old son to cut ice from the frozen river like Almanzo in the Little House on the Prairie series, or sending your daughter to wring a chicken's neck for dinner like my mother had to do, there are tasks kids should be able to master as they contribute to the running of the household. With summer's looser schedule and no homework, there is more time to focus on this essential part of your child's education. Here are a few basic age-appropriate chores for children:
Ages 2-3 years old – Put away toys after playtime, pile books and magazines, put clothes in hamper, wipe up spills, fill pet dishes with food and water.
Ages 4-5 – All the above, plus dressing themselves, clearing the table, emptying wastebaskets, making the bed and watering flowers.
Ages 6-7 – All the above, plus making sandwiches, pouring bowls of cereal and milk (this gloriously changed my life), helping make and pack lunch, tying their own shoes, pulling weeds, sorting laundry and sweeping floors.
Ages 8-9 – All the above, plus vacuuming, dusting, making toast, loading and unloading the dishwasher, putting away their own laundry, making their own breakfast, taking their pets on a walk, helping make dinner, putting away groceries, mopping and taking out trash.
Ages 10 and older – All of the above plus cleaning bathrooms, washing windows, washing cars, doing laundry, folding laundry, cleaning kitchen, making meals with supervision and mowing the lawn.
While this is all for the well-being of your children and their future selves, can we take a moment and just acknowledge the beauty of sharing the load with other family members? The weight off this mom's shoulders is visible.
But I digress, this is for the children.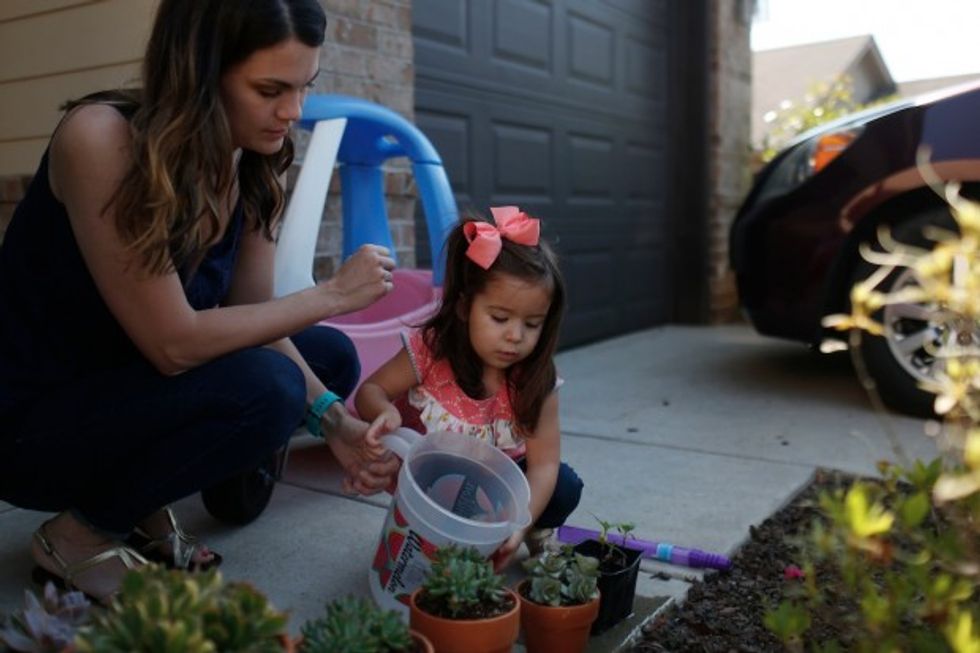 Lane Weichman, 30, of Springville, Ala., left, watches her daughter Lucy, 3, right, water their plants for Mother's Day weekend, Saturday, May 7, 2016, in Springville, Ala. Weichman says that watering the flowers is Lucy's job and they check it off the chore list. (AP Photo/Brynn Anderson)
In the summer months, I have found doing specified chores right after breakfast works best for our family. Our family rule is that my kids may not ask about any "fun" activities until their chores are complete. Somehow, that rule has made them more eager to finish their responsibility list. And in full disclosure, our house would not pass the white glove test and everything is not always in its place. However, it has been freeing for my husband and me and liberating for our children to share the household load.
If this is all new to you, don't be surprised if you struggle with urges to "just do it yourself." Let's face it, when kids start doing chores, they usually don't do them well. That first peanut butter and jelly sandwich is going to require a clean-up. The first time my daughter made her bed it looked like a lumpy, bumpy mess with the covers pulled too high. But now, she makes her bed beautifully and without my help. If you are willing to put in a little effort at the beginning to teach them, it will pay off.
And you might even find yourself with more time to enjoy the summer.
Julie Hildebrand a blogger at www.juliehildebrand.com. She is a wife of one and mother of three who writes about parenting, marriage and faith. Contact her at Julie@juliehildebrand.com.
–
TheBlaze contributor channel supports an open discourse on a range of views. The opinions expressed in this channel are solely those of each individual author.