Speaking at the Catholic Health Association Conference on June 9, President Barack Obama defended the Affordable Care Act (aka, Obamacare) in the face of a looming Supreme Court ruling that could result in many people losing subsidies for now-mandated health insurance.
Rather than focusing on the merits of the court case, Obama essentially defended the legislation on the grounds that unwinding it would disrupt the lives of millions who now have health insurance.
The law represents the truth that "we're in this together," Obama said. "It seems so cynical to want to take coverage away from millions of people; to take care away from people who need it the most; to punish millions with higher costs of care and unravel what's now been woven into the fabric of America."
[sharequote align="center"]Obamacare shouldn't be saved simply because it has lofty goals.[/sharequote]
The Washington Post's Dana Milbank summarized Obama's message to the court: "You wouldn't dare."
Or would they? Would the court do what's legally correct even if it was, in Obama's view, morally wrong?
Could be. After all, Obama's moral argument for Obamacare has been typically one-sided: He routinely points out the outlandish forecasts of "Armageddon" and "the horrors of Obamacare" to disparage his critics, while overlooking his own failed predictions and pledges.
For starters,when Obama ran on health care reform in 2008, he opposed requiring people to purchase health insurance in favor of making it affordable enough so that the uninsured would buy it willingly. In office, he flip-flopped, just like he flip-flopped on his pre-inaugural pledges to negotiate legislation on C-SPAN, and not to pass it with a "50 percent plus one" strategy.
Once passed – with just less than 51 percent in the House, and no Republican votes – Obamacare failed a number of other promises and prognostications: It didn't cut premiums by up to $2,500 per year, or provide anything close to universal coverage. It didn't cut emergency room visits, and you weren't necessarily able to keep your plan or your doctor.
The White House counters that premiums are now growing at a slower rate, and that people often lost their doctor or coverage even before Obamacare became law. This is all true, but it doesn't rebut the fact that many people lost the coverage and doctors that they liked and likely would have kept if not for Obamacare. And, while health care premiums and total health care spending have been growing more slowly, it's still not the cut in premiums Obama promised.
Besides, growth was slowing before Obamacare was passed, so how much of that trend is due to Obamacare rather than the recession or something else? And how long will the trend even last, what with insurers requesting 20, 30, even 50 percent increases for next year?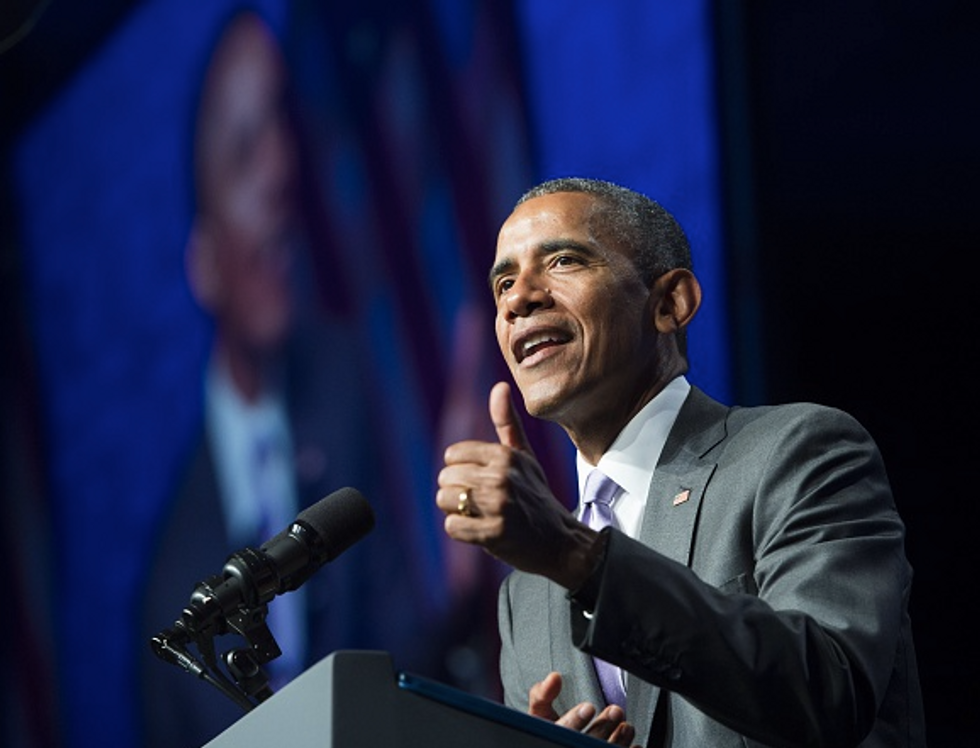 President Barack Obama speaks about healthcare reforms and the Affordable Care Act, known as Obamacare, during the Catholic Hospital Association Conference in Washington, DC, June 9, 2015. AFP PHOTO / SAUL LOEB 
Never mind all that, Obama seems to be saying: The legislation is providing health insurance to millions who previously didn't have it. And only some sort of partisan cruelty could be the motivation to take that coverage away.
Granted, this is just Obama demonizing his critics. But, even if Obamacare is a good idea, our political system is based on the notion that ideas need to be audited. Think of it as a kind of due process. When Michael Brown was shot by officer Darren Wilson last August in Ferguson, Missouri, there was an immediate uproar as the story took hold that Brown had been shot while surrendering. "Hands up, don't shoot" became the rallying cry.
But, after careful investigation, this proved to be unfounded. Had we gone with the feeling of the moment – to find Wilson guilty of a racist murder, even to kill him – we'd have been punishing an innocent man. It was only through a careful, deliberate inquiry that Wilson's innocence was revealed. Likewise, we can't leave legislation in place just because it seems like a good idea, it has to go through the due process of the Constitution.
And so it has to pass muster in both Congress and the judiciary. If the Supreme Court rules that the phrase "established by the state" means that only people on state-run exchanges (and not federally-run ones) can receive subsidies from the IRS to pay for their health insurance – the key issue in the case, King v. Burwell – then the subsidies should end. Maybe the language was in error, perhaps a result of haste on the part of the Democrats who wrote it, but never mind that: Obamacare shouldn't be saved simply because it has lofty goals.
When a criminal escapes on a technicality, the answer isn't to keep him in jail anyway because it's a good idea. The answer is to make sure, next time, that the police Mirandize their suspect correctly, keep their evidence uncontaminated, and that the prosecutors know the law and apply it appropriately. If Obamacare is done in on a technicality, the answer is for Obama and Democrats to be more mindful in crafting health care reform next time around.
Of course, that's what they should have done in the first place. Good ideas, after all, deserve to be treated carefully.
–
TheBlaze contributor channel supports an open discourse on a range of views. The opinions expressed in this channel are solely those of each individual author.